Monday, October 3, 2022
This Is the Time for You to Understand That Your Deeds and Acts Must Be Directed toward the Good…
Message of the Most Holy Virgin Mary to Luz De María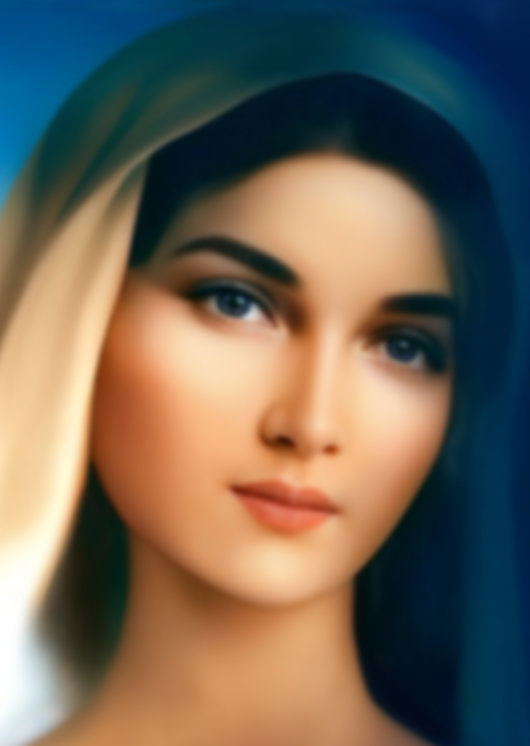 Beloved children of My Immaculate Heart, people of My most beloved Son:
I LOVE YOU, I HOLD YOU IN MY MOTHERLY HEART SO THAT IN MY HEART YOU MAY ADORE THE HOLY TRINITY AND THANK THE INFINITE DIVINE MERCY.
People of My Child:
THIS IS THE TIME FOR YOU TO UNDERSTAND THAT YOUR DEEDS AND ACTS MUST BE DIRECTED TOWARD THE GOOD, LEAVING ASIDE SPIRITUAL MEDIOCRITY.
Human creatures desire at this time to highlight their inner self in order to excel, without wondering or worrying if that personal excelling rises above their brethren, leaving them at times fallen to the ground.
As Mother I call you to conversion and not to personal interests, for the Antichrist and his legions knocked at the door of humanity and their malignity has been accepted by the people of My Divine Child.
THEY ALREADY FEEL THE CRISIS, THEY ALREADY LIVE IN CRISIS, THEY HAVE GONE THROUGH CRISIS AND HAVE COME THROUGH CRISIS, BUT THIS CRISIS WILL NOT BE OVERCOME UNTIL MY DIVINE CHILD INTERVENES.
The whole Creation has changed by the hand of man, just as the heart of the human creature has changed. It is a climax of the influence of the evil one upon humanity altered, dissatisfied, incomprehensible, estranged from God, unified in its thinking to blaspheme against the Holy Trinity and against this Mother of mankind.
My children, you are being unified in thought through the various electronic media used by the great powers and which you use to communicate.
Pay attention My children:
WORLD DOMINATION IS UPON MANKIND EXERTING SO MUCH NEGATIVE INFLUENCE UPON THE MINDS OF ALL, THAT THEY WILL COME TO ACT AND ACT AT VERY LOW LEVELS AS HUMAN CREATURES.
People of My Child, surrender yourselves to My Divine Child, invite Him to remain with you in all that you work or act in your daily living; thus you will remain protected by the Holy Trinity, by the Celestial Legions and by this Mother.
The actions and deeds of the People of My Child must continually be kept in the direction of good (I Thess 5:15) in order to prevent negative thoughts, because at this moment human creatures live continually besieged by negative thoughts that are sent to them and are not the fruit of human will. But since mankind finds itself in opposition to My Child and embracing the worldly, they are easy prey to the evil that continually tempts them.
TO FREE YOURSELVES FROM TEMPTATION YOU MUST DO GOOD, THINK GOOD, DESIRE GOOD FOR YOU AND YOUR BROTHERS. (II Thess 3:13)
.
Do not allow a thought contrary to fraternity, contrary to love, to surrender, to adoration towards the Most Holy Trinity, to devotion towards all the Heavenly Choirs and to veneration towards this Mother.
Remember My children:
YOU MUST SUBJECT YOURSELVES TO MY CHILD AND YOU MUST CONTINUALLY REQUEST OF HIM THAT THAT BLOOD AND WATER WHICH, FLOWED FROM HIS OPEN SIDE ON THE CROSS, BE POURED UPON YOU SO THAT YOU MAY BE BEARERS OF GOOD AND THUS THE EVIL ONE WILL NOT PENETRATE WITH HIS INSIDIOUSNESS IN YOU.
Beloved people of My Child walk towards Him with alacrity. Mankind hangs by a thread and you must save the soul, save the soul!, for you will receive severe trials from those who wish to manifest their weaponized might over all mankind.
But, fear not My children, My Son will not give you stones for bread, My Son will cause Manna to descend from Heaven to sustain His children.
WORK AND ACT WITHIN THE GOOD AND YOU WILL RECEIVE THE GOOD AND THE DIVINE BLESSINGS NECESSARY FOR YOU NOT TO SUCCUMB TO TRIALS.
I love you My children, I cover you with My Motherly Mantle, I cover you with My Love.
GIVE ME YOUR HAND, DO NOT FEAR, I AM THE DISCIPLE OF MY CHILD AND I DESIRE THAT YOU ALSO BE MY DISCIPLE.
I bless you with My Love, I bless you with My YES! to God.
Mama Mary
AVE MARIA MOST PURE, CONCEIVED WITHOUT SIN
AVE MARIA MOST PURE, CONCEIVED WITHOUT SIN
AVE MARIA MOST PURE, CONCEIVED WITHOUT SIN
COMMENTARY BY LUZ DE MARIA
Brethren:
Our Blessed Mother gives us another lesson of love and humility.
As part of humanity we are invited to conversion in order to save the soul.
It is painful, but evil has taken possession of humanity due to the fact that the human creature allowed it to enter all areas of human life. It displaces the Holy Trinity, Our Blessed Mother and now the existence and protection of the Holy Angels is considered a myth.
Our Mother calls us to turn our gaze and be aware of the global crisis, of the tensions that exist between countries at war and the involvement of other countries in warlike conflicts, which has humanity in danger.
The encouragement Our Mother gives us is that she assures us of the intervention of Our Lord Jesus Christ in the midst of tribulation. And she alerts us to fight against the unification of thought or the massification of a way of thinking, acting and acting in which everyone will agree. We possess free will and it seems that the goal is to displace it.
Let us unite in prayer and in a constant union with Our Lord Jesus Christ, inviting Him to remain with us every moment; thus we will be attracting good to ourselves and to our brethren.
Amen.