Friday, December 23, 2022
Worship Jesus the Child in the Baby, in Every Home, in Every Place Where You Rightly Represent Him
Message of Saint Michael the Archangel to Luz De María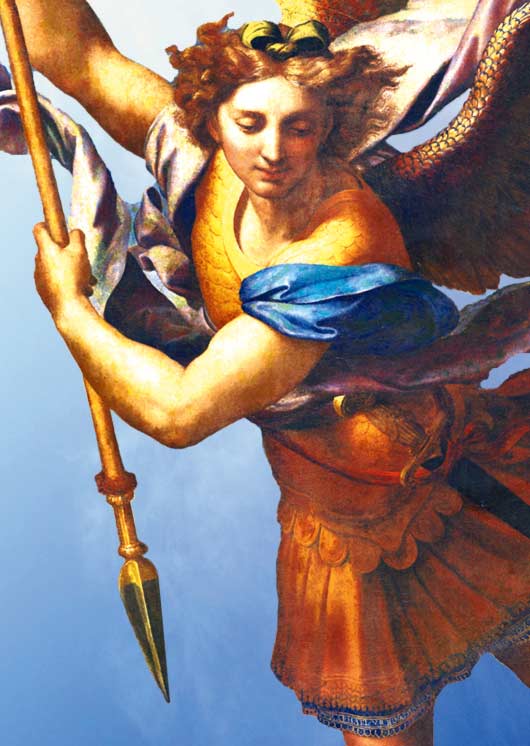 Beloved People of Our King and Lord Jesus Christ:
I am Sent by the Holy Trinity to reach the heart of all mankind who as the People of God must save the soul.
IN COMMEMORATING THE BIRTH OF OUR KING AND LORD JESUS CHRIST EVERY HUMAN CREATURE BEFORE THAT DIVINE CHILD, MAY PLACE HIS WHOLE CORPOREAL AND SPIRITUAL BEING SO THAT WITH A FERVENT DESIRE OF THE CREATURE MAY BE TRANSFORMED BY LOVE, TRUTH, GOODNESS, CHARITY AND ALL THE GIFTS AND VIRTUES WITH WHICH THE CHILD JESUS ADORNS HIS CHILDREN.
Children of Our King and Lord Jesus Christ, humanity continues in a chaos of unstoppable violence that is contagious from creature to creature; sometimes consenting to it without knowing why, but only by imitating the conduct of their brethren.
THIS IS THE PURPOSE OF THE POWERFUL:
To achieve that the human creature self-destructs in the moral, social, spiritual, food and economic aspects, so that before so much weight of inadequate acts, human creatures enter into the renunciation of the Holy Trinity, of Our Queen and Mother and despise whatever reminds them of the Divine, blaming God for whatever happens.
AS WE COMMEMORATE THE NATIVITY OF THE CHILD JESUS, EVIL IS POUNCING AGAINST HUMANITY AT THIS TIME WITH GREATER FORCE THAN IN THE PAST, AT THE APPROACH OF WHAT OUR QUEEN AND MOTHER HAS BEEN WARNING THEM OF FOR SO LONG.
They are human creatures who have given free rein to their human will, following various wrong paths that have led them to this moment.
People of Our King and Lord Jesus Christ:
AS WE COMMEMORATE THE NATIVITY THE AFFAIRS OF MEN DO NOT STAND STILL: STRIFE CONTINUES, PERSECUTIONS INCREASE, AND THE UNEXPECTED HAPPENS IN THE FACE OF A CONSTANT BATTLE OF EVIL WHICH THE HUMAN CREATURE ALLOWS TO UNDERMINE HIS LIFE.
Pray, pray for Mexico, it suffers for nature.
Pray, pray without stopping for Brazil, your brethren need your prayers.
Pray, pray for strength for all mankind.
Pray, pray for Europe, it is urgent that you pray for Europe, it suffers for nature and for mankind itself.
You are heading towards a rocky road....
A single religion imposes itself before humanity that easily surrenders to novelties.
Human creatures forget that in the Cross of Our King and Lord Jesus Christ is imbued the Salvation of every human creature (Jn 12,32-33; Heb 12,2; I Cor. 1,18) and that only in the way of Truth and repentance can they find Salvation.
THEY FORGET THAT OUR QUEEN AND MOTHER DRIVES AWAY THE DEVIL; HE FEARS HER AND OUR QUEEN AND MOTHER IS ATTENTIVE TO HER SON'S PEOPLE.
They stand upon a path filled with every temptation, with snares of evil, with insinuations of evil and evil knows that it is at the moment to take its booty of souls... THEY MUST BE STRONG AND FIRM SO AS NOT TO FALL.
Children of God be vigilant without being careless, for from one moment to the next there may be a pre-planned contest. Without exposing yourselves in the midst of strife each one keep calm and stay where you are until you find a safe opportunity to leave, if you must. My Legions stand attentively awaiting your calls to come in haste, children of Our King and Lord Jesus Christ.
A GREAT SIGN FROM ON HIGH COMES.
Each of you knows that Divine Protection is upon mankind. The Divine Mercy is infinite, ask Our King and Lord Jesus Christ to penetrate in you and give Him permission to make of each one a new creature and thus succeed in getting ahead of so many trials that humanity itself has gestated.
WORSHIP JESUS THE CHILD IN THE BABY, IN EVERY HOME, IN EVERY PLACE WHERE YOU RIGHTLY REPRESENT HIM. (Mt 2:11)
My Legions are in the care of each one of you. I bless and protect you with My Sword held high.
St. Michael the Archangel
AVE MARIA MOST PURE, CONCEIVED WITHOUT SIN
AVE MARIA MOST PURE, CONCEIVED WITHOUT SIN
AVE MARIA MOST PURE, CONCEIVED WITHOUT SIN
COMMENTARY BY LUZ DE MARIA
Brethren:
We have received by Divine Mercy Message from St. Michael the Archangel making us a call to spiritual transformation that will lead us to conversion for our good, as we will need to be firm in faith and maintain spiritual strength to know that we are not alone and that we will not be abandoned by the Holy Trinity nor by the Blessed Mother. This is indispensable for us to stand firm and resist the onslaught of evil.
Whether we wish it or not, we are submerged in the violence that has managed to penetrate the spheres of society in all its strata, violence not only of weapons, but also in our thinking, tranquility and threats by science misused, threats in the political and religious spheres... The human creature is tested in all aspects.
We must be clear that we do not need a new Sacred Scripture nor do we need the Commandments to be changed, because just as there has been only one Cross in which Christ redeemed us from sins, so there is only one Sacred Scripture that does not admit novelties.
To be firm in the Faith is a condition without which we cannot call ourselves Christians.
We are invited to bend our knees before the Divine Child Jesus so that before Him we may ask Him to lead us to be better and to be firm and strong so as not to stagger in the face of evil.
Praying and repairing, working and acting in practice in the likeness of Christ is how we give testimony that like the shepherds of Bethlehem we go without thinking before our Divine Child to give Him what He is waiting for: that "I" that prevents us from giving ourselves to Him.
Amen.