Thursday, February 2, 2023
I Invite You to Meditate on How You Have Labored and Acted during Your Life
Message from Our Lord Jesus Christ to Luz De Maria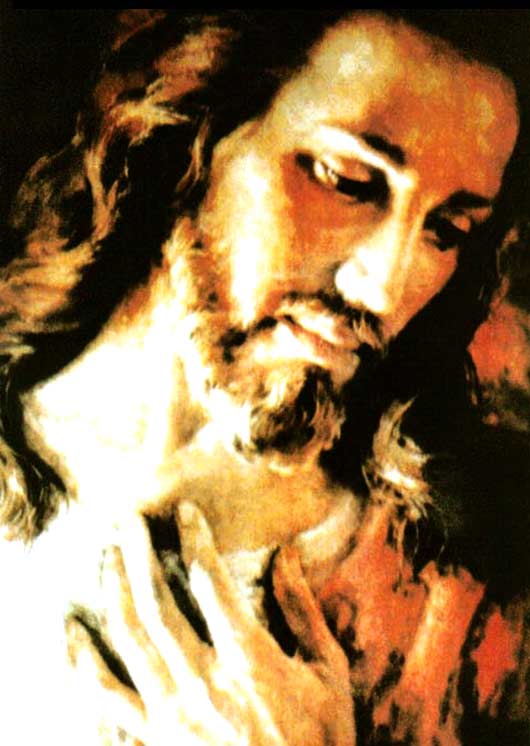 Beloved children.
My blessing abides in each of you, it flourishes in those who are willing to live in My Will. (Cf. Deut. 28:1-2)
In those who allow their human self to prevail with all its miseries and adopting novelties that do not belong to Me, nor are they My Will, My blessing does not bear fruit, until they convert. (Cf. Dt. 27)
HOW IT PAINS ME WHEN THEY THROW ME AWAY FROM THEIR LIFE TO JOIN THE RANKS OF EVIL!
The confusion is promoted by the Antichrist (1) who moves in Europe, supported by the powerful, leading them towards Freemasonry.
You walk in the midst of great traps set by the minions of the Antichrist and you do not look at them. You continue life without thinking about what is being held over humanity, and you will be surprised, you will be surprised....
You are at a turning point as part of the history of Christendom, from which you will emerge polished as precious stones.
Children look carefully at the signs of the times and find My Love, within each Word coming forth from My Mouth.
I LOVE YOU MY CHILDREN. OBEY MY CALLS.
The medicines you have received from My House, for the illnesses you will face, use them only as We have instructed you.(2)
Humanity is led to change totally. THE PATH TO TAKE IS MARKED BY THE EARTHLY POWER, FROM THIS MOMENT ...
You live the war and by leaps and bounds, it becomes generalized.
I invite you to meditate on how you have labored and acted during your life.
I wish you to prepare yourselves beforehand, before the beginning of Lent, because this must be different, special, with the purpose of a true conversion, and begin it with honesty looking at the detents that you possess, the attitudes that lead you to be a stumbling block for your brothers and for yourselves, look at the softness with which you fall into sin, look at the ease with which you say no, to those who need you, look inwardly at your attitudes, the arrogance you maintain before your brothers (I Cor. 10, 32-33). CHILDREN I HAVE NEED NOT OF GREAT INTELLECTUALS, BUT OF HUMBLE CREATURES, WHO WILL ENABLE ME TO MOLD THEM.
YOU LIVE AMAZING MOMENTS! On high you will see phenomena that you did not see, coming from space; these arise from a meteorite that approaches the Earth, its force causes the movement of elements in space, provoking new phenomena, for humanity.
Beloved children, I WATCH YOU PREPARE TO GO TO COMBAT, AS YOU PREPARE FOR A FEAST, in the midst of an inordinate folly, you give excuses that cause embarrassment to carry out the plan that you have proposed.....
I am not speaking to you only of the countries most lately mentioned, but of those countries which have remained in constant warfare since ancient times.
THE TIME HAS COME WHEN WRATH WILL TAKE MY CHILDREN AND BRING THEM TO A BLOODY CONFRONTATION.
SEVERAL COUNTRIES WILL CLASH IN WAR.
MY SORROW IS DEEP!
Pray children, pray:, From My Church goes forth the news that will shake mankind!
Pray children, pray, the war gains strength, the evil provides you with what is necessary.
Pray children, pray, the Earth is shaking with force as the core remains almost motionless.
Pray children, pray for America, several states shudder.
Pray children, pray for Mexico, it is shaking strongly.
Pray children, pray for Finland, its soil is shaking.
IT IS NECESSARY FOR YOU, CAREFULLY KEEP THE CANDLES BLESSED ON THE SECOND OF FEBRUARY, THEY WILL NOT ONLY SERVE FOR THE DAYS OF DARKNESS, BUT FOR THE DARKNESS THAT WILL BE BEFORE.
Pray the Holy Rosary, pray with the heart.
Be aware of what I speak to you, not to frighten you, but to change in your actions and deeds, so that hypocrisy may not be a complement in you. You work for My Kingdom, and in My Kingdom, My Will is the actor and the spectator.
My desire is that you love one another as I love you (Jn 13:34-35), that you respect one another; that you respect My instruments, discerning, that you keep what is good.
It is urgent that you understand each other and live in peace, before the arrival of so many changes that are at the doors, coming from those who give orders to My children.
Be humble, all will need all, life is not a contest.
MY BELOVED ONES, RECEIVE MY HELP, I NEVER FORSAKE YOU, NEVER!
I WILL SEND MY ANGEL OF PEACE TO SUCCOR YOU,
TO THE PLACES WHERE MY CHILDREN TAKE REFUGE.
My Mother who is Mother of Love, protect you.
My Archangels protect you.
My Guardian Angels accompany you.
I love you children, I bless you.
YOUR LORD AND YOUR GOD
AVE MARIA MOST PURE, CONCEIVED WITHOUT SIN
AVE MARIA MOST PURE, CONCEIVED WITHOUT SIN
AVE MARIA MOST PURE, CONCEIVED WITHOUT SIN
(1) About the Antichrist, read....
(2) Medicinal plants, read... (Download PDF)
(3) About the Angel of Peace, read....
COMMENTARY BY LUZ DE MARIA
Brothers let us always remember:
St. Michael the Archangel, 27.05.2021
HE WHO STOPS THE "MYSTERY OF INIQUITY" WILL CEASE TO BE AN IMPEDIMENT. The Church of Christ is left desolate and mankind suffers the indescribable.
The power of the beast will reside in some present Sanctuaries, desecration will be total, the children of God will return to the catacombs, desolation in the center of Christendom comes, images are exchanged for idols and the Body and Blood of Our Lord Jesus Christ hidden.
Our Lord Jesus Christ 25.09.2016
You, being My children, are not limited creatures; what limits you is the sin that chains you to the disorders and causes of sin. THEREFORE I DESIRE THAT YOU FREE YOURSELVES FROM THE CHAINS OF THAT HUMAN SELFISHNESS AND SURRENDER YOUR SENSES TO MY LOVE AND TO THE CUSTODY OF MY MOTHER, SO THAT THIS ACT MAY HELP YOU TO LIVE AS I DESIRE.
Our Lord Jesus Christ, 02.03.2013
My Mother will fight against the evil oppressor of My People and you will pray, being continually aware that you must walk by My Hand wherever you go, for without Me you will be prey to evil.
Our Lord Jesus Christ, 12.01.2020
MY PEOPLE MUST BE STRONG, RESIST AND NOT LOSE FAITH.
They will throw themselves against Mine and like wolves will pursue them. My people, be persevering and do not forget that "I AM WITH YOU" (cf. Mt 28:20).
MY PEOPLE, IN CALAMITIES, IN THE ONSLAUGHTS OF NATURE, IN PERSECUTIONS, IN SLANDER, IN INSULTS AND WHEN YOU ARE DRIVEN AWAY FROM SOME PLACES, DO NOT FORGET THAT "OUR HOLY TRINITY IS WITH YOU AND MY PEOPLE SHALL NOT SUFFER FOREVER".