Wednesday, March 22, 2023
At This Time, When My Holy Spirit Is Making Himself Present in a Special Way in You so That You May Save the Soul, I Call You to Look Within and to Take Up Again the Path to Me
Message of Our Lord Jesus Christ to Luz de Maria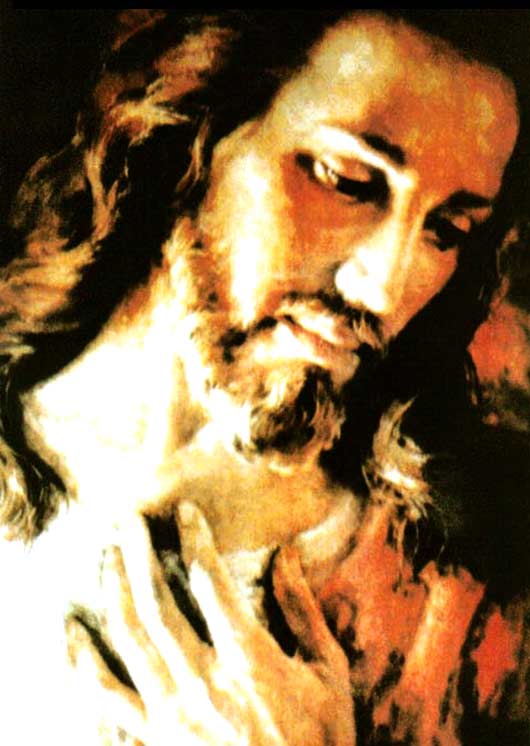 Beloved children:
MY BLESSING AND MY INFINITE MERCY
REMAIN WITH EACH OF MY CHILDREN
As a loving Father I continue to alert you to prepare before it is too late.
Beloved children:
In the midst of the lack of Faith of much of My children, many turn away in the face of evil inclinations, especially those of the flesh, with which the Devil is undermining the minds of My children.
AT THIS TIME, WHEN MY HOLY SPIRIT IS MAKING HIMSELF PRESENT IN A SPECIAL WAY IN YOU SO THAT YOU MAY SAVE THE SOUL, I CALL YOU TO LOOK WITHIN AND TO TAKE UP AGAIN THE PATH TO ME.
There are so many who, confused, do not wish to be part of My Mystical Body. Be clear that "I am the Shepherd" (Jn 10:11-16) of souls and I have called My beloved children, My Priests, to be shepherds of souls in My Likeness with love, but at the same time with righteousness without consenting to sin.
Humanity is fractured in all aspects. Man's current motto is: "to be more popular and not to fulfill the Commandments of God".
Humanity, lost in its technological advances, using science for good and at the same time to cause evil to one another, has lost its equanimity and has fallen into total delirium, surrendering its work and actions to Satan.
The Antichrist walks the Earth and moves from one country to another in those countries that have proposed the same ideals, projects, ambitions, guidelines and norms, which are going to lead to be fulfilled by obligation.
MY CHILDREN ARE ACCELERATING TOWARDS SUFFERING AT THE HANDS OF THE ANTICHRIST, WHO DOMINATES AND ALREADY! DIRECTS THE GREAT CORPORATIONS OF THE WORLD.
The Antichrist walks through Europe preparing the fall of Europe itself in war. The Bear possesses great power to bring humanity into a total state of alarm, starting with Europe itself.
My children move based on the supposed security they possess in material things. That great security which is the economy is heading without detours towards the great fall. The world economy is falling, children, do not allow yourselves to be deceived if you are assured of an economic boom... Do not believe it!
Children, prepare yourselves with what each of you can. You need to possess resources to acquire what is necessary. TO THOSE WHO CANNOT ACQUIRE WHAT IS NECESSARY, I MYSELF WILL SEND THE MANNA OF MY HOUSE, BUT MY CHILDREN SHALL NOT PERISH (Jn 6:30-35).
Children, the power on Earth imposes metal coins and discards the paper with which at this moment they acquire what is necessary to survive. This will not be adopted in all countries, but it will be adopted in a large part of them.
I CALL UPON HUMANITY TO KEEP PRAYING, (Mt. 26:41) IN A STATE OF FRATERNAL UNION AND TO WORK AND ACT LIKE THIS AT THIS TIME, IS VERY IMPORTANT FOR MY CHILDREN.
The struggle for souls is constantly going on; the spiritual battle is very strong, therefore work and act in the good. The selfish, haughty, imposing and proud creatures will suffer from the realization that they are more ignorant than the humble and simple.
The war of great size is influenced by the power of the Demon. The Bear acts suddenly causing horror. The Eagle flies high with his secret weapon in his talons; he does not need great deployment of planes, one is enough and the horror drives his brethren considered by the Eagle his opponents to flee.
MY CHILDREN, MY HEART ACHES FOR SO MUCH SUFFERING TOWARDS WHICH YOU ADVANCE.
SO MANY WHO JOIN IN THIS MISBEGOTTEN WAR AND WILL BE SORRY THEY ALLOWED IT!
Pray My children, pray that the earthly power may not drag down your brethren.
Pray My children, the great commotion by strong earthquakes of great intensity comes.
Pray My children, pray that when the famine comes do not despair, but pray that My Angels will provide you with the food that will satiate you.
My children, My Mother called you to possess blessed grapes, they are necessary for you to satiate your hunger.
My House has revealed to you plants with which you will get rid of diseases, take it seriously and thankfully. Prevent yourselves before the disease that is already coming and in its development will affect the skin.
MY CHILDREN, CREATURES OF GOOD, PRAY AND KEEP SILENT SO THAT YOU MAY APPEASE THE MIND AND THUS BE A BLESSING TO YOUR BRETHREN, PUTTING INTO PRACTICE WHAT YOU PREACH.
In the midst of the evil that advances in so many hearts, the good is light and the light will never be overshadowed by darkness, never.
In the midst of the burning desert I, your Lord and your God, will bring the crystal clear water that not only quenches thirst, but heals hardened hearts. (Cf. John 4:13 -14).
In the midst of your persecutors I, your Lord and your God, will deliver you from them.
WEAPONS CANNOT STAND AGAINST MY HEAVENLY LEGIONS, TO WHOM I HAVE ENTRUSTED THE PROTECTION OF MY CHILDREN.
All that you need is possible if you are creatures of good testimony and fulfillers of My Teachings uniting everything to the Faith. "Just as the body without the spirit is dead, so Faith that does not produce works is dead." (Jas. 2:26)
I bless you, My children, I love you with Eternal Love.
Your Jesus
AVE MARIA MOST PURE, CONCEIVED WITHOUT SIN
AVE MARIA MOST PURE, CONCEIVED WITHOUT SIN
AVE MARIA MOST PURE, CONCEIVED WITHOUT SIN
COMMENTARY BY LUZ DE MARIA
Brethren:
Our Lord Jesus Christ protects us as a true Father and loves us so much that He cares for us in every detail so that we do not perish.
We are privileged to continue to be alerted to what is and will happen. Here the free will of man will play a great role, to say: yes, I believe! or to say: I do not believe! and wait for everything to happen and perhaps it will be too late.
GOD THE FATHER
02.12.2009
I, as Father of all mankind, bless you and just as today I have asked you, where are you My People, so today I also tell you that I bless you for listening to My Calls. But: it is that, children, these are pressing times and I need total and unconditional giving, total and unconditional obedience.
OUR LORD JESUS CHRIST
24.10.2021
I do not wish to frighten you, but to alert you. Spiritual preparation comes first and then prepare yourselves with food, according to what each one possesses within his means. I will multiply what My children possess, as long as what they acquire is really what their possibilities allow them.
OUR LORD JESUS CHRIST
18.02.2015
This battle is spiritual but this will be seconded by war. World War III will be the greatest scourge ever seen. And if I did not intervene in that approaching war, the whole of humanity would disappear, but I will rescue My Holy People and shelter them in My Heart together with My Mother to banish the enemy, the one who already manifests himself in the midst of humanity without humanity having detected him.
THE MOST HOLY VIRGIN MARY
13.05.2013
Those of My children who remain protected under My Shelter and keeping faith in the promise of Salvation given by Me to those who live in faithfulness, will be those who in the midst of the power come down from on high, will accompany My Son at His Second Coming, they will be the Holy Remnant, who gathered under the great Shepherd, will watch with jubilation amidst cheers, the final triumph of the true Church.
Amen.