Sunday, April 2, 2023
Be One with My Divine Son, Fill Your Hearts with Love and Be Light to Your Brethren at All Times. This Holy Week Is of Great Spiritual Profit
Palm Sunday – Message of the Most Holy Virgin Mary to Luz de María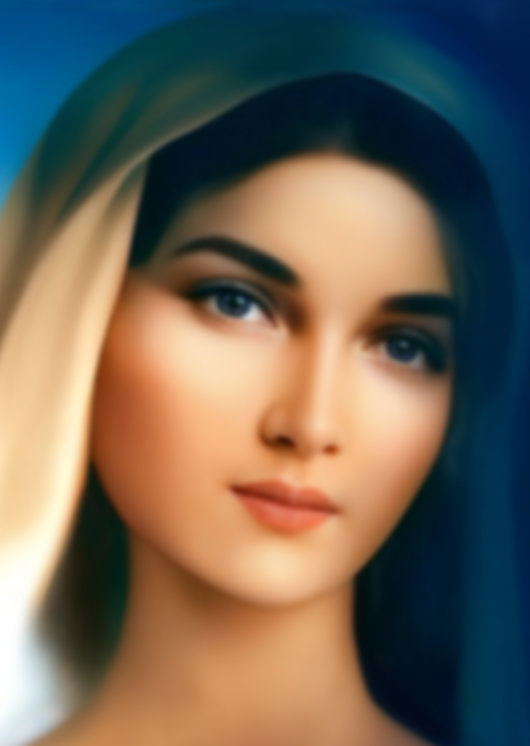 Beloved children of My Immaculate Heart, as we begin the Holy Week I invite you:
TO REMAIN UNITED TO MY DIVINE SON STEP BY STEP, BEING HIS FAITHFUL DISCIPLES, LIVING IN SPIRIT THE GREATEST FUSION WITH MY DIVINE SON, AS IF THIS HOLY WEEK WERE THE LAST IN PEACE.
Be one with My Divine Son, fill your hearts with love and be light to your brethren at all times. This Holy Week is of great spiritual profit.
Live moments of Grace...
Live moments of spiritual fulfillment if you wish....
REPENT! This is the right moment, not later, do not wait....
Within what you live enjoy the Great Blessing of the infinite compassion of the Divine Mercy, be nourished by It, be living reflections of that infinite Divine Mercy filled with good towards all mankind.
INDIVIDUALLY ENTER INTO THE INTERIOR OF EACH ONE OF US, AND YOU MUST CLAIM TO BE SEALED BY DIVINE MERCY (Jn. 6:27; Eph. 1:13-14; II Cor. 1:21-22) SO THAT AT THE HEIGHT OF EVENTS YOU MAY REMAIN FAITHFUL TO THE HOLY TRINITY AND ALLOW THIS MOTHER TO GUIDE YOU.
The spirituality of My children is so poor that during the day they live in a constant materialism that satisfies them and they do not need anything else, continually moving away from the fountain of the Divine Mercy of My Son. When the fountain is poured out the thirsty take advantage and drink from that fountain and Miracles are initiated:
The disobedient is more obedient....
The fool is more sensible....
The proud is more humble...
The arrogant is modest....
The one who does not believe is transformed and believes....
THESE ARE THE STRATEGIES, THE ONES KNOWN TO THOSE WHO LIVE IN THE FIELD OF PRACTICE ON THEIR OWN HUMAN EGO.
Beloved children, My Divine Son enters the moment of pain; the true pain of the one who donates himself being innocent for the sins of mankind.
Pay attention beloved children:
You must not be careless, you are in danger from those who seek and take wrong paths (Prov. 4:20-27).
You are in danger of being captive to your own errors. The children of My Divine Son enter into the test (Jas. 1:12-15) which will demonstrate personal Faith in the face of self-neglect and adherence to the son of lies.
Nature continues to scourge the peoples with its force and to lead the peoples to suffer. The earth trembles with force and the waters of the sea tremble, being serious for the coastal countries. In this purification mankind receives the product of his deeds.
FEAR NOT, THE PATERNAL HOUSE PROTECTS YOU. I keep you in My Maternal Heart.
Mama Mary
AVE MARIA MOST PURE, CONCEIVED WITHOUT SIN
AVE MARIA MOST PURE, CONCEIVED WITHOUT SIN
AVE MARIA MOST PURE, CONCEIVED WITHOUT SIN
COMMENTARY BY LUZ DE MARIA
Brethren:
Our Blessed Mother asked me to remind us of the following Messages given by Heaven in previous years:
OUR LORD JESUS CHRIST
APRIL 2009
Unite in a heart of prayer during this Holy Week.
Make reparation inasmuch as those who do not wish to draw near to Me, offend Me.
Make reparation for those who do not wish to draw near to Me, they despise Me.
Make reparation for the forgetfulness of some of your brethren during this Holy Week and do not forget that if Heaven exists, there also exists the suffering that man forges. And to deny it would be to give complete licentiousness to man, because many say, "we are all saved", and yes, you are saved, I have saved you on My Cross, I suffered for the sins of all of you, but he who does not repent, who does not recognize his sin, does not enjoy My House and not because of Me, but because man punishes himself with his free will.
SAINT MICHAEL THE ARCHANGEL
PALM SUNDAY, APRIL 14, 2019
Holy Week possesses no meaning for a great majority of God's children. It is something forgotten, an opportunity to vacation and come into direct contact with sin is the opportunity for fun.
If the human creature would keep his sanity, he would find in this Commemoration the opportunity to adhere to each one of the instants in which Our King and Lord Jesus Christ was unveiling the Divine Love for His children. That Love that man will regret having forgotten in the instant that he will enter into communion with his conscience and will possess before himself the reality of his sins.
THE DISREGARD OF THE VALUE OF THE PASSION, DEATH AND RESURRECTION OF OUR LORD AND KING JESUS CHRIST CONTINUES TO DRAG MAN TOWARDS SPIRITUAL HECATOMB, THE GOAL OF THE DEVIL.
Amen.