Friday, April 7, 2023
Father, Forgive Them, for They Know Not What They Do
Message of the Most Holy Virgin Mary to Luz de Maria – Holy Friday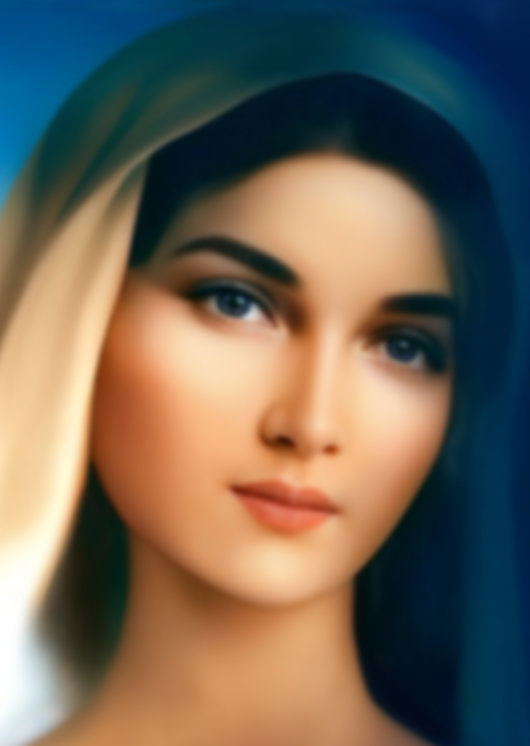 Beloved children of My Heart:
A WOODEN CROSS MY SON CARRIES, IT IS HEAVIER BECAUSE IT CONTAINS THE SINS OF ALL MANKIND...
OH HOLY FRIDAY ON WHICH MY DIVINE SON
SUFFERED THE INDESCRIBABLE!!!
His Divine Body suffered torture and in every act of torture He forgave, not only the one who scourged Him or beat Him or spat upon His Divine Face, but He prayed for those who humiliated Him.
He prayed for those who on Palm Sunday cheered Him and on the way to Calvary insulted Him, called Him "Beelzebub" and shouted loudly: Crucify Him! The human creature in his actions and deeds shares this behavior of those who with words of flattery make another feel good; but then when for some reason that brother bothers him, it is worse than those who on Palm Sunday went from cheering Him to asking for the death on the cross of My Divine Son.
This, beloved children, is a great and grave sin because when envy or jealousy of a human creature takes him, it is difficult for him to stop until he feels that he has poured all his discomfort transformed into poison against his brother.
AS MY SON WAS CRUCIFIED, THAT CRUCIFIXION IS CONSTANTLY REPEATED IN HUMAN CREATURES WHO SUFFER ALL KINDS OF SORROWS.
Everything is based on the love that My Divine Son pours upon you. The Law is Divine Love and My children must strive to make that love the foundation upon which to build their actions and actions.
ON A TREE MY SON SUFFERED UNTIL HIS DEATH,
THOUGH DEATH DID NOT OVERCOME HIM, BUT HE OVERCAME DEATH.
Beloved children, it is necessary for you to remember the words of My Divine Son on the Cross:
"Father, forgive them, for they know not what they do". (Lk. 23:34) It is the humanity of this moment, it is for each of you that My Divine Son exclaimed that "Father, forgive them". Without valuing the Gift of life, without responsibilities over your acts, thus you live adoring evil and despising the good, thus you live in betrayals, thus you live without learning from falls, thus you live and even more. For you children, My Divine Son exclaimed: "... for you know not what you do".
"Woman, there is your son!" .... (Jn. 19:26-27)
That pure love, that love which gives its life for the son is, thus and to infinity, the love of My Son for each one of you.
"I assure you that today you will be with Me in paradise." (Lk. 23:43) The great token of Divine Mercy:
Whoever repents at the last instant, whoever acknowledges Him King of Heaven and Earth earns Heaven. Great lesson children, but you do not know if all will have the great opportunity to be at the last instant like the one whom you know as the repentant thief. Do not wait My children, at this moment the Father's Arm has fallen and the cup is almost empty: repent, convert and cry out for mercy!
"My God, My God, why have you forsaken Me?" (Mt. 27,46) Humanity is far from My Divine Son, from this Mother and from the Helps of Heaven for you. In trials they turn to My Divine Son whom they did not know before and after knowing Him, they return to the old life. This is the time for you to pronounce: "not my will Father, but Yours". (Lk. 22,42)
"I thirst" (Jn. 19,28) My Divine Son thirsts for souls, souls that in this generation especially My Divine Son desires to recover, souls that are the Marian strength, the praying strength, the strength of faith with which My children will return the Earth to its Creator. Give My Divine Son pure souls to drink, souls desirous of serving fraternally, believing souls, holy souls.
"All is accomplished" (Jn. 19:30) My Son fulfilled the Will of His Father in everything up to the death of the Cross. He rose again on the third day and is seated at the right hand of the Father.
"Father, into Your Hands I commend My Spirit." (Lk. 23:46) My Divine Son surrenders Himself to the Father and breathes out His Spirit....
It is the obedience so indispensable in the children of My Divine Son.
It is the obedience they do not know how to keep because they do not know how to love correctly.
It is the obedience that they keep locked away because it is not convenient for them to submit to the Divine Will. And this because the human ego continues to surpass the Will of God in the human creature.
I call you to fast, health permitting.
I invite you to participate in the Liturgy of adoration of the Holy Cross. Pray the Creed and participate in the Way of the Cross.
ACCOMPANY MY DIVINE SON, ACCOMPANY HIM, ADORE HIM FOR THOSE WHO DO NOT ADORE HIM.
Beloved children of My Heart, I bless you.
Mother Mary
AVE MARIA MOST PURE, CONCEIVED WITHOUT SIN
AVE MARIA MOST PURE, CONCEIVED WITHOUT SIN
AVE MARIA MOST PURE, CONCEIVED WITHOUT SIN
COMMENTARY BY LUZ DE MARIA
Brethren, I invite you to pray:
Your Five Wounds be engraved on my heart that I may not offend You, Thy Crown of Thorns seal my thoughts, the Nails of Thy Hands stop the evil that my hands may want to cause, the Nails of Thy Feet stop mine, to hold my whole being in Thee, so that I do not find content, if I want to flee from Thy side.
Soul of Christ, sanctify me.
Body of Christ, save me.
Blood of Christ, intoxicate me.
Water from the side of Christ, wash me.
Passion of Christ, comfort me.
O Good Jesus, hear me.
Within Thy Wounds, hide me.
Let me not depart from Thee.
From the evil enemy, defend me.
In the hour of death call me
and send me to Thee,
that with Thy saints I may praise Thee,
for ever and ever.
Amen.