Saturday, April 8, 2023
My Son, My Little and Great King Lies in the Sepulcher and Descends into Hell and Then Rises Again
Message of the Most Holy Virgin Mary to Luz de María – Holy Saturday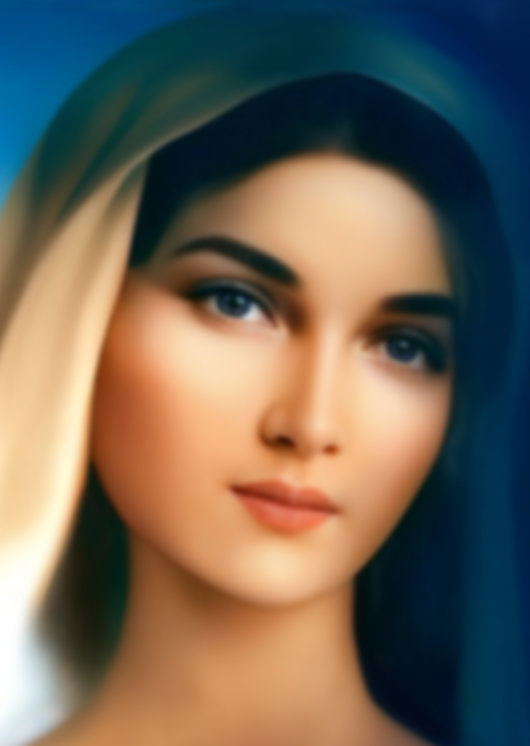 Beloved children:
We have come to this day when My Motherly Heart recalled the prophecies of the Elder Simeon (cf. Lk. 2:33-35).
My Son, My little and great King lies in the sepulcher and descends into hell and then rises again.
Great trial that I have taken with love, with faith, with My "Fiat Mihi". My full faith in the Will of the Father and in My own Son who has filled Me with hope, sustains Me on this Holy Saturday.
Above My sorrow as Mother, is My Surrender to the eternal Plan of Salvation which My Son fulfills and I follow in His footsteps.
Beloved children, I call you to faith, hope, charity and love towards the House of the Father so that you may be intimately united and more filled with the Holy Spirit.
Beloved children:
As a Mother I felt with a pain that pierced My Heart over and over again. I traveled on several occasions to the places where My Divine Son walked with the Cross on His shoulders, I relived the falls, how they pushed Him and offended Him. I remembered the Cyrenean and begged God the Father for all the blessings for him.
For Me it was a day of pain, silence and mourning. Words only come out of My mouth to pray, I cry in the face of mourning and pain because faith and pain unite as an offering to God the Father in reparation for the injustices that would be committed by later generations.
Beloved children, may it not be too late when for some reason you refuse to ask for forgiveness, to give thanks and to feel good at some kind gesture of a brethren. Every deed and act must be looked at, felt and lived as if it were the last in life.
Beloved children, without losing a second of life to propose peace with My Divine Son to yourselves, go to the Sacrament of Confession.
Be humble above all and keep in mind that My Divine Son rose to save you.
In the face of great and serious events to come, you will be amazed at what has happened and grateful to My Divine Son for keeping you alive and united.
Great earthquakes happen and war becomes more visible, therefore you must prepare yourselves. Do not regret not having prepared.
Pray My children, pray before the serious natural threats to North America, which is shaking hard.
Beloved children:
I MUST SHARE THE INFINITE JOY AND JOY CAUSED BY LOOKING AT MY RISEN DIVINE SON, MY SOUL IS EXALTED, MY JOY IS INDESCRIBABLE:
MY SON IS ALIVE! (Cf. Lc. 24, 5-6; Job. 19, 25)
All has been fulfilled and joy penetrates Me to the point of almost uttering another canticle before the love of both of us as we look at each other.
Look at one another and give the value that each creature possesses through the human dignity of being children of God.
The temples light up and joy returns to the hearts of His children.
My beloved, I bless and protect you, do not fear.
I love you.
Mama Mary
AVE MARIA MOST PURE, CONCEIVED WITHOUT SIN
AVE MARIA MOST PURE, CONCEIVED WITHOUT SIN
AVE MARIA MOST PURE, CONCEIVED WITHOUT SIN
COMMENTARY BY LUZ DE MARIA
Brethren, let us pray in the unity of the children of God:
From now on I beg You Mother, do not separate Yourself from me, be my help and strength, so that I may remain faithful to Your Divine Son.
You are the blessed Tabernacle where love bore fruit; do not close the door, for I stand before You to recognize in You the Hand of the Creator.
Blessed are You who have believed, show me the way.
You are Lady, the Ark of the New Covenant, the rainbow that announces true life.
I only ask You my beloved Mother Help of Christians: keep me by Thy Hand, lest I go astray; Come quickly to seek me, without You I am empty.
Be Thou, my Lord the light that illumines my path, the star that shows me the way.
Let me not confuse my course.
Be Thou, the sentinel that keeps the light of the lighthouse where my soul rests in peace and joy.
May I not be overcome by fears or afflictions; may I always look to Thy Cross that I may never forget the Sacrifice of Love that You have offered for me.
Amen.
Let us pray the Our Father...