Sunday, April 16, 2023
You Spend So Many Hours on Computers and Televisions and You Are Ignorant of Everything That Is Close to Humanity!
Message of Our Lord Jesus Christ to Luz de María - Feast of the Divine Mercy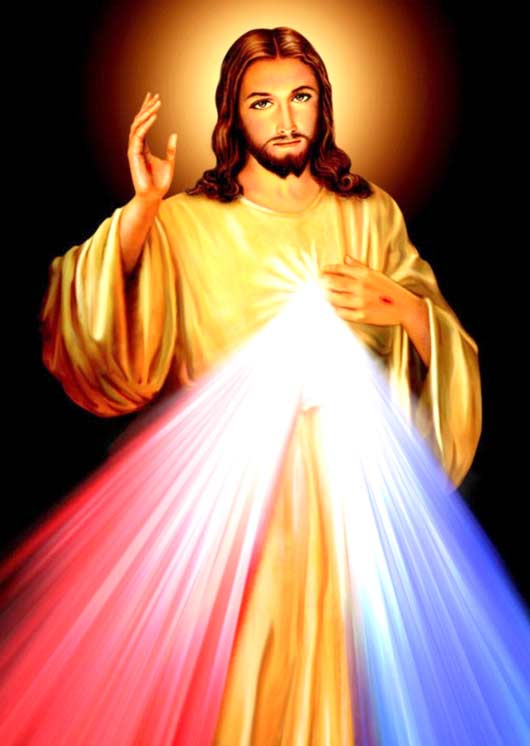 My beloved children:
ON THIS GREAT DAY IN WHICH THE FEAST OF MY MERCY IS CELEBRATED, I CALL YOU TO MEDITATE ON THIS CALL.
My children go to extremes when I speak to them of My Mercy and My Justice, believing Me to be a God who forgives everything or who lets everything pass and because He is God He must always be weak and passing. I am Justice, but I am not unjust, much less am I so severe that I do not bend before the sorrows of My own.
My Mercy overcomes everything if the human creature desires forgiveness with all his strength and makes a firm resolution of amendment. When My children desire with all their strength, with all their heart, with all their mind, with all their thought My Forgiveness, I offer them My infinite Mercy and all My Goodness is poured out upon My human creatures through My Rays.
BECAUSE I AM MERCIFUL I AM NOT A SMALL GOD, BUT I AM THE INFINITELY POWERFUL, SUPREME, OMNIPOTENT AND OMNISCIENT GOD.
What for man is insurmountable, My Mercy surpasses it.....
What for man is incomprehensible, for Me surpasses human thought and I forgive in My Way....
Every act and deed of Mine comes from My Love, My Justice and My Mercy. (Cf. Ps. 145, 17) The human creature usually judges Me with the human judgment that looks behind itself at its own convenience.
Beloved children, My Justice is merciful; therefore he who is not merciful is lost in the mist of presumption and intrigue.
I call you to pray, to live close to Me and I call you to be creatures renewed in My Love. I desire you transformed in order to endow you with My Gifts and My Virtues.
Children, you walk every day perhaps on the same path and you have looked at the same beggar sitting by the side of the road: hungry, cold, thirsty and you have given him nothing. You walk with the same people every day and if I ask you: what are the needs of those people you walk with? You do not know.
The human creature lives on what he sees, on what is superficial and does not delve into the depths of the brethren in the need of the lack, which is not always monetary, but can be lack of Christian formation and ignorance about the Sacred Scriptures.
Children:
You spend so many hours on computers and televisions and you are ignorant of everything that is close to humanity!
How I regret this behavior of indifference of My children towards the Prophecies that I have sent you!
You know that it is the duty of each one to pray for each of his brethren, ministering to one another.
My Mother and St. Michael the Archangel by Divine Will have given you the Warnings so that you may prepare yourselves and not get lost.
YOU ARE AT THE TIME TO INCREASE IN FAITH AND TO TURN TO MY DIVINE MERCY.
Beloved children:
What is your faith?
How is your faith?
Where is your faith to be found?
So many of My children leave Me aside abandoning Me!
THIS IS THE TIME FOR YOU TO TURN TO FAITH, BE FAITHFUL AND TASTE MY MERCY.
I bless you My children, I love you. Come to My Mercy.
Your Jesus
AVE MARIA MOST PURE, CONCEIVED WITHOUT SIN
AVE MARIA MOST PURE, CONCEIVED WITHOUT SIN
AVE MARIA MOST PURE, CONCEIVED WITHOUT SIN
COMMENTARY BY LUZ DE MARIA
Brethren:
I invite you to meditate on the following Messages:
THE MOST HOLY VIRGIN MARY
27.06.2009
Children, each one must walk with the consciousness of the constant blessings they receive from the Paternal House, conscious of the Divine Mercy, which without ceasing is in constant flight from Heaven to Earth, so that all men may have the great blessing of keeping within their reach all the aids they need to overcome the trials and onslaughts of each day with spiritual health.
THE MOST HOLY VIRGIN MARY
15.10.2009
I call you to never tire of bearing witness to the Divine Love that dwells within you. Trust in God, in His Mercy and you will see His Glory. This is the time to bend your knees: pray, pray without fainting for My Son will give you a great WARNING. Prepare yourselves for this great day of Mercy, prepare yourselves because the evil one will be lying in wait against those lukewarm ones who do not remain strengthened.
OUR LORD JESUS CHRIST
24.01.2016
Religion will reel. Sin, entered into My Church, will have wreaked havoc before the foolishness of those who do not obey, have not known Me and have rejected Me. My House will be treated with irreverence when they confuse My Mercy with the transformation of the Divine Law to adapt it to the constant disrespect of a merciless generation.
Amen.