Friday, April 21, 2023
Do Not Be Afraid of Those Who Persecute You nor of Those Who Slander You, If It Were Not So, Yes Then You Should Be Concerned
Message of St. Michael the Archangel to Luz de María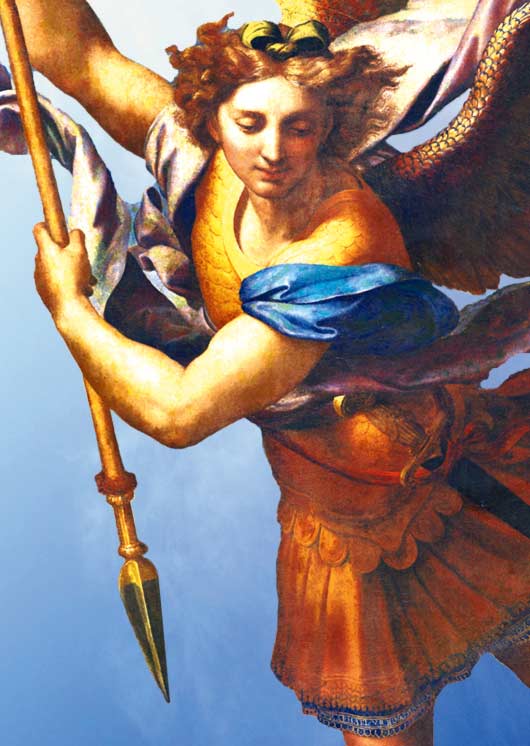 Beloved children of Our King and Lord Jesus Christ, by Divine Command I address you.
You commemorated Holy Week and the feast of Divine Mercy and offered for the need for all to be love and keepers of the Divine Law, now it is of great importance that you pray for those who are in a period of conversion.
From love comes all that the human creature needs to be better and to advance continuously, I speak to you of love in the likeness of Our King and Lord Jesus Christ.
Beloved children of Our King and Lord Jesus Christ, great and serious strife is spreading throughout the Earth, like the air when it announces the storm.
Be creatures of prayer, of living in adoration of Our King and Lord Jesus Christ (cf. Phil. 4:6-7), go to receive the Body and Blood of Our King and praise Our Queen and Mother, the Blessed Virgin Mary; do not deny Her, carry Her in your hearts.
Children of Our King and Lord Jesus Christ:
YOU MUST KNOW THAT THE ANTICHRIST (1) MOVES WHERE YOU LEAST THINK, you fear him, you know of his power over mankind and you wait for him to show himself publicly. He is the shadow that brings darkness to man, he is temptation. Therefore he is obeyed, like a subtle reptile he seizes whatever he desires.
And how many Antichrists have passed through the Earth!
And how many Antichrists exist at this moment in yourself, in your misused ego, in your pride, all around you! But the true one will be presented publicly.
Children of Our King and Lord Jesus Christ:
THE ECONOMY IS UNSTABILIZED AND THEN HUMANITY GOES INTO PANIC. They will melt the metal and the paper will be burned to advance in power, implanting what has been announced and most countries welcome the new currency.
YOU WILL GO THROUGH PURIFICATIONS, BUT OUR KING PROTECTS HIS OWN AND INCREASES THEIR FAITH.
Do not be afraid of those who persecute you nor of those who slander you, if it were not so, YES then you should be concerned.
Christ reigns (Rev. 11,15) already! in the hearts of his faithful: he is Hope, Faith, Charity, Refuge and Security for His children.
God's children are "the apple of His eye" (Zech. 2:12) and He cares for them with Eternal Love.
Beloved children of Our King and Lord Jesus Christ, I bless you.
Saint Michael the Archangel
AVE MARIA MOST PURE, CONCEIVED WITHOUT SIN
AVE MARIA MOST PURE, CONCEIVED WITHOUT SIN
AVE MARIA MOST PURE, CONCEIVED WITHOUT SIN
COMMENTARY BY LUZ DE MARIA
Brethren:
Let us get ready!...
Let us be faithful to Our King and Lord Jesus Christ without forgetting Our Queen and Mother and St. Michael the Archangel and His Heavenly Legions.
ST. MICHAEL THE ARCHANGEL
28.10.2011
"THE WOMAN CLOTHED WITH THE SUN WITH THE MOON UNDER HER FEET" (Rev. 12,1), SHALL COME TO PUNISH THE ANTICHRIST AND JOIN WITH HIM, THE ANGEL OF PEACE.
OUR LORD JESUS CHRIST
21.10.2011
Mankind waits for a being who will say, "I am the antichrist" and proclaim himself to be the antichrist. They wait for him to appear doing prodigies. But the prodigies he is already executing them little by little through all modern methodologies, such as technology, misused science, nuclear energy, projects to destroy the planet and the alteration of human biology. It has used powerful governments to create its networks and strategies to manipulate the masses, bringing them ever closer to war. His greatest apparition has been to carry out his plan to annihilate Me from everywhere and close My Temples. The next strategy, will be to close My Shrines and places of apparition of My Blessed Mother."
SAINT MICHAEL ARCHANGEL
10.11.2022
I look at so many human creatures running after the Antichrist by not knowing Our King and Lord Jesus Christ, by ignoring that Our King and Lord Jesus Christ worked miracles and did not flaunt it, but on the contrary, hurried away.
What is different about the Antichrist is that he will announce the supposed "miracles" that he will do. You well know that they will not be miracles, but works of evil: he will make use of demons to appear to raise a dead person from the dead. THEREFORE IT IS URGENT THAT YOU KNOW OUR KING AND LORD JESUS CHRIST DIRECTLY FROM THE HOLY SCRIPTURE, SO YOU WILL RECOGNIZE HIM AND WILL NOT BE DECEIVED.
Brethren let us have certainty in the Word of God:
I have said these things unto you, that in me ye may have peace. In the world you will have tribulation. But be of good cheer: I have overcome the world." Jn 16:33
Amen.