Friday, May 26, 2023
Whoever Does Not Know the Apocalypse Will Deny All That Is on Earth, Will Be Foolish and a Persecutor of My Calls
Message of Our Lord Jesus Christ to Luz de Maria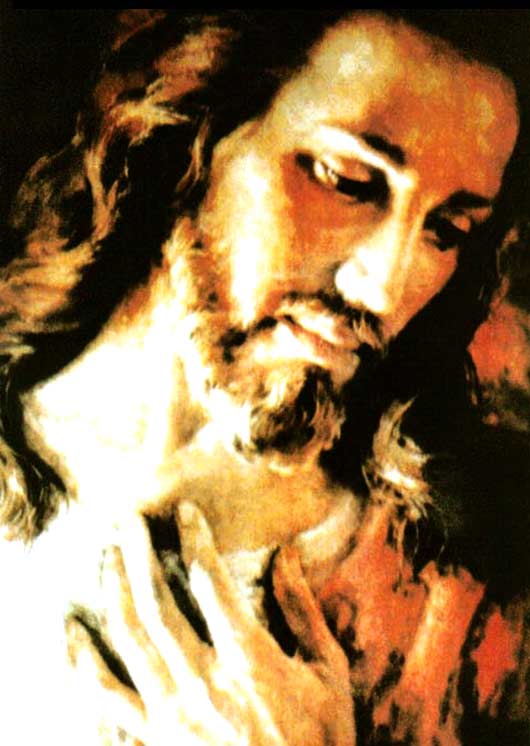 Beloved children, receive My Blessing
I NOURISH YOU WITH MY WILL WHEN YOU INVOKE ME. INVOKE MY HOLY SPIRIT WHEN YOU WORK AND ACT AND ASK HIM TO POUR MY BLESSINGS, not only upon you and your families, but upon all mankind, that they may strengthen Faith in Me and not fall back being prey to false ideologies that seek My children to lose their souls.
They live in uncertainty before the lack of faith in My Providence, lack of faith in My Protection and lack of faith in My Help.
How many in their arrogance close their reason and thought to deny My Calls!
How many like the doctors of the law deny My Calls towards the conversion of My children and in their foolishness, publicly call Me a liar, an alarmist and an apocalyptic!
Whoever does not live the Apocalypse in his life, how will he know how to distinguish between the Truth and the deception of the Antichrist who moves them to disobedience, to not obey nor live the Magisterium of My Church as is My Will?
Whoever does not know the Apocalypse will deny all that is on Earth, will be foolish and a persecutor of My Calls.
Beloved children, you live the uncertainty of the events because you do not accept that you are already moved towards the cliff by the earthly power which, united, takes the decisions to lead you towards chaos with the collapse of the great attachment of the human creature: THE ECONOMY.
THE ENTIRE ECONOMY OF THE WORLD WILL BE CHANGED, what you use today to buy and sell will not be accepted so that you will be supplied with food and what you need to survive. Because of this I have called you to Faith in Me and in My Mother, who has provided you with the medicines (1) to combat the diseases (2) that are coming. SORRY, YOU CONTINUE TO BE DEAF. THESE DISEASES WILL NOT BE FOUGHT WITH KNOWN MEDICINES, BUT WILL REACT TO WHAT MY HOUSE HAS MADE KNOWN TO YOU.
Wake up children!
DO NOT FIX YOUR FUTURE IN DATES, BUT PREPARE YOURSELVES AND SEEK ME IN CONFESSION AND IN THE COMMUNION OF MY BODY AND MY BLOOD IN THE EUCHARIST.
They watch nature pounce upon the countries for the earth, still unmoved by conscience.
Pray, My children, pray for Mexico, Chile, Ecuador and Colombia are shaken.
Pray My children, pray for Central America and Panama are strongly shaken.
Pray for Australia, it suffers great devastation.
Pray children, pray, so many sleeping volcanoes awaken causing serious human losses. This in the face of the foolishness of some leaders who omit to alert My children.
Pray children, pray, the earth continues to tremble at one point or another: Asia suffers, as well as Europe in the least expected areas.
The war advances (3) and an error will awaken the struggle of man against man, the struggle disguised as the possession of power.
My beloved People, Argentina suffers unexpectedly and Brazil suffers in its heart.
My children, I love you. I remain attentive to help you, you will not be abandoned by Me. I have ordered My beloved St. Michael the Archangel and His Legions to fight against the Devil and not to allow him to destroy you emotionally, so that you will be creatures who fulfill the First Commandment.
I protect you, I help you, I speak to you so that you may reinforce what you already know. Store water within the home.
Be reflections of My Peace and in peace give yourselves to your brethren, help the helpless. Be cautious in speaking, for you are being watched with some evil intentions.
Unite fraternally and forgive each other from the heart.
THE STRUGGLE IS FOR SOULS, DO NOT LET THEM TURN YOU AWAY FROM ME. STAND FIRM AND I YOUR LORD AND YOUR GOD, WILL DELIVER YOU FROM ALL EVIL.
I bless you with My Fatherly Love.
Your Jesus
AVE MARIA MOST PURE, CONCEIVED WITHOUT SIN
AVE MARIA MOST PURE, CONCEIVED WITHOUT SIN
AVE MARIA MOST PURE, CONCEIVED WITHOUT SIN
(1) On medicinal plants, read...
(3) On war, read...
COMMENTARY BY LUZ DE MARÍA
Brethren:
Our beloved Lord loves us and therefore alerts us at all times. Let us be salt of the earth, so that in the likeness of Christ, the priority may be the souls.
Serious emergency situations are taking place all over the Earth, unexpectedly taking human creatures by surprise.
Let us prepare ourselves spiritually and with what Heaven asks of us. Let us be love and truth.
Amen.