Saturday, June 10, 2023
Be Worthy Abodes of the Presence of My Divine Son in Each of You
Message of the Most Holy Virgin Mary to Luz de María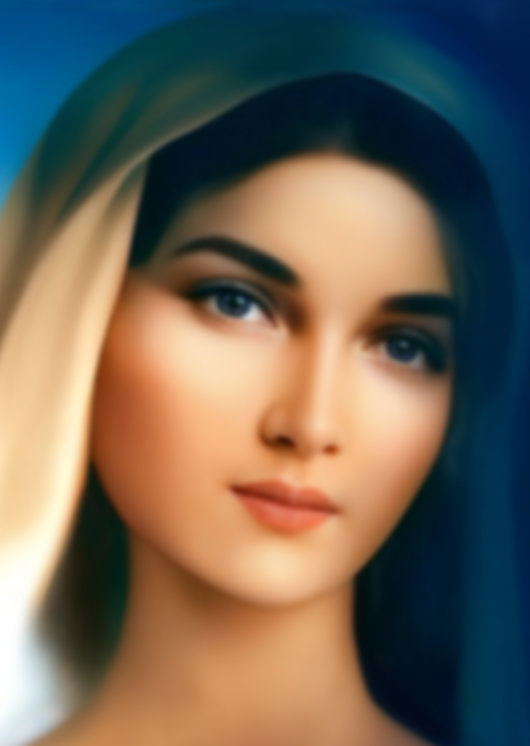 Receive the blessing of this Mother who loves you:
I BLESS YOU ON THIS VERY SPECIAL DATE; DRAW CLOSE TO MY DIVINE SON, LIVE FROM HIM AND IN HIM, IN A CONSTANT INTIMACY OF SOULS FAITHFUL TO MY DIVINE SON.
My Divine Son lives, in each of His children, guiding them, loving them, succoring them, out of love, mercy and to offer them eternal life.
Beloved children, each one is part of the Church that My Divine Son instituted, He dwells in you.
Beloved children: AS PART OF THE MY DIVINE SON'S MYSTIC BODY, LIKE MY SON, YOU ARE AND WILL BE PERSECUTED. My Divine Son suffers for this, and like Saul, He asks the persecutors of His children, "Why do you persecute Me?" (Acts 9,4).
Beloved children; well you know that for love of My Divine Son you are and will be persecuted harshly by the enemies of the Church. WITHOUT DOUBTING THAT YOU HAVE RECEIVED THE EUCHARISTIC SACRAMENT, TRULY PRESENT IN THE HOLY EUCHARIST, NOURISH YOURSELVES CONTINUALLY FROM THE EUCHARISTS RECEIVED, AS WELL AS FROM THE ADORATIONS BEFORE THE MOST HOLY SACRAMENT. (1) BELOVED CHILDREN, YOU ARE THE DWELLING PLACE OF MY DIVINE SON, AND THEREFORE BE A WORTHY DWELLING PLACE.
Turn away from the worldly and be creatures of good, love your brethren. My Divine Son is love and his children must be love for themselves and for their brethren.
Very strong trials are approaching for humanity in general, this is why I call you to be at peace with My Divine Son:
So that before the great blackout that there will be, you will be illuminated by the Holy Spirit. Without neglecting the duty to prepare yourselves before this great test that will lead to the weather descending: prepare yourselves!
It is painful for My Divine Son to see how the war is closer, it is painful for this Mother....
MY CHILDREN ARE PREPARING AS FOR A FEAST AND IT IS ABOMINABLE.
Pray My children, pray for the countries in which their rulers wish the Church to disappear and their people to disappear.
Pray My children, pray and protect the health, increase sudden deaths caused by improper acts of those who rule mankind.
Pray My children, pray for My authentic instruments, they are persecuted.
Pray My children, pray for America, it suffers.
Pray for Chile, Ecuador and Colombia.
Be worthy abodes of the presence of My Divine Son in each of you.
I am to intercede before My Divine Son for each of you.
I DO NOT SEPARATE FROM YOU, I LOVE YOU WITH MOTHERLY LOVE, BE FAITHFUL TO MY DIVINE SON AND RECEIVE THE REAL PRESENCE OF MY DIVINE SON PRESENT IN THE EUCHARIST.
Grave torments are approaching, and therefore I warn you to prepare yourselves with cold clothing. The sun is setting, evil seizes this fact to take dominion over a great part of mankind.
My Divine Son is Love, and to be at PEACE with the brethren is a great good for the soul.
I bless and love you,
Mama Mary
AVE MARIA MOST PURE, CONCEIVED WITHOUT SIN
AVE MARIA MOST PURE, CONCEIVED WITHOUT SIN
AVE MARIA MOST PURE, CONCEIVED WITHOUT SIN
(1) Revelations about the Holy Eucharist, read...
COMMENTARY BY LUZ DE MARÍA
Brethren:
On this Solemnity in which we celebrate the Body and Blood of Christ, let us become aware of the greatness we possess as Church.
We have seen true miracles, miracles that only Almighty God can perform, HOW CAN WE NOT BELIEVE IN GOD?
Let us be aware that we are heading rapidly towards a strong confrontation between two countries, and from there to humanity. This is due to human pride, the cause of all evils.
Let us banish pride and thus be creatures of good; let us prepare ourselves for a reality that the human creature does not wish to accept.
Let us participate in this infinite Mystery of Divine Eucharistic Love, which our Heavenly Father bequeathed to us for the salvation of the whole world.
Amen.