Saturday, July 1, 2023
Prepare Yourselves for the Arrival of My Beloved Angel of Peace
Message of the Most Holy Virgin Mary to Luz de María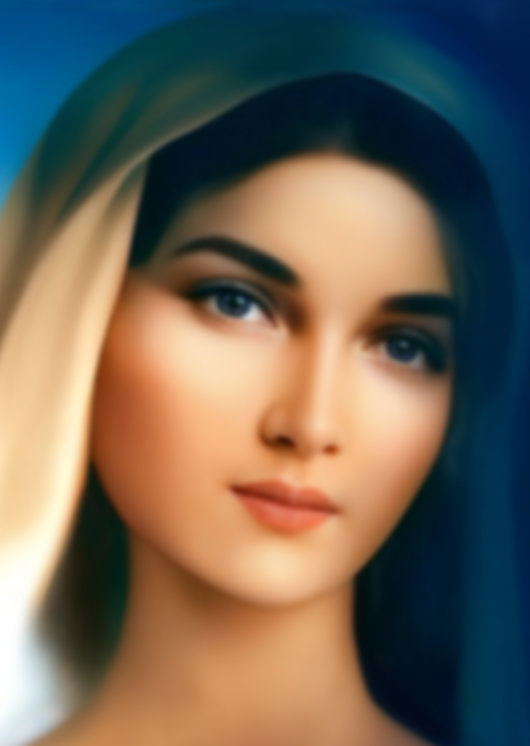 Beloved children of My Immaculate Heart, I bless you.
MY DIVINE SON LOVES YOU AND CALLS YOU TO BE FAITHFUL TO HIM...
The Love of My Divine Son is the source of His infinite Mercy, so you may approach to ask for His forgiveness "with a contrite and humbled heart" (Ps. 51:19) at all times with the confidence and assurance that His most loving Heart awaits you.
Beloved children:
THE EARTH IS COVERED WITH DENSE MISTS. You do not see them with the naked eye, only those who see with spiritual eyes what is happening, manage to find the real essence of what is happening. These mists fed by the Devil further cloud the hearts of stone, the minds that have given themselves to the mundane and My children who deny what this Mother has told them will happen.
AT THIS MOMENT MANKIND RESISTS TO DO GOOD, TO BELIEVE, OBEY AND LOVE MY DIVINE SON...
They will live what they never thought to live in the face of unbelief, unlove and disobedience towards My Divine Son. They are quick to attach themselves to falsehood, anxious to find one who denies all that I reveal in order to welcome him.
Beloved children, keep praying, My children pray and are heard.
Solid foundations are indispensable for you to maintain firm faith, prayer must be accompanied by good works so that it may bear fruits of mercy, charity and hope.
Prayer is acting within the Law of God so that the fruit of your works and your actions is a good fertilizer that fertilizes those around you.
Prayer is not only verbal, but must be born of the heart; and the heart, in order to bear good fruit, must be nourished by the acts and works of those who fulfill the Will of God. The Commandments are to be fulfilled, the Sacraments are to be fulfilled and lived with love and the Works of Mercy are love.
How is a creature of prayer?
It is the result of Divine Love operating in that creature.
I invite you to unity (1), you must help one another to survive in the face of what comes.
DO NOT DEFER TO TOMORROW WHAT YOU CAN DO TODAY. (Prov. 3,28) THE TIME IS PRESSING, THOUGH SOME OF MY CHILDREN MAY NOT BELIEVE IT.
Receive My Divine Son, in His Body and in His Blood in the Holy Eucharist. Adore Him in the Most Blessed Sacrament of the altar where He is present, living and pulsating.
PREPARE YOURSELVES FOR THE ARRIVAL OF MY BELOVED ANGEL OF PEACE, WITHOUT CONFUSING HIM WITH AN AN ANGEL OF THE HEAVENLY COURT. He is Angel of Peace by His essence, by His mission to keep guiding, encouraging and providing spiritual word so that the faith does not decay.(2)
Beloved children, you have built the "new Tower of Babel" to contradict the Holy Scripture. It will not confuse human creatures in its language, but in its spirituality. It will present them with appealing spiritual novelties so that they will abandon the Holy Trinity.
How many say that the Antichrist (3) does not exist?
These are the tentacles with which the Antichrist prepares his way....
He is in front of you and you do not look at him.
WAKE UP CHILDREN! OR DO YOU EXPECT ME TO SPEAK TO EACH ONE IN PARTICULAR?
Pray children, pray, nature continues to give serious surprises to the human creature.
Pray children, pray with a heart of flesh, you need it.
Pray children, pray, Miami weeps, pray children.
Pray children, pray, Paraguay needs your prayers.
Pray children, pray, many of My children will be converted, they will return to the Fold after being polished and look before the Truth of what this Mother has forewarned them. They will adore My Divine Son and grieve for their sins.
This Mother will not forsake them. I have lovingly welcomed the intense days of prayer and consecration that I have received from My beloved children.
IN THE END MY IMMACULATE HEART WILL TRIUMPH. (4)
My special Blessing at this time upon the children of My Divine Son.
Mama Mary
AVE MARIA MOST PURE, CONCEIVED WITHOUT SIN
AVE MARIA MOST PURE, CONCEIVED WITHOUT SIN
AVE MARIA MOST PURE, CONCEIVED WITHOUT SIN
1 - On the unity of the People of God, read...
2 - Revelations on the Angel of Peace, read...
3 - Book about the Antichrist and his tentacles, download...
4 - On the triumph of the Immaculate Heart of Mary, read...
COMMENTARY BY LUZ DE MARIA
Brethren:
Our Lord Jesus Christ gave us a message in the year 2019 of which I share with you the following:
"Understand that the fullness of My Spirit in man is the triumph of the Immaculate Heart of My Mother in the creatures; for that My Mother has fought.
It is not Her triumph on earth, it is the triumph of the fullness of My Holy Spirit over every human creature. My Mother triumphs, but not for Her, for Our Trinity."
I feel that, after the example of Our Most Holy Mother, one can always work and act for the glory of the Holy Trinity.
Our Blessed Mother speaks to us of the Angel of Peace, so that we may be clear that he is a creature of God, sent with a mission entrusted by the Holy Trinity in favor of the children of God, at this most decisive moment of humanity; but he must not be "CONFUSED WITH AN AN ANGEL OF THE HEAVENLY COURT".
Brethren, let us possess conscience and discernment, so that we may not be deceived.
Amen.