Thursday, July 13, 2023
As Humanity You Need Prayer, You Need to Grow Spiritually and You Must Be Humble to Grow
Message of Our Lord Jesus Christ to Luz de Maria on July 12, 2023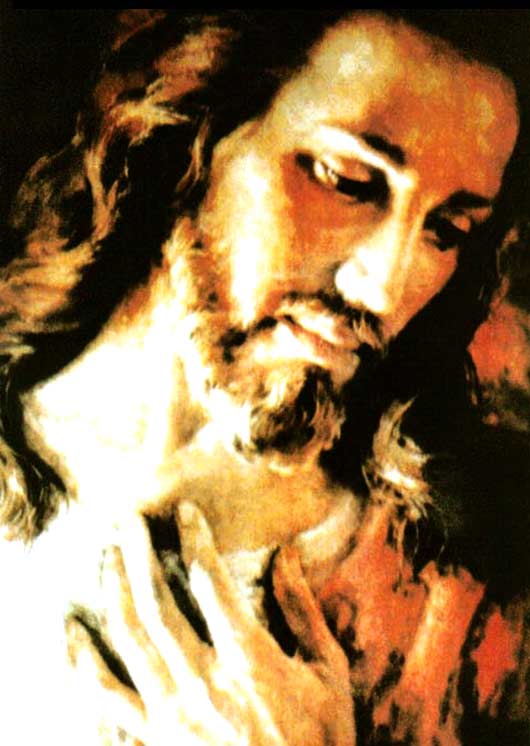 Beloved children:
Receive My Blessing:
THAT MY HOLY SPIRIT MAY LIGHT THE WAY FOR YOU, GIVE YOU DISCIERNMENT, PROVIDE YOU WITH WISDOM AND GIVE YOU KNOWLEDGE SO THAT MY BLESSING "MAY BEAR FRUIT OF ETERNAL LIFE" IN YOU (Jn 15:1-2).
You must be keepers of My Law and constantly fight against the disordered appetites that lead you away from Me and toward perdition.
THE STRUGGLE IS SPIRITUAL MY CHILDREN, though you hear of disasters, of wars, of events of nature, but above all the struggle is spiritual (1). It is the opening of the door of the Antichrist who pours his evil upon humanity, preparing his public appearance.
Beloved children, staying within My Will makes you more steadfast in faith, more determined to be Mine and not to give yourselves over to acting within evil.
Distinguish yourselves by being generous, charitable, kind, fraternal and creatures of communion, keeping My Law and The Sacraments, loving My Blessed Mother at all times.
AS THE END OF THE PERIOD OF THE "FOREWARNING" APPROACHES, MY PEOPLE MUST REMAIN VIGILANT OF EVENTS...
I mourn before the unbelief in which a number of My children live. These unbelievers jump everywhere and appropriate the thoughts of those who follow Me half-heartedly in order to act in secret, undermining lukewarm faith.
Nourish yourselves on My Body and Blood and strengthen your Faith in My Word by being knowledgeable in Sacred Scripture (Cf. I Tim. 4, 13).
My beloved ones:
STRONG MOMENTS ARE AHEAD! From various points on earth they are preparing to cause warlike chaos at a moment's notice.
As humanity you need prayer, you need to grow spiritually and you must be humble to grow. The humble with knowledge of My Word are not surprised by the "wolves in sheep's clothing" (Mt. 7:15).
Pray My children, pray for England, pain comes.
Pray My children, pray for Nicaragua, My Divine Heart suffers for these My people.
Pray My children, pray for Spain, it is shaken and its people suffer before the violence that is unleashed.
Pray My children, pray for Germany, violence is approaching.
Pray My children, pray, My Mother does not forsake you, She guides you to safe harbor. Continue to hold My Mother's hand.
Beloved children, evil entered into humanity, it mingled with humanity which does not love Me and rejects My Most Holy Mother. The product of this estrangement of the human creature towards Me is the perversity in which they live, the lack of morals and values in this generation.
Beloved children:
JOIN IN PRAYER! You are heard in My House. Be fraternal and shelter each other, thus you are stronger under the protection of My Shadow.
MY BELOVED SENDER, THE ANGEL OF PEACE (2) , POSSESSES THE GIFTS AND VIRTUES OF MY SPIRIT His word is firm, merciful and truthful. My children will flock to Him. My beloved Envoy is essence of My Love, essence of the love of My Beloved Mother.
Be in My Peace. I bless you.
Your Jesus
AVE MARIA MOST PURE, CONCEIVED WITHOUT SIN
AVE MARIA MOST PURE, CONCEIVED WITHOUT SIN
AVE MARIA MOST PURE, CONCEIVED WITHOUT SIN
(1) On spiritual combat, read...
(3) About the Angel of Peace, read...
COMMENTARY BY LUZ DE MARIA
Brethren:
I receive this Message from Our adored Lord Jesus Christ, as if it were an answer to so many questions that brethren of ours are gathering as they hear words from various means and enter into confusion.
In this special call we see how Our Lord Jesus Christ tells us that this war is spiritual, no matter how many things we see as justifying, it is spiritual in its background. And it is that at the end of this "pre-warning" the insidiousness of the Devil enters to eat away at the little knowledge and closeness of the human creature to his Lord and his God.
Let us give thanks to God who alerts us and calls us to spiritualize ourselves, which for us His children is an infinitely valuable opportunity to receive such a great gift as it is to come to live in His Will.
Amen.