Tuesday, August 15, 2023
My Beloved Angel of Peace Comes to the Help of Those Who Ask Him to Put Down the Demon
Message of the Most Holy Virgin Mary to Luz de María on August 13, 2023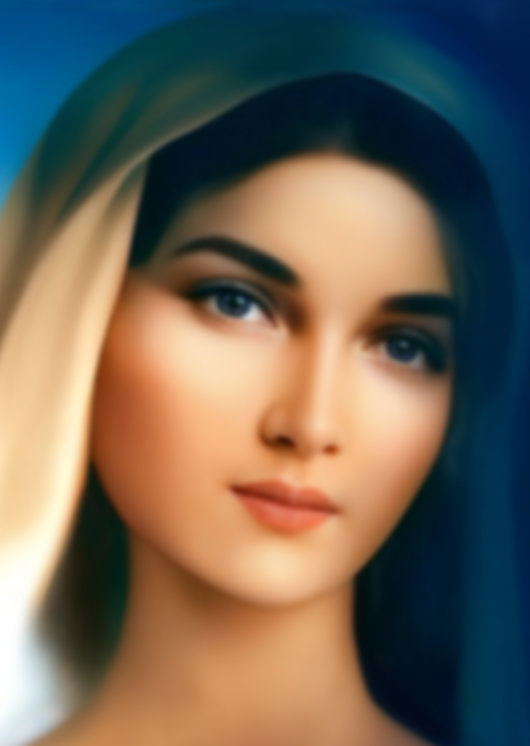 Beloved children of My Immaculate Heart, I bless you, I love you, you are My children.
I COME AGAIN BEFORE EACH ONE OF YOU, BEFORE HUMANITY TO GIVE YOU THE HONEY OF MY MOTHERLY LOVE...
I COME TO GUIDE YOU TO MY DIVINE SON...
I COME TO AWAKEN YOU FROM THE SOMNOLENCE WITH WHICH YOU LOOK AT EVERYTHING THAT HAPPENS, KNOWING THAT THE AXIS OF THE SPIRITUAL LIFE IS MY DIVINE SON AND WITHOUT MY DIVINE SON YOU ARE NOTHING, AND YOU KNOW IT....
I call you to take the initiative as children of My Divine Son to pray in unity, in faith and in abandonment to the Will of the Father.
Humanity, dominated by whatever reaches the unconscious, finds itself defeated by a system that has one goal: that is the power over moral values in order to undermine every human creature.
From aberration to aberration, from sacrilege to sacrilege, from fall to fall, humanity is approaching its own purification.
In the midst of diseases (1), of new provisions to move from one country to another, in continuous strife and attacks between countries, war takes weight and explodes.
Pray My children, pray, the war is far off and is not far off.
Pray My children, pray for France; pray for Africa, it is necessary!
Pray My children, pray for the Middle East, prayer is necessary.
Pray My children, pray for mankind.
Beloved ones of My Immaculate Heart, the Third War (2) is given in the face of the rebellion, the lack of conversion of mankind and because of the rejection of My Divine Son.
Be certain that you are in the final stretch of the fulfillment of My Prophecies.
Without waiting, without delay, convert now, My children.
Darkness is covering the Earth, extinguishing minds, hardening hearts, raising voices against My Divine Son, dividing the members of families and distancing them from God.
The darkness, it is the darkness of the Devil, came to some of My children first, took them, froze their feelings, emptied their love and invaded them with the interests of all kinds.(3)
MY BELOVED ANGEL OF PEACE (4) COMES TO THE HELP OF THOSE WHO ASK HIM TO PUT DOWN THE DEMON, to take him out of the human creatures who live with a heart of stone flooded by materialistic interests and foreign to living according to the Will of My Divine Son.
That spiritual darkness that advances together with the misguidance, the deception, and echoes in the creatures who lack God.
Ask in prayer for the coming of the beloved Angel of Peace.
Ask in prayer for you Faithful Remnant.
REPENT, REPAIR, PRAY!
I bless you with My Love.
CONVERSION MY CHILDREN, CONVERSION!
Mama Mary
AVE MARIA MOST PURE, CONCEIVED WITHOUT SIN
AVE MARIA MOST PURE, CONCEIVED WITHOUT SIN
AVE MARIA MOST PURE, CONCEIVED WITHOUT SIN
(4) On the Angel of Peace, read ...
COMMENTARY BY LUZ DE MARIA
Brethren:
Our Blessed Mother calls us to open our mind and thought so that we do not fall into the darkness of who, filled by worldly interests, leaves God in second place.
Our life is Christ, our will is His, and with that certainty we walk so that worldly interests do not overcome the Divine Will.
Knowing that we are God's creatures, the first one we must glorify is God, to give testimony of His Love.
Our Mother insists on conversion because the time is urgent. There are many who do not believe and Our Mother warns us once again about the danger we are in as humanity, in the face of the feared third world war.
She calls us to pray, because prayer achieves what words cannot achieve, even if they are of great wisdom. She calls us to pray because perhaps that is what the humble and simple of heart know how to do.
Brethren,
Heeding the Call of Our Mother:
Most Holy Mother, you look down upon us from above;
and looking upon the ingratitudes of these Thy children,
do not desist and call as many times as necessary.
Mother, Treasure of heaven, light of mankind,
give me the strength to rise when I fall on my way;
You know deep down inside me,
I do not wish to separate You from me.
I beseech Thee, Most Merciful Mother,
teach me how to live, discovering that the important thing,
is to live in the likeness of Thy Divine Son;
without fear of tomorrow,
because in that tomorrow You will be by my side.
You fill me with a new rebirth,
of a new chance to be better.
Teach me to be humble so that Your Son may recognize me.
Give me Thy light Mother, which illumines all that Thou dost touch,
I don't want to shine before the world,
but desire that Thy light may give me wisdom to love my fellow men;
and to know how to forgive as You do.
Bless me, Mother to continue to live,
and by Thy Hand lead me to Jesus.
Amen.