Thursday, September 14, 2023
You, Do Not Judge Because Divine Mercy Remains at All Times
Message of Saint Michael the Archangel to Luz de María on September 12, 2023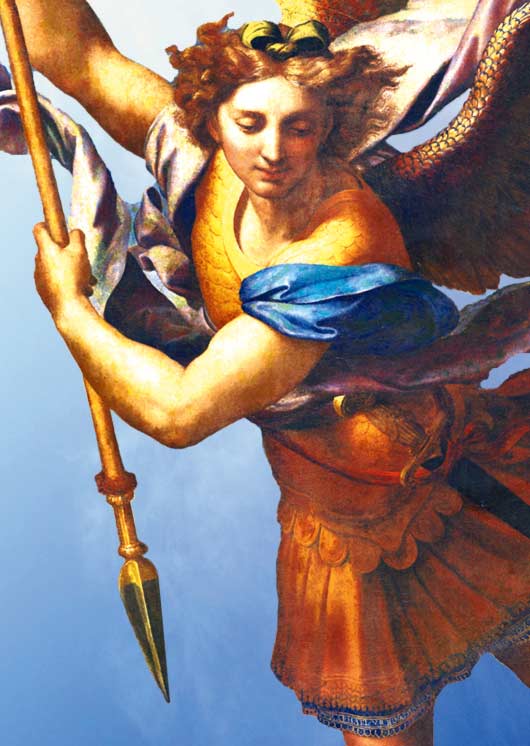 Beloved of the Holy Trinity and of Our Queen and Mother, I come to you by Divine Command.
YOU ARE A PRIVILEGED GENERATION, in spite of the number of evil deeds and bad acts with which you serve to offend the Heart of Our most beloved King and Lord Jesus Christ and in spite of this the Divine Mercy overflows upon this sinful generation.
WHAT IS TIME FOR THE HUMAN CREATURE, IS NOT SO FOR THE WILL OF GOD. They live thinking that nothing will happen and that they will continue to stare each other in the face for a long time, but it is no longer so children of Our King and Lord Jesus Christ. Humanity enters the moment when it continues to be surprised by the force of nature (1), of the sun and of the universe itself. The moon is making itself felt by exerting its force on the tides.
Evil is unleashing its wrath against the children of God, leading you to be frightened by the prophecies so that you may continue not to desire conversion.
There are so many children of God who at every moment break the Law of God by indulging in what they consider venial sins, but they live by the base instincts of the flesh and do not decide to overcome temptations. (Cf. Rom 8:5-8).
They know that the Sacred Scriptures exist and they know them superficially, but they think they are wise in religion and in every subject that exists, they live pointing fingers at the brethren, they live adrift without compromise, they live on their whims and increase their own errors until they become inopportune and annoying with their brethren.
This is the time for them to begin the path of humility by recognizing themselves sinners before it is too late (cf. Ps. 51 (50)). Human creatures have to recognize what they are: the humble, humble; the proud, proud and then initiate the inner change.
Beloved children of Our King and Lord Jesus Christ:
Pray without rest and to those who mock you because you pray, do not answer, be silent and pray for those brethren so that they may be converted.
Children of Our Queen and Mother of the Last Times:
THE TIME HAS COME!
THE FATHER'S ARM LETS THE LAST DROPS OF HIS CHALIZE FALL ON THE EARTH LITTLE BY LOWERING HIS OMNIPOTENT ARM. Human creatures are totally divided: those who believe in the Holy Trinity and in Our Queen and Mother and those who do not believe, for there will be no room for the lukewarm (Rev. 3:15-16).
The human creature comes to a decision:
with God or against God...
with Our Queen and Mother or against Our Queen and Mother...
You, do not judge because Divine Mercy remains at all times.
Live in unity and fraternity, for both fraternity and obedience to the Divine Mandates will make the Devil groan with terror and terror.
You have received the blessing of the Oil of the Good Samaritan and the one that bears My Name, use them, the time has come, they are protection for you. (2)
Pray children of Our King and Lord Jesus Christ, mankind smitten by nauseating sins is purified.
Pray My children, pray, some human creatures, finding themselves alone and confused in life, from now on will begin the path of torture at the hands of the minions of evil.
A GREAT SIGN IN HEAVEN OCCURS AND OUR QUEEN AND MOTHER OF GUADALUPE ASTONISHES HUMANITY, SHOWING WHAT HAS NOT BEEN UNVEILED.(3)
Volcanoes (4), water, earthquakes (5) and fires will continue to torture mankind; which is part of what they will face.
THIS WORD IS NOT FOR YOU TO KEEP, BUT TO DEEPEN AND LIVE IT IN SPIRIT AND TRUTH.
My Celestial Legions are attentive to Divine Orders.
Be love and "the rest will be added to you". (Cf. Mt. 6:33)
I bless you.
St. Michael the Archangel
AVE MARIA MOST PURE, CONCEIVED WITHOUT SIN
AVE MARIA MOST PURE, CONCEIVED WITHOUT SIN
AVE MARIA MOST PURE, CONCEIVED WITHOUT SIN
(1) On natural disasters, read...
(3) Guadalupe, a miracle to be manifested, read...
(5) About earthquakes, read...
COMMENTARY BY LUZ DE MARIA
Brethren:
Before this sermon of St. Michael the Archangel, I invite you to say in one voice:
"Fiat Voluntas Tua"
Amen.