Friday, October 6, 2023
Pray My Children, Pray with Your Heart, Make Reparation for the Offenses You Commit against Me and against My Most Holy Mother
Message of Our Lord Jesus Christ to Luz de Maria on October 4, 2023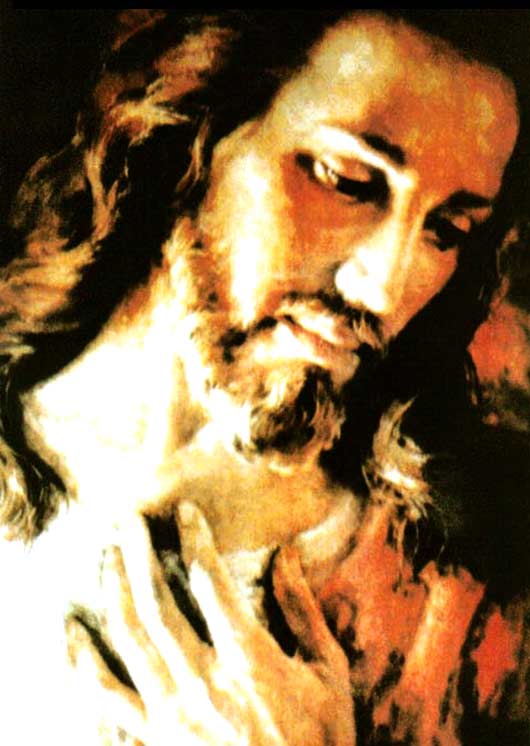 Beloved children of Mine, I love and bless you all.
PRAY MY CHILDREN, PRAY WITH YOUR HEART, MAKE REPARATION FOR THE OFFENSES YOU COMMIT AGAINST ME AND AGAINST MY MOST HOLY MOTHER.
My little children, you are loved by Me, you are loved by My Most Holy Mother and by My whole House. My Mercy is infinite for all My children, in spite of the state of sin in which they live, in spite of the contempt to which they continually subject Me, not only My lay children, but some of My priests (1).
Beloved children:
IF YOU REPENT FROM YOUR HEART AND MAKE FIRM PURPOSE OF AMENDMENT AND FULFILL IT, I ENTER INTO THE HEART OF THE HUMAN CREATURE AND THEN I ATTACH IT WITH THE SWEETNESS OF MY LOVE SO THAT IT DESIRES NOT TO LEAVE MY WAY . (Jn. 14,6). My Most Holy Mother intercedes for all of you so that you will not be lost.
With pain My Justice makes itself felt before the climax in which you live... And you still do not convert, you continue in rebellion against your own salvation. I act with My Mercy until as Righteous Judge I will act with My Justice (Ps. 7:11-13).
I come with the fire of My Love saddened because of the ingratitude of My children. My children, the fire will be the scourge of humanity.
They have made use of My Love to offend Me, to commit sacrileges, to gravely offend the Immaculate Heart of My Mother and they continue not to believe in My Calls to conversion (2).
The Antichrist (3) enters the scene leading the nations toward his nefarious plan to monopolize and violently dominate human creatures.
THEY HAVE NOT BELIEVED...HOW MUCH THEY WILL REGRET IT!
War (4) manifests itself from one moment to the next, and from threats they pass to this tragic decision. Ah, My children!
Pray children, pray for Chile, it suffers and the earth trembles.
Pray children, pray for Japan, the great earthquake comes with terrible result.
Pray children, pray for Spain, communism leads her to suffer.
Pray children, pray for Africa, it suffers.
Pray children, pray each one for himself and for his brethren that they may keep the faith.
You are My children, I alert you to prepare yourselves. Misused science leads mankind into danger.
Do not fear, I do not abandon My People, I protect them and feed them as the birds of the field. (Cf. Mt. 6:26-32)
THE MOMENT YOU LOOK UPON MY MOTHER RADIANT ON HIGH (5) AND FIND YOURSELVES IN GRACE, THE SICK WILL BE HEALED.
Without fear!, increasing in faith and walking hand in hand with My Mother.
Carry the Sacramentals, do not forget them, without neglecting that in order for them to protect you, the spiritual state, must be due.
BE STRONG, FIRM IN FAITH, I WILL NEVER ABANDON YOU.
With My People,
Your Jesus
AVE MARIA MOST PURE, CONCEIVED WITHOUT SIN
AVE MARIA MOST PURE, CONCEIVED WITHOUT SIN
AVE MARIA MOST PURE, CONCEIVED WITHOUT SIN
(3) Book of the Antichrist, download...
(4) On war, read...
(5) On the prophesied apparition of the Virgin Mary, read...
COMMENTARY BY LUZ DE MARIA
Brethren:
The tenderness of Our Lord Jesus Christ makes transparent to us His infinite Mercy and His infinite Love for each one of us.
At the same time it emphasizes to us that the state in which humanity finds itself has been generated by humanity itself. We see different places on Earth suffering because of water, which is causing serious disasters, because of fire, which has also caused disasters, and this has happened before, but not with the force with which we see it in the news at this moment.
Misused technology is harmful to us as humanity.
Brethren, what gives us great hope, and Our Lord Jesus Christ has expressed it, is that He is not going to allow man to end the Earth.
We have to know God in order to love Him as He deserves and in this Message is what stands out: the infinite love that God has for us.
Without fear, but with faith on high and sure of the Divine Protection, let us continue by the hand of Our Mother and protected by St. Michael the Archangel and His Legions.
Amen.