Thursday, October 12, 2023
Prepare Yourselves, My Little Children, Prepare Yourselves!
Message of Our Lord Jesus Christ to Luz de Maria on October 11, 2023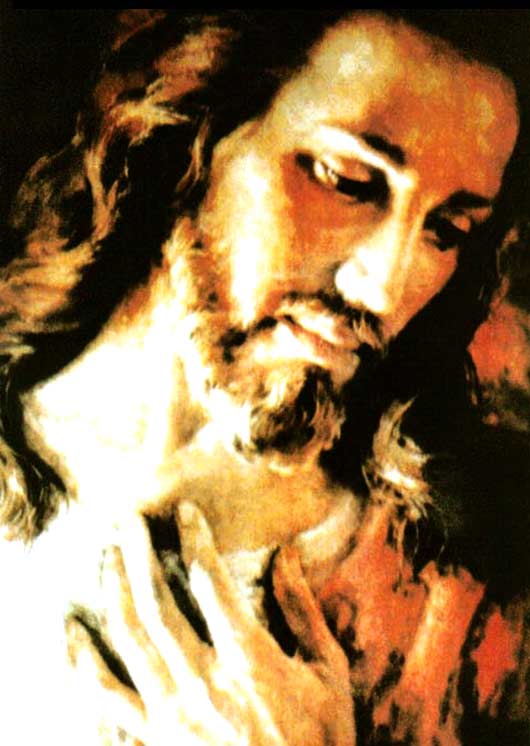 Beloved children:
I BLESS YOU WITH MY LOVE, I BLESS YOU WITH MY MERCY, I BLESS YOU WITH MY HANDS.
My beloved, I invite you to pray that the enemies of human creatures, sent by the Devil may find in each of My children the Faith, the Hope, the Love and the Wisdom necessary to be bearers of My Love and the demons will promptly depart.
At this time true Faith in My Precepts and being vigilant to accept that which is Mine and strongly reject that which is outside of My Truth, is imperative.
The specter of war (1) runs through the Middle East translucent history.
I INVITE YOU TO PRAY IN A SPECIAL WAY THIS OCTOBER 13 COMMEMORATING THE REVELATIONS OF MY MOTHER AT FATIMA, WHERE SHE ASKED FOR PEACE IN THE HEARTS OF HER CHILDREN (2).
Europe suffers the consequences of this war, terror has been present and will continue to be present leading several countries to take security measures. My little children, some borders will close as we remain in a state of alert.
PRAY LITTLE CHILDREN, PRAY WITH STRENGTH, PRAY WITH THE HEART. PRAYER ACHIEVES MIRACLES, NECESSARY IN THIS MOMENT OF DARKNESS IN WHICH THE SUN IS DARKENING, FORESHADOWING THE CONTINUATION OF THE DARKNESS IN WHICH HUMANITY IS INVOLVED.
Terrorist acts (3) are happening in some countries. My children must understand that on Earth advances the evil, carrying in his hand an ancient sharp weapon, wearing tunic carrying pain and suffering to My children.
PREPARE YOURSELVES, MY LITTLE CHILDREN, PREPARE YOURSELVES!
Pray My children, pray for yourselves.
Pray My children, pray for the human creature to return to Me.
Pray My children, pray for those who do not believe and do not desire to accept reality.
Pray My children, pray for Spain, Italy and France.
Pray My children, pray for peace in mankind.
Pray My children, the sickness advances and appears again, strengthen the body.
My children, these moments of uncertainty increase, watching in amazement as all that My House has revealed to you is being fulfilled.
The turning away of My children from My Side and from the Maternal Love of My Most Holy Mother hardens their hearts and leads them to perdition.
EACH ONE TAKE THE HELM OF HIS LIFE AND BE SURE THAT HE IS IN MY WATERS. I AM LOVE, MERCY, CALM, FRATERNITY, "I AM WHO I AM". (Ex. 3:14; Jn. 8:58)
Be messengers of My Love, it is urgent that you come to Me promptly, without delay so that you may save the soul.
Be prayer in your acts and deeds.
Be the difference in this perverted humanity.
I bless you with My Love.
Your Jesus
AVE MARIA MOST PURE, CONCEIVED WITHOUT SIN
AVE MARIA MOST PURE, CONCEIVED WITHOUT SIN
AVE MARIA MOST PURE, CONCEIVED WITHOUT SIN
(1) On war, read...
COMMENTARY BY LUZ DE MARIA
Brethren:
Prayer is an inexhaustible source of protection and love for our neighbor.
We see a chaotic scenario that jumped from one moment to another.
We must pray, learn to be cautious and take safe steps without rushing. As humanity we find ourselves in a hint of what will come to spread at some point.
Let us pray with our hearts, desiring that our prayer, if possible, will produce a new miracle of personal conversion and that of a brethren on Earth.
God is the same yesterday, today and forever.
Amen.