Wednesday, October 18, 2023
Be Foresighted and Stock Yourselves with What Is Necessary
Message of the Most Holy Virgin Mary to Luz de María on October 17, 2023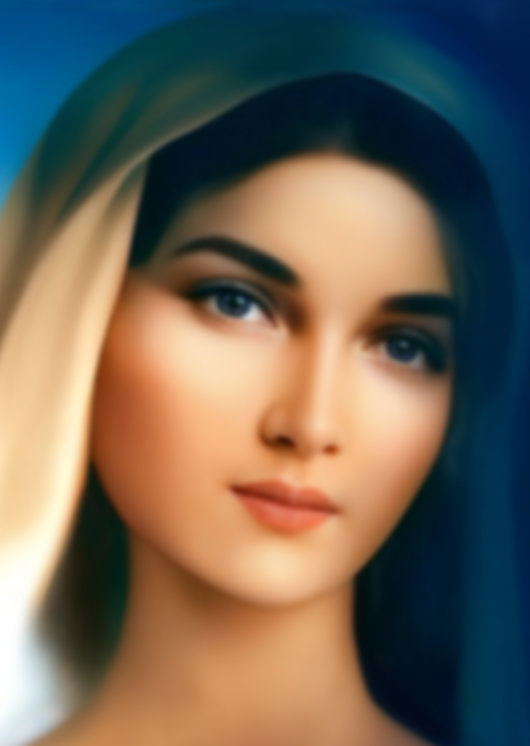 Beloved children of My Immaculate Heart, receive My Blessing.
FAITH (1) MUST STAND FIRM, MY CHILDREN.
FAITH IS THE DEFENSE OF THE CHILDREN OF MY DIVINE SON (Mt, 17,20; Mt, 21,21)
.
Beloved children, you move in the midst of the winds of war and pain. Darkness is covering the Earth and with darkness comes that which causes great distress to My children.
THE GREAT VEIL THAT WAS HELD HOLDING BACK THE WAR HAS BEEN TORN AND AT THIS TIME THE PAIN RISES AND HUMAN CREATURES LIVE A GREAT NIGHTMARE.
The war spreads and becomes stronger advancing between countries, until two great powers are involved in this nightmare for humanity.
Beloved children, humanity has begun its strongest crossroads, the innocent suffer without being guilty.
ALL HUMAN CREATURES SHOULD PRAY to reject the evil oppressor of the soul who prowls all over the Earth, encouraging human creatures to commit terrorist acts leading humanity to live in tension. (Mk. 11:24-26; I Jn. 5:14).
Little children, prayer is a deterrent to evil. The people who pray united (2) are a people who desire the protection of this Mother. Prayer is a source of blessings and reinforcement for faith.
PRAYER PERFORMED WITH THE HEART ACHIEVES GREAT MIRACLES, STOPS THE HUMANLY IMPOSSIBLE, OVERCOMES THE EXPECTED AND IS A SHIELD AGAINST THE DEMON. (Mt. 6:6; I Thess. 5:16-22)
The desert shall cease to be desert, death ceases to cause fear to be called by those who suffer in its captivities, death being the rest of martyrdom.
Pray with the heart, fast whoever your health permits, otherwise fast from whatever is most difficult for you. As children of My Divine Son, accompany Him in His Sorrowful Passion and be an active part of the community activities convoked by the Church.
Pray for the Synod and beseech that it be in accordance with the Teachings of My Divine Son.
Pray with the Holy Rosary in your hand and petition in your heart. Stand united in supplication that the terrorist plot in other parts of the world, be stopped from being carried out according to the pretensions of groups that are held in various countries.
Stand strong and firm, receiving My Divine Son in the Eucharistic Food, adoring Him in the Most Blessed Sacrament of the Altar and being one voice crying out as humanity.
The road to peace goes at a slow pace. The human creature weaves its own misfortune by participating in what has already begun and is growing.
Little children, live without participating in the agglomerations, these are focal points of attraction for malevolent acts, be cautious and stay away from public acts.
SAINT MICHAEL THE ARCHANGEL AND HIS CELESTIAL LEGIONS KEEP PROTECTING HUMAN CREATURES AND DO NOT ABANDON THEM.
THIS MOTHER INTERCEDES FOR EACH OF YOU BEFORE THE TRINITARIAN THRONE.
This generation, estranged from the Holy Trinity, is easy prey to evil; it has no ideals or aspirations of its own, some continue faithful to My Divine Son, but others deny His Divinity.
Little children, without being partakers of whatever you hear regarding the religion My Divine Son founded, you stand firm, not out of fear, but out of love, out of conviction and out of faith.
WITHOUT FEAR, BUT BEING CAUTIOUS IN ACTING AND ACTING, FAITHFUL TO MY DIVINE SON, KEEP YOURSELVES ON SPIRITUAL ALERT, INVOKING THE HOLY NAME OF MY DIVINE SON.
Be compliant to the Will of the Father without allowing ideologies contrary to the religion established by My Divine Son, to penetrate your homes nor the minds nor the hearts of your families.
Be foresighted and stock yourselves with what is necessary (3), with what each one of you can and offer it to My Divine Son.
At this time you must remain more united to the Holy Trinity, to this Mother, to your Guardian Angels and to the Saints of your devotion. The Angelic Legions are waiting to be invoked by you.
MY SPECIAL BLESSING UPON EACH OF YOU; WITH THE PROTECTION OF THE HOLY TRINITY I BLESS YOU WITH MY LOVE SO THAT IT MAY BE THE BADGE THAT PREVENTS THE ENEMY OF THE SOUL FROM HARMING YOU.
Mama Mary
AVE MARIA MOST PURE, CONCEIVED WITHOUT SIN
AVE MARIA MOST PURE, CONCEIVED WITHOUT SIN
AVE MARIA MOST PURE, CONCEIVED WITHOUT SIN
(2) On the unity of the People of God, read...
(3) Book on the Indications of Heaven, download...
COMMENTARY BY LUZ DE MARÍA
Brethren:
We are alerted and consoled by Our Blessed Mother, knowing that in the end Her Immaculate Heart will triumph.
Our Mother calls us to prayer, to take protective measures, to supply ourselves materially, but above all not to allow ourselves to be influenced with ideologies that at this time will come forth to confuse the People of God.
Our Mother lets us know that this wave that attacks the Middle East, will become a "tsunami" that reaches other countries in different latitudes.
Our faith allows us to continue to live with the certainty that there is no one greater than God and that His protection is infinite.
Brethren, prayer is not repetition, it is communication of the soul with its Creator, it is intimacy of the human creature with its Creator. Prayer is a miracle when one prays with the awareness that there are no limits to be more spiritual and to unite ourselves more to the Holy Trinity and to Our Most Holy Mother. Prayer travels the Earth leaving hope everywhere.
Amen.