Monday, October 30, 2023
I Invite You Again to Pray the Holy Rosary for All Mankind
Message of Our Lord Jesus Christ to Luz de María on October 28, 2023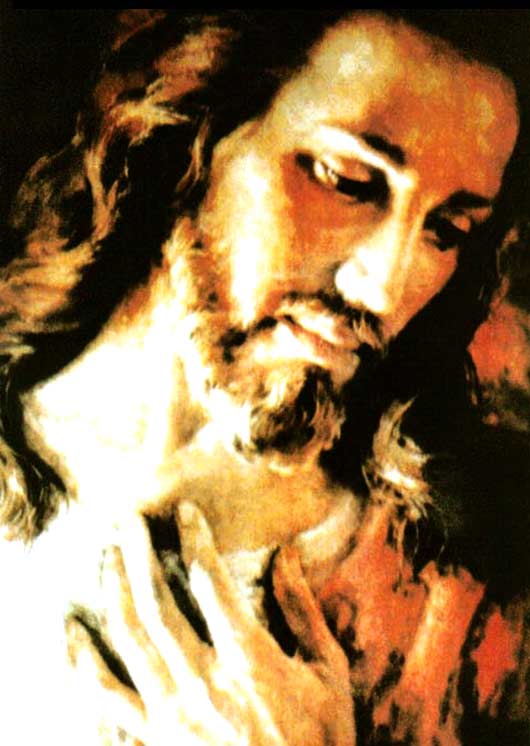 Beloved children, I bring you great news:
YOU ARE MY GREAT TREASURE AND I BLESS EACH ONE OF YOU WHO, WITH LOVE AND RIGHTEOUSNESS, WITH A CONTRITE AND HUMBLED HEART (Ps. 50 (51), 19), ACCEPT THIS CALL, NOT AS AN ALTERNATIVE, BUT WITH THE RESPECT THAT AS GOD I DESERVE.
I desire that "all may be saved and come to the knowledge of the Truth" (1 Tim. 2,4).
I desire that you be respectful of My Word in Sacred Scripture, be respectful of the Law. (Mt. 5:17-20)
The human creature lives in one and only one reality: this is spirituality. However, they have chosen to move in two realities: one which is that which must exist and the other which is that which must coexist with the first. THE REALITY IS THE SPIRITUAL, THE EARTHLY MUST LIVE AT THE EXPENSES OF THE SPIRITUAL.
At this time you have delegated the guidance of your life to the mundane which keeps you being creatures who do not seek Me, do not know Me and do not love Me. You have left spirituality in last place by not knowing Me. You have allowed the Evil One, oppressor of souls, to penetrate the life of each of My children, thus succeeding in contaminating them, guiding them towards everything that causes Me pain, towards that which leads them to perdition, and if they do not convert, to lose Eternal Life.
PRAYER IS IMPORTANT, IT IS NECESSARY FOR YOUR GOOD (MT. 26, 41), GROW SPIRITUALLY, KEEP CONFIDENCE IN MY HOUSE, IN MY MOTHER, IN THE ASSISTANCE OF SAINT MICHAEL THE ARCHANGEL.
Demons are all over the earth in search of their prey to lead them to work and act against everything that signifies My Love (Eph. 6:12-13), but the best and greatest protection is a creature in a state of grace.
This moment is not for you to continue to live in sin and worldly affairs, but to become aware of the spiritual danger of remaining enraptured in the madness of base instincts.
CHILDREN, THE MOMENT AGONIZES:
It is impossible for you to maintain the same living as before....
It is impossible for you to commit the same mistakes, the same sins....
It is important that you mature spiritually and consciously initiate an awakening.
You desire gifts and virtues, but you will not possess them if you maintain the same way of acting and behaving, if you continue with the same heart of stone and if your thoughts wander in all that is improper. My children are understanding creatures, who think of their Eternal Salvation, of their neighbor and his needs. My children are creatures filled with My Love and it flows from their mouth, from their deeds and actions.
It is impossible to live in isolation if you wish to grow, because you will grow in your own way saying: "this is good, and this is how I must act and act" and that is the result of the human self that leads you where you wish with your human will (1).
ANOTHER MOON GIVES YOU SIGNALS IN THE SIGN (2), THE PERSECUTION RECRUDES (3). I already warned you not to attend agglomerations, terrorism does not stop, it only takes a breath.
Children you are stubborn, it is necessary for you to keep the medicines (4) we have given you for what is to come before it is too late.
Pray My children, pray, the death of a world figure in dubious conditions elevates this moment of war.
Pray My children, pray for Central America, its soil is shaking with strength.
Pray My children, Mexico is shaking, Chile is suffering from an earthquake, Bolivia is moving with force.
Pray My children, the war rages, other countries interfere, the gloomy scenario expands.
Pray My children, pray with your heart, with your works and deeds.
Pray My children, pray for My Church.
Beloved children:
MY WORD IS ONE, DO NOT BE CONFUSED WITH THE MODERNISMS RUN OVER, DO NOT BE CONFUSED. MY LAW IS ONE AND DOES NOT CHANGE.
Without forgetting My Love for humanity, My real Presence in the Eucharist and knowing how much you achieve with the prayer of the Holy Rosary dedicated to My Mother, you will achieve great miracles for humanity and personal, respecting the Divine Will.
Pray with the heart the prayer of the Holy Rosary, it is loved by My House.
I invite you again to pray the Holy Rosary for all mankind.
My Blessing abides in you.
I love you,
Your Jesus
AVE MARIA MOST PURE, CONCEIVED WITHOUT SIN
AVE MARIA MOST PURE, CONCEIVED WITHOUT SIN
AVE MARIA MOST PURE, CONCEIVED WITHOUT SIN
(3) On the great persecution, read...
(4) Book of Medicines from Heaven, download...
COMMENTARY BY LUZ DE MARIA
Brethren:
What a great joy for all of us to have Our beloved Lord Jesus Christ invade us with His special and infinite Blessing. At the same time that, without looking at our ingratitude, He calls us "His great treasure," being unworthy of so great a title. Such is the merciful Love of God.
Brethren, we are told that we live in two realities as human creatures, two realities chosen by us, but so wrong! And the fact is that, as creatures accustomed to live from the human ego, we have lived backwards, wanting to bring spirituality to the sound of our human ego. That is why we cannot reach the awareness of the greatness of what a spiritual human creature is.
Today Our Lord Jesus Christ stresses to us that we should not place more impediments to being more of Christ than of the worldly. Our human ego must be guided by spirituality and not our spirituality be driven towards the human ego.
Our Lord is very forceful in this Message that anticipates aspects of daily life. These are moments to strengthen faith, not to be lukewarm.
Let us remember what Heaven has revealed to us:
THE BLESSED VIRGIN MARY
September 29, 2010
The earth will tremble: I call you not to forget that where a soul devout to the Most Holy Trinity dwells and prays the Holy Trisagion, it will be granted to him that the scourges may be lessened.
THE MOST HOLY VIRGIN MARY
November 2, 2011
This humanity lives permanently deafened and has closed its ears to the voice of conscience. Because of this sin grows instant by instant. And it is that what they are looking at now is only the beginning of what is to come.
Times will come in which the conscience will be totally annulled in the human creature, the heart will be blackened, God will be banished and I will be totally annulled. They will be instants of spiritual desolation because evil will reign on the whole Earth.
OUR LORD JESUS CHRIST
November 5, 2014
Do not forget that Rome will lose the Faith and will be the seat of the antichrist from where he will win battles with great prodigies, but My People will not remain alone, I will send the one who will help My People, and this Envoy will face the forces of evil, he will carry My Word in his mouth, like fire he will burn the insidiousness of the antichrist.
THE MOST HOLY VIRGIN MARY
July 12, 2015
The Fatherly House does not turn away protection towards His children, therefore He will offer mankind to His Envoy so that through the Divine Word, He may encourage him and rescue souls for My Son, He will give him wisdom coming from the Holy Spirit so that souls may no longer be lost, the righteous may not be lost and the Holy Remnant may be united.
Amen.