Tuesday, November 14, 2023
It Is My Desire That You Be Messengers of Peace in the Midst of Any Adversity and Be Encouragement to Whoever Needs It
Message of Our Lord Jesus Christ to Luz de Maria on November 12, 2023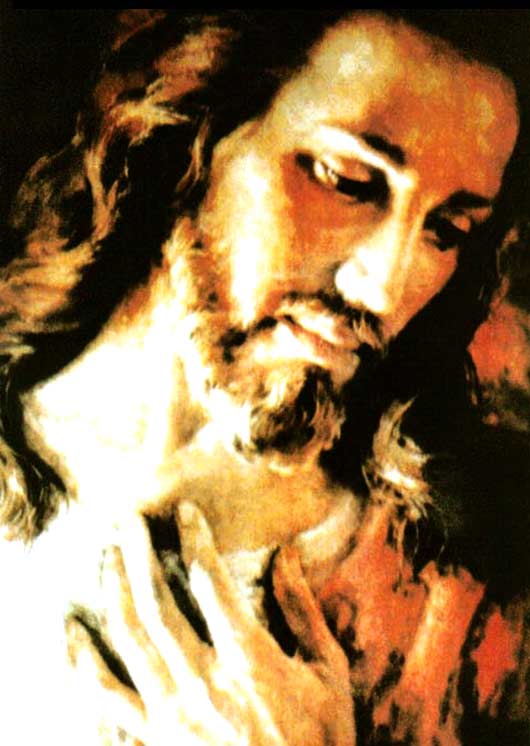 Beloved children I love you with Eternal Love.
When human creatures approach Me repentant for the faults committed with which they have offended Me and set themselves a firm purpose of amendment, their souls acquire a special brilliance. That glow is looked upon from My House and I rejoice over it.
MY CHILDREN, SPIRITUAL PREPARATION IS INDISPENSABLE IF YOU ARE TO REMAIN FAITHFUL, OTHERWISE YOU WILL FALL INTO THE HANDS OF THE INFERNAL ENEMY.
They ask me: Lord, how do I convert, how do I change my life?
Conversion is a personal decision, it is a change for the rest of life, it is to leave the worldly and be different (Acts 20:20-21; Col 3:5; Acts 3:19).
In such critical moments as the ones you are living and will live in the near future, you must open your mind, heart and reason so that, you keep the conscience that you are living the second war conflict at this moment; and, in the blink of an eye, you will live the third war conflict (1) extended to the whole Earth.
The famine in some countries will be strong, in other countries it will be less strong, although all countries will see the famine (2) pass.
The disease (3) is spreading again, being already in some countries of Africa, Europe and North America, from where the healthiest thing is, as far as possible, to stock up on some food and on what My House has revealed to you for the care of your health.
My calls are for the conversion of My children, of all mankind. I do not desire that you only read them, but that you treasure them in your hearts so that on every occasion, in every situation, you may work and act according to My Will.
Beloved children:
IT IS MY DESIRE THAT YOU BE MESSENGERS OF PEACE IN THE MIDST OF ANY ADVERSITY AND BE ENCOURAGEMENT TO WHOEVER NEEDS IT (Col. 3:14-15; Rom. 12:14-16).
You entered the time when you will live the true cruelty of the human creature. All will rise against other brothers, it will be a fierce war (3), and My children suffer everywhere. The technological advances misused in war weapons will be used and death will come for its booty....
In the midst of war the Antichrist arrives and will provide food, medicine and all that mankind needs. He will perform miracles in My Name and how many will follow him and forget Me! FOR THIS REASON I WILL SEND MY ANGEL OF PEACE SO THAT, BEING MY MIRROR, HE START THE PREACHING OF MY LOVE FOR HUMANITY AND SOME BE CONVERTED. (4)
Mankind will panic at their little faith in My Promises.....
Allied countries will betray themselves....
Communism in full bloom gives no respite....
Beloved ones, the economy is gradually falling and the money you know at this moment will be of no use, unless you place the seal of the Antichrist on yourselves. At that time do not despair, My Angels will give you the food that has come down from My House and the innocent will be delivered from so much evil.
Some areas of the earth will serve as a refuge for My children. They will live great migrations in search of fertile lands where they will feel blessed.
DEAR CHILDREN, THE SIGNS IN HEAVEN WILL BE GIVEN MORE FREQUENTLY AND WITH GREATER STRENGTH, you will be able to distinguish them, they will cause astonishment, but not fear.
I call you once again to be different, to be more of My House, to keep Faith, Hope and Charity high.
Pray My children, pray, My Church trembles strongly.
Pray My children, pray before the lack of medicines to fight diseases.
Pray My children, pray and believe in what My House has sent you to maintain health.
Pray My children, you have lived in the hands of oppressors, they have treated you as they please.
Pray for Argentina My children, this land suffers because of social upheavals. It will live crises in its politics, children, prepare yourselves!
BE OBEDIENT, HEED MY CALLS
AND COME TO MY MOST HOLY MOTHER!
I bless you,
Your Jesus
AVE MARIA MOST PURE, CONCEIVED WITHOUT SIN
AVE MARIA MOST PURE, CONCEIVED WITHOUT SIN
AVE MARIA MOST PURE, CONCEIVED WITHOUT SIN
(4) The Angel of Peace, sent from God, read...
COMMENTARY BY LUZ DE MARIA
Brethren, what more can Our Lord Jesus Christ say to us, what more for us to initiate conversion. Let us be creatures of love as Our Lord asks of us.
Let us remember brethren:
THE MOST HOLY VIRGIN MARY
31.01.2015
Humanity is manipulated by a power unknown to the vast majority: a group of families to which the rulers have adhered, obeying their mandates. They have inserted themselves into the most relevant points of the world and society in order to dominate humanity in all its fields.
OUR LORD JESUS CHRIST
30.11.2018
The Demons have pounced upon mankind to graft upon them greed for what is Mine. They do not respect Me, but on the contrary, they mock Me, they do not look with transparency nor in the light of truth at the state of this decadent generation. For this reason they are not afraid to offend Me, to deny Me, to ignore Me, to profane Me. The persecution of My Church is on the increase; this is not yet widely experienced, although the day is approaching when those who have emigrated to other countries throughout the world will take possession of the seats of My Church and it will have to be transferred to another country, not without first having martyrs of this instant bathe the earth, especially Rome, with their blood. Terror awaits My faithful, therefore I have called them to live in constant growth; I have called them to increase faith and to wait for the help of My House: My Angel of peace.
SAINT MICHAEL THE ARCHANGEL
15.07.2019
The Devil knows how much time he has and hastens and increases his persecution against God's people. God's people will suffer and be singled out; Rome will be overrun by those it has taken in and God's people will be persecuted throughout the world.
SAINT MICHAEL THE ARCHANGEL
27 .03.2022
What befalls this generation is not by chance, it is the work of those who obey the orders of evil in preparation for what they need for the absolute domination of all human creatures.
OUR LORD JESUS CHRIST
12 .04.2022
Pray My People, pray for Argentina, the people rebel and in the turmoil claim the life of a victim of power. Argentina must pray.
OUR LORD JESUS CHRIST
12 .07.2023
Pray for Spain, it is shaken and its people suffer before the violence that is unleashed.