Thursday, June 1, 2023
Part 3, Message from John, on May 15, 2023 at Holy Place
- Message No. 1400-42 -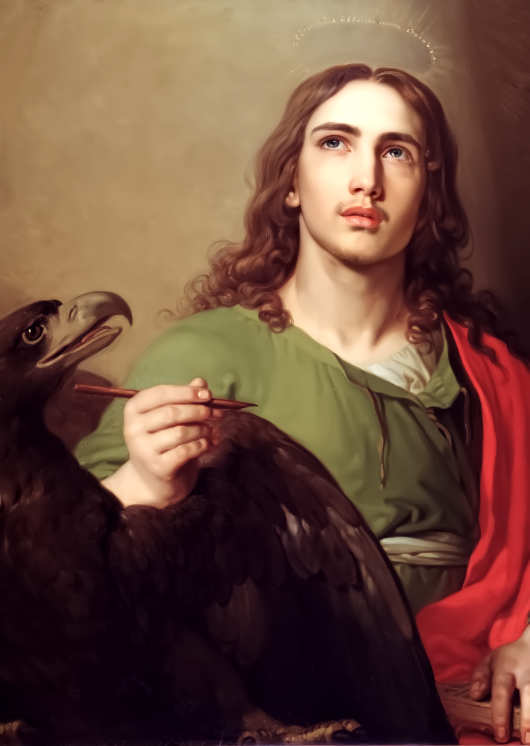 On May 15, 2023 at Holy Place
Message from John
My child. I, your John, am here, come to tell you and show you the following today, and to the children of the earth:
My child. The Holy Angel of the Lord and Father spoke the following words to Me, and He showed Me these pictures in addition. He said: 'John, My beloved son. Tell the children at the end of time, they may not keep waiting for news. Tell them it is time to prepare. Tell them that when it breaks loose, everything will happen very, very quickly. Tell them they need to be ready ALL THE TIME. And tell them they do not know when the day will come when the warning will come to them.'
He then showed Me how the children of the end times lived and were in no way aware of the urgency of the time.
Most of them cared only about their well-being. They accumulated material goods, they sought constant fun, and they cared little to nothing about their salvation, i.e.: They did not prepare themselves in any way for what was prophesied.
Many were of the opinion that it would go on forever before a heavenly event would take place, and they continued to wait, thinking they still had time and thus were not truly prepared.
Others were constantly looking for 'new things'. They read and read, searched and searched, always waiting for 'news'. They too were not truly prepared.
Many, many did not want to know about Jesus. Still more turned their backs on Him and associated themselves with the devil, consciously or unconsciously, yet they were in no way prepared for the events that lay ahead of them.
To all these and many more, the warning came as a shock, unprepared and unforeseen. Their disbelief gave way to confusion, and many could not handle it.
Even for the prepared children the time became long, but they prayed, attended their Holy Masses and prepared themselves more and more deeply through the Gospels and the Word of God.
It was a difficult time, because the devil had released countless demons on the earth, and they especially attacked the faithful children who were light and pure.
They caused more and more confusion, many, many non-believing children began to do bad things. If they still had decency and morality, they also began to demand their 'claims' and did things that were not according to the Father's commandments.
The world became darker and darker.
The darkness of the devil and his kingdom were now spreading all over the earth. ALL children noticed that something had changed, but they did not know how to name it, because it was in no way clear to them what was happening here.
There were only a few children who knew this, and it was these who were ready for Jesus' return.
Children, children, you have only one chance not to fall prey to the devil and to fight against his demons: JESUS!
So take seriously what I tell you today, because what the Holy Angel of the Lord and Father showed Me is what you are living today!
Whoever does not recognize it will be easy prey for Jesus' adversary.
So prepare yourselves, because only the one who is prepared will not be overtaken by the events 'in the deepest night'. He is prepared and knows.
But whoever continues to sleep, and this is what the vast majority of you children of the earth do, the events will overtake him, like the thief who comes in the night, and he will be surprised, confused and unprepared.
So be wise, beloved children. I, your John, ask you this: prepare yourselves and believe in the Lord, for only HE, Jesus Christ, is the way to glory. Amen.
Your John. Apostle and 'favorite' of Jesus. Amen.