Tuesday, November 15, 2011
Feast of the Sacred Face of Our Lady Revealed in the Apparitions of Jacareí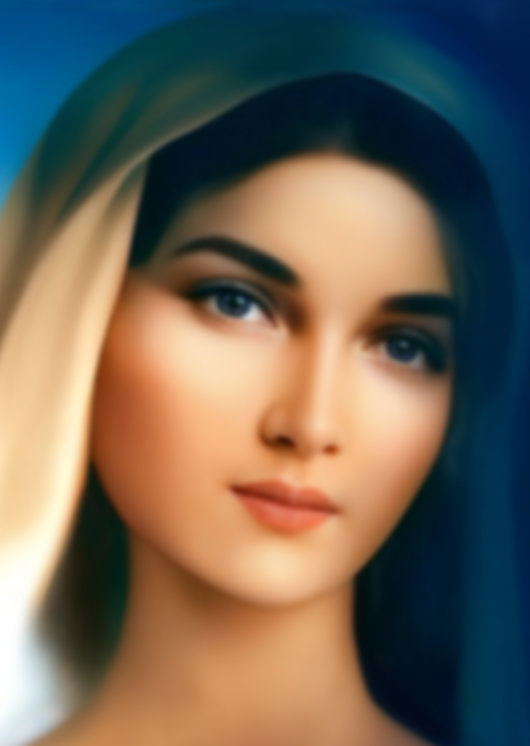 COMMUNICATED TO THE VIDENT MARKET TADEU TEIXEIRA
"- My beloved children, today, when you celebrate the feast of MY MATERNAL FACE, the Face I gave you, which I revealed to you here in 1994 and which is a Special Gift of my Heart to all of you, I invite you to raise your eyes to my maternal gaze to let yourselves be consoled, comforted, pacified and loved by Me.
My gaze on this picture I gave you of My Mother's Face is, for you, a Special Gift, a gift from My Immaculate Heart to comfort you in these very difficult times when you live from apostasy, from the revolt of all humanity against God and from such a great violence, injustice and disaffection that now dominate all the earth.
The times are bad and it is precisely for this reason that My true children, the children of My Immaculate Heart, faithful to My Messages were suffering so much and would suffer so much over the years, it is precisely for this reason that I gave you this My miraculous Face so that through the contemplation of My Mother's Vision, From My Mother Smile, My children could feel My Love, feel My Goodness, feel My Peace, receive from My Look all the love and all the consolation they need in the midst of so many sufferings they have to go through and endure every day in this time of great apostasy.
Turn your gaze to My Mother's Glance so that I may My children heal in your hearts all the wounds that Satan has opened. All the blows that through the world, in you, in your souls, he has dealt. So that in this way, I may give you the joy, the Peace of my Immaculate Heart, so that you may not be discouraged in your sufferings, may you not stand before the difficulties that so often seem impossible to overcome and overcome. But, so that you, My children, may always go further, follow the road that I have pointed out to you here over the years and which I have called you, the road to holiness, so that you may not be paralyzed on the road to your sanctification but, as the Saints have done, may grow more and more every day, progress ever more in spiritual perfection and help all souls to sanctify themselves also for the greater glory of God.
Turn your gaze to My Mother's Vision, which in the picture of My Face, My Mother's Face revealed Here, transmits to you all the Peace of which I am full and full. So that I may pour over your souls a river of Peace and this river through you, may flow among the people of this time full of hatred, full of violence and evil and thus transform the whole world from a cold, arid, icy desert without love for God into a Garden of holiness, of love for the Lord, of faithfulness to his commandments, and of Peace where all hearts love God, serve God and are my true and obedient children.
If you My children help me, if you respond to my call, if you answer yes to everything I have asked of you in my Messages, you will reflect this beauty, this sweetness, this gentleness, and this grace that on my miraculous face I gave you here so many years ago, I show you, I reveal to you. You will be the copy of My Holy Face, you will have a beauty like Mine and all seeing My Beauty reflected in you will also want to love the Lord, to love Me to be beautiful as I am beautiful, to be beautiful as you are beautiful!
In the world, there is no one who does not want to be beautiful! When souls realize, see the reflection of the Beauty of My Mother Face in your souls and in you, then everyone will want to be beautiful as I am, just like you! And then we will destroy the ugliness that the devil has placed and introduced into this world through sin, violence, vices, and rebellion against God and His Law of Love to which he has alienated all mankind lately. And this ugliness will finally be overcome by the beauty of Love! By the Beauty of the Love of my Immaculate Heart that has made me so beautiful and so pleasing to God!
Keep praying the rosary, praying all the prayers I have given you here. So that in this way My children, the world may be transformed from an ugly swamp of sin, of lack of faith and darkness of rebellion to God, into a beautiful garden of love and fidelity to the most holy Trinity.
Here in my Apparitions in Jacari where I gave so many treasures, where I gave you one of the greatest gifts of my Heart, that I am myself photographed and revealed to you, whom I favored so much, my children, I ask you today:
More love and correspondence to my Immaculate Heart!
Together, day after day, let us walk united on the path of love, prayer and holiness so that soon, the Triumph of my Immaculate Heart may be realized and my Beauty, the beauty of my Mother's Face may finally annihilate the ugliness of Satan's face and sin, freeing everyone from their tyrannical slavery.
To all at this moment, I generously bless Kerizinen, San Damiano, and Jacareí.
Peace My children! Peace to you Marcos, the most hardworking of My children, to whom I have given, like a few mortals, the grace to possess My Sacred and Immaculate Face".