Wednesday, February 8, 2012
Message from Our Lord Jesus Christ
To His Beloved Daughter Luz De María.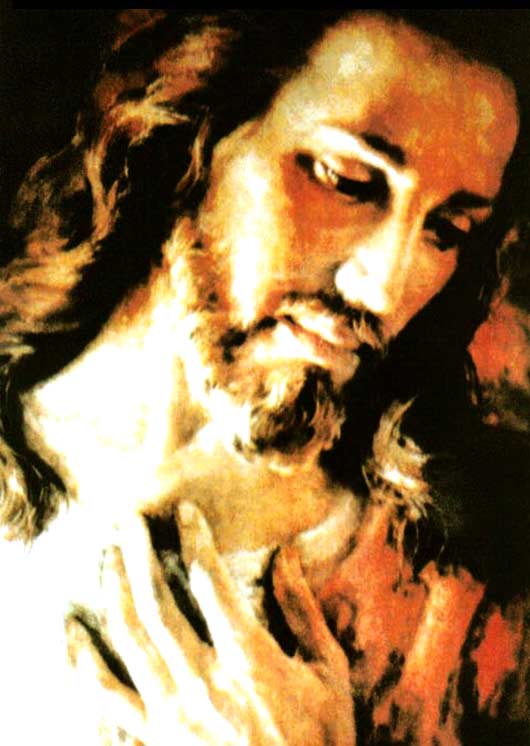 My beloved children:
I love you profoundly and you know it.
I INVITE YOU TO CARRY MY CROSS AS A SIGN OF UNITY, BUT LET THIS CROSS REMAIN PERMANENTLY EMBODIED IN THE DEPTHS OF YOUR BEING.
There are those who dress outwardly with Sacramentals and these signs of faith produce the effect of grace necessary, of help and protection, if the child is firm, remains in a state of Grace and trusts and lives on the path of faith; otherwise they are only one more ornament.
MY TRUE CHILDREN MUST LIVE A LIFE ACCORDING TO MY TEACHINGS,
THEY MUST BE SPIRITUAL AND FRIST COMPLY WITH THE COMMANDMENT TO LOVE ME AND TO LOVE YOUR NEIGHBOR AS YOU LOVE YOURSELVES.
You do not love your neighbor because you do not love yourselves, you do not love that most precious gift of life, you do not love yourselves on the inside and you expose yourselves to what is worldly and sinful.
I HAVE SAID IT ALL, I HAVE SAID IT ALL, IT IS WRITTEN IN THE SACRED SCRIPTURE. There is nothing to add, but as Father of Love and worried for My children, I try in a thousand and one ways to explain with a thousand and one examples what is already written.
I am not a God of silence, I am not a God of passivity; I am a God who continually looks after His children, fights for them and that is why I will not be silenced even in the final instant, because I did not offer My Blood only for that moment and it passed. My Passion continues in a current state, My Love in a current state, My Blood in a current state and in each instant I wish to save all men.
As Father of love I give and will give multiple examples so that My children return to the path, leave the darkness and rise up from that filthy mud in which they remain submerged.
I URGE MY FAITHFUL AND BELOVED PRIESTS TO CONTINUOUSLY PROCLAIM MY WORD, WITH A VEHEMENT AN INTENSE CALL AS I DID, SO THAT MY PEOPLE RETURN TO THE PATH OF LIGHT.
They are few who raise their voice and speak to My People so that they reconsider and do not join the ranks of sin; they are few who cry out with vehemence against the homicide of abortion. Humanity and principally the youth consume themselves in drugs, more and more each time they get closer to the malignant one. The devil does not need to tempt souls because the human being's inventiveness on its own pleases the devil.
Man and woman were created in different sexes and the union between the same sexes is not in accord with My Will.
Few are My faithful children who with strength and courage share their goods among those who are hungry, and despise luxuries and comforts.
My disciples left their house and their belongings, they walked barefoot and as followers of their Master, gave even their vestments among those who did not have anything.
I CALL THE PARENTS OF FAMILIES IN THIS INSTANT SO DIFFICULT FOR EDUCATION, so that they become aware and be strong before their children so that they retake the responsibility they have and that will fall upon them if they do not lead their children by the straightway.
I URGE YOUNG PEOPLE TO REFLECT ON RESPECT FOR YOUR PARENTS, to reflect on the path on which you walk, where you poison your bodies with improper substances, where your mind is sunken in movies and in products that lead you to act deplorably.
TODAY I CALL RELIGIOUS LEADERS, TO THOSE WHO ARE IN CHARGE OF RELIGIOUS GROUPS, TO THOSE COMMITTED LAITY I INVITE THEM TO PAUSE AND LOOK WITHIN THEMSELVES. They must be an example of My works and of My actions, they must be true, more spiritual than religious, more spiritual. Religiousness abounds, spirituality is scarce.
In this instant, My child must be a child that understands and comforts, that sees all that happens and reflects upon it, that has that thirst for souls, that is coherent and consistent among his/her works and actions, that does not think he or she has the absolute truth and that treats his or her brothers and sisters with My Same Love. That he or she see the needs before they are told to him or her and helps ipso facto those who are in need, not only materially but those that abound today: those in need spiritually.
MY CHURCH MUST BE A UNITED CHURCH, THAT PREACHES AND ACTS. Homes must be united homes because no divided house will prevail: it will collapse, it will divide and fall. That is the devil's strategy that is dividing all it sees in its path so as to demolish My People, little by little surreptitiously.
This humankind faces crucial instants and it does not want to understand because it pleases it more to live in sin than to sacrifice itself, than to deprive itself from all that distances it from Me.
I feel a prisoner within the human being, imprisoned and blindfolded but even with that blindfold you have placed upon Me, I remain attentive and know more than what you imagine, because you are My children and I love you.
ALERT THE YOUTH SO THEY AWAKEN. With what sorrow, with what sorrow this Christ that shed His Blood for this youth sees how evil consumes them through all that they receive and stuns them so that they do not think, so that they do not desire Me, so that they are young people without a Mother!
To you, committed young people, I call to be true, TRUE! Alerting your brothers and sisters so that they become aware of the evil in which they lie in this instant.
IT IS NECESSARY TO AWAKEN AND BE REBORN,
IT IS NECESSARY THAT INTERNALLY EACH PERSON BE WILLING FOR HIS/HERSELF
TO BE REBORN, TO CHANGE IN ALL ASPECTS OF HIS OR HER LIFE.
MY SECOND COMING IS NEAR, it is very near and I will not come in silence; My Archangels will announce Me so that every man, so that every creature knows that His King is coming. But first I will allow everyone to purify themselves for his or her works and actions.
I need of those who follow Me so that they call "good, good," and "evil, evil."
Pray, pray My People for Asia, it will suffer, it will lament and weep greatly.
Pray My children for Mexico, do not abandon it in your prayers.
Pray for all of humanity's creatures.
Intercede for one another because you have not placed the blindfold on My eyes, you have placed it on yourselves, you have placed in on yourselves so that you do not perceive the sinful reality in which this humanity lives and the unrestrained path you have followed.
Oh My Creation! I love you because My Love is actual, because My Love was, is and will be.
Oh My Creatures! I love you, because My Love was, is and will be. Because I am the same one of yesterday, of today and of always. My suffering is continuous and does not cease.
I have requested of My Mother to remain beside you and defend you, but She finds Herself with Her hands tied in the face of a humankind that rejects Her.
BELOVED PRIESTS, LOVE MY MOTHER. SHE GUIDES YOU TO ME. CHURCH OF MINE, LOVE MY MOTHER. SHE GUIDES YOU TO ME.
I wait for you with open arms, with My Heart beating for each one of you.
I bless you in every instant, do not despise My calls, do not despise them, pay attention to My calls and be children who fulfill the wishes of the One who for you gave Himself up on a Cross, but on a Cross of Resurrection and of Glory, of majesty and of power where united with My Mother and with Me, My Church will be triumphant, victorious and will fulfill the Mission for which it has been created: RETURN TO ME MY KINGDOM FROM WHICH IN THIS INSTANT I HAVE BEEN ROBBED.
My beloved, My Love surpasses man's sin, I await all, even the most sinful. Remain in My Peace, I bless you.
DO NOT STOP, CONTINUE WITH STRENGTH, WITH COURAGE AND WITH FAITH, FOR I REMAIN BY YOUR SIDE AND DO NOT ABANDON YOU, JUST CALL ME, JUST PRONOUNCE MY NAME WHOLEHEARTEDLY, JUST REPENT.
Remain in My Peace.
Your Jesus.
HAIL MARY MOST PURE, CONCEIVED WITHOUT SIN.
HAIL MARY MOST PURE, CONCEIVED WITHOUT SIN.
HAIL MARY MOST PURE, CONCEIVED WITHOUT SIN.