Sunday, March 11, 2012
Message from Our Lord Jesus Christ
To His Beloved Daughter Luz De María.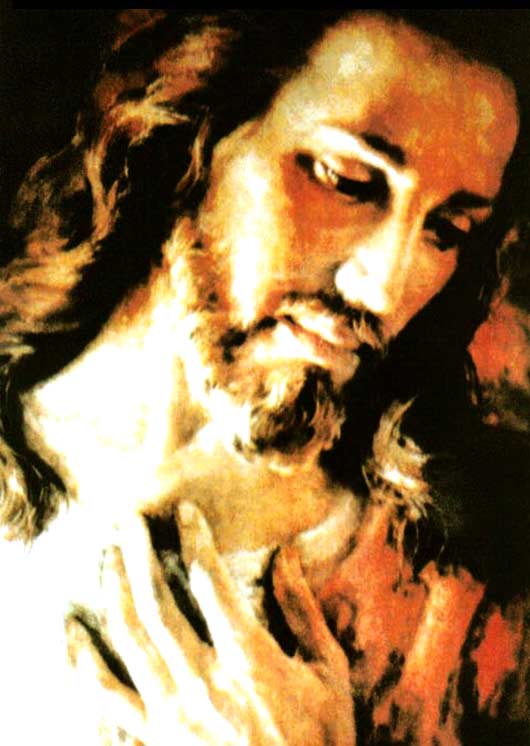 My beloved People, I bless you:
EACH ONE OF YOU IS THE FRUIT OF MY LOVE.
UPON INVOKING MY NAME, MY HOUSE IS ILLUMINATED BY MY HUMAN CHILDREN.
FOR THIS REASON DO NOT FORGET THAT I KEEP WAITING FOR MY CHILDREN.
I invite you this Lenten Season to give to Me an offering out of the depths of your heart, with awareness of what you offer, feeling it within your being and in the depths of your soul. So much exists with which you can please Me, with which you can make reparation and unite more with Me!
Fast by banishing egoism, greed, inconstancy, disobedience, impurity and excesses.
Fast by turning away from the mass media, which is used so that you decay spiritually.
Fast from impurity, from infidelity, from the mistreatment in the family and from vices.
OFFER, OFFER, OFFER!
How much you have on hand to offer Me!… And you do not find it because you do not relate to Me and you prefer to not abstain from something mundane, before offering a sacrifice for the your own good and that of all of humanity.
Beloved, if you look at the reality in which humanity maintains itself, the aim to offer and fast would abound everywhere. That distance you maintain towards Me is the cause of the overabundance of sin.
TURN TO ME, I REMAIN IN THE TABERNACLE, SEARCH FOR ME FOR I WILL TAKE CARE OF YOU, SEARCH FOR ME WITHIN YOU, I DWELL THERE.
Children, My People, so much pain gestates for all that My Angels continue to accompany you for the precise instant, they do not leave you alone, they remain attentive to the movements of the powerful nations, since they will let suffering fall upon humanity.
I do not desire a People that presents Me with material offerings, but a faithful People, conscious of My real and true Presence in the Eucharist, a People that knows that My Spirit dwells in the depths of every one.
I desire a People that knows Me so that they love Me, a People that is conscious that My Passion is an eternal present, conscious of love of neighbor. BUT ABOVE ALL CONSCIOUS AND AWARE OF MY LOVE, OF MY MERCY, BUT AT THE SAME TIME OF MY JUSTICE, SINCE IF I DID NOT APPLY THIS, I WOULD NOT BE A PERFECT KING.
The tolerance towards My People has misled My Flock. The excessive smoothness and tolerance with which it has been guided to My People has given way for them to despise and offend Me.
Children, do not grow mute, do not be fearful of mentioning Me. If you love Me mention My Name, that your brothers and sisters become aware that I dwell in you.
THESE INSTANTS ARE NOT FOR THOSE WHO ARE LUKEWARM,
BECAUSE THE FORCES OF EVIL, WHICH HAVE CAPTURED THE CREATURES AND KEEP THEM CONSTANTLY OFFENDING ME, WILL POUNCE UPON THEM.
In this instant I see those who are lukewarm that seek Me and despise Me, those who have distanced Me from their life yielding to evil, and My People who remain fearful of pronouncing My name and that their brothers and sisters are clear that they are different.
THEY ARE FEW WHO DO NOT FEAR SAYING THEY LOVE ME AND THAT THEY BELIEVE IN ME AND IN MY MOTHER.
Pray, but not with words that are forgotten or are said almost repetitively without meditating them.
Pray to My Spirit so that It fills you with strength.
Pray to My Mother, She will guide My People in this very decisive instant.
My beloved: you continue to face nature and with it suffering will not cease from one place to another. For this reason do not look with indifference upon the grief of those who suffer. Fire will continue to cause expectancy and pain. The Earth will shake strongly. The animals give warnings that man does not see.
Pray for Japan.
Pray for Brazil.
Pray for the United States.
DO NOT SEE THIS LENTEN SEASON AS ONE MORE BUT LIVE IT IN SILENCE AND MEDITATION, PENETRATE INTO THE MYSTERY OF MY CROSS AND ENJOY THE INFINITUDE OF MY LOVE.
BE THOSE CHILDREN WHO ARE DIFFERENT THAT MARK THE PASSING OF MY PRESENCE IN THE MIDST OF HUMANITY.
My blessing remains before each one of you, take it.
I bless you.
Your Jesus.
HAIL MARY MOST PURE, CONCEIVED WITHOUT SIN.
HAIL MARY MOST PURE, CONCEIVED WITHOUT SIN.
HAIL MARY MOST PURE, CONCEIVED WITHOUT SIN.