Sunday, June 3, 2012
Message from Our Lord Jesus Christ
To His Beloved Daughter Luz De María.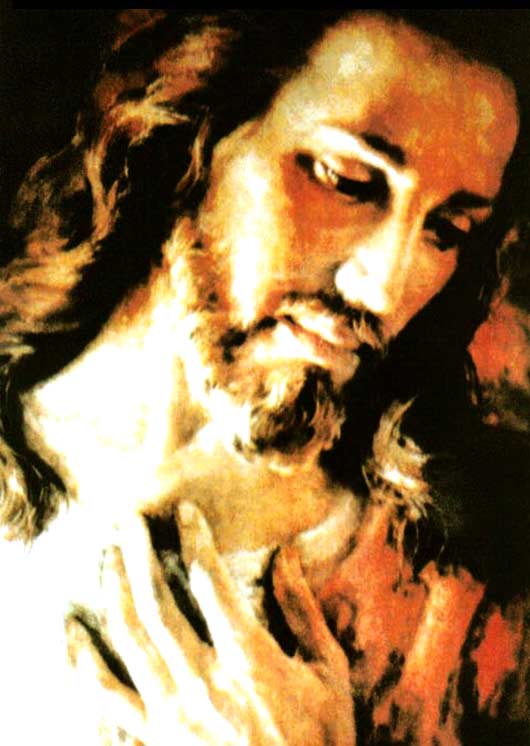 Beloved children:
THE SUN SHINES IN THE SKY, IT DOES NOT HIDE ITSELF FROM MEN; IT SHINES FOR THE GOOD
AND SHINES FOR THE SINNERS. THUS IS MY LOVE: IT GIVES LIGHT TO ALL, GUIDES ALL, COVERS
ALL,
SPEAKS TO ALL AND CALLS ALL.
I call those who are Mine to maintain their awareness on My Word: this is faith. I call you to remain with faith.
Take My calls seriously, take them with humility, hear the voice of the Holy Spirit so that remaining in Him, you remain in the Father and in Me, with the strength necessary to overcome the attacks of the malignant one, all united as brothers and sisters.
I SEE HEARTS AND KNOW THE END EACH ONE PURSUES;
I BLESS THE FAITHFUL ONE, AND I MOURN THE UNFAITHFUL ONE.
In this humanity so intoxicated by what is worldly, man does not center his interest in reality, in his reality; he maintains it veiled.
Instants are coming in which those who abuse of power will over abound, servants of _foreman, who like earthly gods, will crush the sincere of heart, forgetting that My People do not remain alone. I REMAIN KEEPING WATCH OVER THEM.
The fight between good and evil has occurred in every age, all the more in this one that is not an age. My People must embrace My Word so as not to go astray.
DO NOT TURN AWAY, DO NOT SLEEP WHILE EVIL WORKS.
COME TO ME, RECEIVE ME, DO NOT TURN AWAY.
Great tribulations approach, nature does not suspend hostilities; the Ecclesiastical Institution suffers in great measure and My Church will be greatly purified.
The wolves prowl around My sheep. CHILDREN, I WAIT FOR YOU IN THE TABERNACLE.
This generation has halted spiritually distancing themselves massively from Me, it has come to a complete surrender to sin in an unthinkable way, it has endeavored to build extremely destructive weapons, with the intention of one power dominating another. When man sees the great destruction and irreparable evil he has committed, he will not have a way to make amends …, and there My Mother will come in aid of Her children.
THE ABANDONMENT OF THE COMMANDMENTS AND SPIRITUAL IGNORANCE MAKE MEN MORE IRRATIONAL AND MORE HARD OF HEART TOWARDS THEMSELVES AND THEIR FELLOW MEN.
Pray, beloved children, pray for China.
Pray for El Salvador, it will lament.
Pray for England, it will suffer.
Pray for Nicaragua.
Children, My People, do not rest, do not give up, continue with faith, sure of My Word and of My Protection.
Pray, make reparation for the insults to My Most Sacred Heart and that of My Blessed Mother.
The dark clouds will clear, and the sun will shine again for those who are Mine.
MY MOTHER DOES NOT TURN AWAY, SHE REMAINS BESIDE EACH ONE OF YOU.
I AM YOUR GOD, DO NOT FEAR.
Your Jesus
HAIL MARY MOST PURE, CONCEIVED WITHOUT SIN.
HAIL MARY MOST PURE, CONCEIVED WITHOUT SIN. HAIL MARY MOST PURE, CONCEIVED WITHOUT SIN.