Wednesday, July 11, 2012
Message from the Blessed Virgin Mary
To Her Beloved Daughter Luz De María.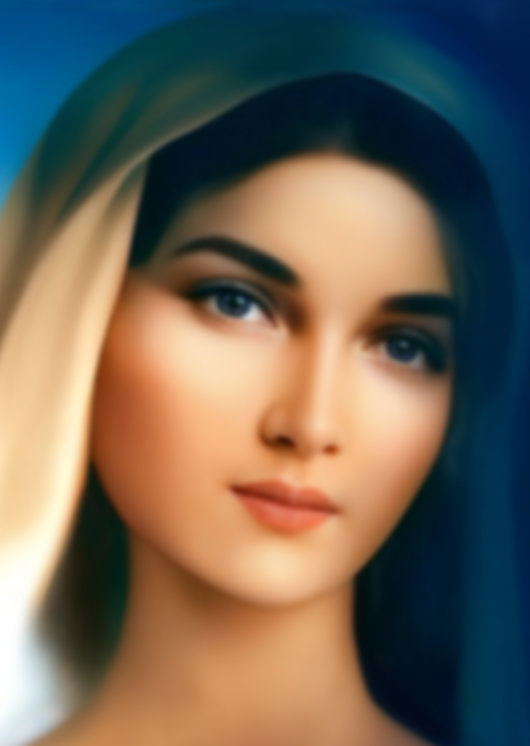 Beloved children of My Immaculate Heart:
I LOOK AT EACH ONE OF YOU WITH LOVE, YOU ARE MY CHILDREN,
IN EACH GOOD ACT I IMMERSE MYSELF IN LOVE, ENCOURAGING YOU TO CONTINUE IN SEARCH OF GOOD.
Each good act carries within it the seal of the Holy Spirit that delights in those who strive to continue their life with humility and simplicity of heart.
Humanity's sufferings are unknown to some, who see their brothers and sisters from foreign lands as strangers. All are brothers and sisters. To those who are not lacking food, do not waste it but give thanks and keep in mind those who die from hunger.
You must not be individualistic but share with the one who does not have, with the one who is needy, not only of physical food but spiritual food. Many are those who turn away and mock My Son seeing Him as a story of the past before a promising present.
Ah, humanity confused by materialism…!
How much grief hangs over you! Without being aware of it you despise the prophet, the announcer, the one chosen by Heaven to alert you.
How much spiritual poverty I see in souls, the ones who have been overcome by the temptation of material and superfluous possession, of the wrongful self-improvement at the cost of your brother or sisters' life!
Great groups of human beings prepare attacks against your fellow man, the Mystical Body will be confused, assaulted and persecuted by those who keep false idols and a mistaken spirituality.
I CONVOKE YOU TO PRAY THE HOLY ROSARY, TO VISIT MY SON IN THE TABERNACLE.
I CONVOKE YOU TO LIVE PRACTICING WITH HUMANITARIAN ACTS
MY SON'S TEACHINGS, WHICH CRY OUT FOR BROTHERHOOD FROM YOU.
A Great Sign will awaken man's sleepy gaze. Heaven will send a sign to move the insensible and disorganized man, the man who is unbelieving and fake that tells the rest of humanity that nothing is happening so that it sinks in what is improper.
Instants of great winters will come, the cold will prey upon man and man will remember that he has his God, whom he has scorned and not recognized. You call My messengers fanatics and madmen, you ignore Me you deny My existence. Schemers fight in silence against those truly sent to announce the reality of what is coming. They fight to quiet the truth and so that hell rejoices with the souls that fall. Men who are lukewarm turn away from the truth to justify their tepidity and persecute the faithful with false words.
IN ITS REALITY THIS GENERATION CARRIES THE ANNOUNCEMENT AND FULFILLMENT OF A PUNISHMENT OF FIRE that will fall from above; those who mocked Me and did not believe in My prophets, will lament, overwhelmed by fear.
THOSE FAITHFUL WHO HAVE BELIEVED, WILL NOT HAVE TO FEAR. I WILL NOT ABANDON THEM, NOTHING WILL HURT THEM IF THEY REMAIN IN GRACE AND REMAIN ON MY SON'S PATH.
CONSTANCY AND PERSEVERANCE WILL BE REWARDED,
THOSE WHO RECEIVE THE DIVINE WORD WITH RESPECT WILL HAVE NOTHING TO FEAR.
Pray, children, pray for France, it will be hurt.
Pray for Mexico, it will suffer. Pray for Italy, it will suffer.
The inhabitants of the Earth do not accept their error, they deny any regret. Humility is necessary for returning to the path; without it your steps are faltering. Like the waves of the sea that raise over the earth, so are the steps of the unbelieving - they come and go.
Little ones, this Mother will not abandon you, My Son keeps his Legions protectors of humanity attentive over each word of the faithful man, the man humble and simple that recognizes his wrong behavior.
Do not forget that even the most sinful, if he or she truly repents, is welcomed by My Son.
I bless you.
I love you.
Mother Mary
HAIL MARY MOST PURE, CONCEIVED WITHOUT SIN.
HAIL MARY MOST PURE, CONCEIVED WITHOUT SIN.
HAIL MARY MOST PURE, CONCEIVED WITHOUT SIN.