Wednesday, August 15, 2012
Message from the Blessed Virgin Mary
To Her Beloved Daughter Luz De María. Feast of the Assumption of the Virgin Mary.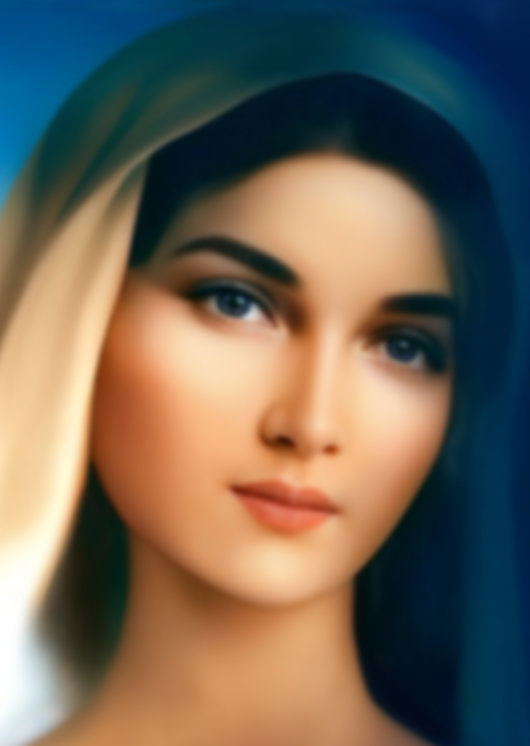 Beloved children of My Immaculate Heart:
I maintain the Universe and the Constellations in My Hand, the moon and the sun form a part of Me, I illuminate the Path of My Son's People with them.
I make transparent My Purity for all of humanity so that it be a token of salvation.
EACH STEP YOU TAKE CONSCIOUS OF GOOD ACTING, IS A STEP YOU ASCEND BEFORE A SEARCH THAT IS NOT FAR OFF FROM "THE ONE WHO STRENGTHENS ME".
The awakening of those who are Mine has begun, so that you unite with courage in a single march. No matter how difficult the fight, do not falter, I will house you in My Womb where every being palpitates.
Open your heart, and in those who are found willing to be simple and humble, My Love will pour out upon them joys and blessings.
POWER SHOULD BE TRANSFORMED BY LOVE,
REBELLIONS BY DIALOGUE, WARS SHOULD CEASE.
YOU, BELOVED CHILDREN, SHOULD NOT WAIT TO BE CALLED, INSTEAD ACT ON YOUR OWN, PUTTING INTO PRACTICE EACH WORD OF THE GOSPEL.
The mark of evil is carried in fullness by some men. Others unconsciously follow them, without direction, imitating the majority, even if at the end they are saturated by those vices that hide behind that evil degrading God's children and crucifying My Son as many times as dark acts are committed.
In this instant, the fight of the Mystical Body is brave in the midst of imposing systems, experts in disguising evil with apparently good acts, clouding humanity's understanding and reason. In this manner they wish to give to the malignant one and his tentacles, the Faithful, which I will protect, for whom I will crush satan and his empire. This empire has risen and will continue to rise over the Martyrs of My Son's Church, over the faith and truth of those who offer their life in spirit, battling to overcome their humanity and that in this instant continue offering themselves for My Son. I will destroy this empire for glory of My Son and the sacrifice of the martyrs will not be in vain.
RAISE YOUR EYES TOWARDS THE FIRMAMENT, BE CONSCIOUS OF THE DIVINE POWER AND FALL ON YOUR KNEES BEFORE THE SACROSANCT TRINITY.
Beloved children:
Pray for the United States.
Pray for Israel.
Pray for Japan.
The Earth plunges into pain; My Son's Church will suffer. I continue to appear for the good of humanity, to be a sign that I do not want children to be lost. My Word is blessing, it is a loving warning, since you have reached abomination. My tears spill because of the human corruption that has reached the interior of the Church that My Son founded. I made known in Fatima, in the Third Secret, My pain for the corruption and the desolation of the Church, and it has not been made known.
ALERT CHILDREN, SATAN WILL FOCUS ON DEMOLISHING MY SON'S CHURCH.
The waters already contaminated by modernisms and lack of prayer, and those newly contaminated by the shortage of faith, opened the way of the wicked and will cause ravages among humanity, who does not live in the true faith.
Beloved children, ill-used science will again bring man great pain, and man will feel himself burn from within, totally defenseless before the consequences of bad behavior and the irresponsibility of those who surreptitiously maintain humanity in suspense.
My beloved, I call you to ascend, to set aside modernisms and its music that not only contaminates the mind but the heart so as to distance you from My Son. I will not tire of calling you time and time again.
Humanity, what are you waiting for to return to your KING?
COME. I WILL GUIDE YOU TO ENJOY MY SON'S LOVE, MY SON'S PEACE.
THE DAYS OF PEACE WILL RETURN, HUMANITY WILL BELIEVE AGAIN, AND ON THAT DAY, YOU WILL LOOK BACK AND SEE THAT MY CALLS ARE CORRECT.
I love you, you remain in My Heart.
Mother Mary
HAIL MARY MOST PURE, CONCEIVED WITHOUT SIN.
HAIL MARY MOST PURE, CONCEIVED WITHOUT SIN. HAIL MARY MOST PURE, CONCEIVED WITHOUT SIN.