Friday, November 23, 2012
Message from Our Lord Jesus Christ
To His Beloved Daughter Luz De María. Given in Paraguay.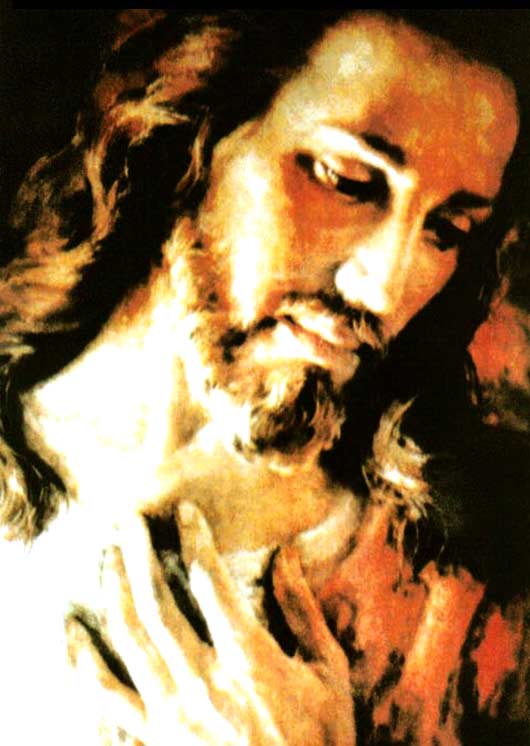 My beloved children: I bless you.
MY HEART CONSTANTLY BEATS FOR YOU
IN THE MIDST OF THIS HUMANITY THAT CONTINUOUSLY LACERATES MY WORDS AND MY TRUTH.
The forces of Nature are moved and are surging powerfully. You have unleashed Nature's rigor, you have abused of My Patience and even so, My Mother continues to intercede for you, unfaithful and ungrateful People. You cause yourselves so much harm denying Me, present in you!…
HOW YOU WILL LAMENT THE DISOBEDIENCE OF THIS INSTANT TOWARDS MY CALLS!
The Star Sun burns with greater force towards the Earth, thus demonstrating its disagreement with this generation's actions and behavior, this generation who constantly debases itself, sunk in an endless sin. YOU, MY BELOVED, DO NOT SEPARATE YOURSELVES FROM ME, CONTINUE STEP BY STEP CLINGING TO MY LOVE AND TO MY TRUTH, FOR I DO NOT ABANDON YOU.
Beloved children:
GREAT EVENTS ANNOUNCED IN ADVANCE ARE AT THE DOOR OF THIS GENERATION; DO NOT DOUBT IN CALLING ME, IN CALLING MY NAME, IN CRYING OUT FOR MY LOVE. I WILL NOT CLOSE THE DOORS TO YOU IF IN YOU IS MAINTAINED A HUMBLE HEART, HUMBLED AND WILLING FOR ME TO BE ITS KING.
You will receive a Great Sign on high, in it you will see My Love, you will see My Great Act of Mercy, it will be Mercy in the midst of man's lament, in the midst of man's petitions, man who seeing himself, will cling more to Me.
How My Love towards you wishes that all this would not be fulfilled! How much I have slowed down time… time!
My Mother who intercedes for you continues to do so, so that I, Her Son, do not yet bring down My Arm upon you, but I DO COME SOON TO SEEK YOU, TO SEE YOU FACE TO FACE SO THAT YOU YOURSELVES REVEAL AND UNCOVER YOUR CONSCIENCE AND YOUR HEART BEFORE ME.
It is not the praises of men that fill My Will, but the unmeasured commitment towards their own brothers and sisters and towards My Law.
How much threat raises over this humanity!…
How much misfortune and lament towards My Children!…
How much a Father suffers seeing His Own mourning and suffering!…
How insistently I have called you!…
How much denial on your part!…
THE INSTANT WILL COME IN WHICH IT WILL HAVE CEASED TO BE INSTANT,
IN WHICH I WILL GATHER MY FAITHFUL, I WILL TAKE THEM BY THE HAND
AND WE WILL WALK IN MY PEACE AND IN MY LOVE TOWARDS A FULL WORLD.
My beloved, I bless this land of Mine: Paraguay.
My Mother places Her Mantle of protection over this nation. I cry out to this People of Mine to not discard My requests, to not forget this Beggar of Love who once again knocks at the door of the heart of those who are His in search of that correspondence, of that love that is Mine and that I come to claim.
My beloved People:
LOOK TOWARDS MY HOUSE, ASPIRE TO THE HEIGHTS. MY CHILDREN MUST WALK WITH THEIR
HEAD HELD HIGH WITHOUT RETREATING, EVEN IF THE ATTACKS ARE CONTINUOUS AND PERSISTENT.
DO NOT RETREAT, WHOEVER RETREATS IS LOST AND I DESIRE TO RESCUE ALL.
The minds of the perverted act against My People. Be strong, remember My Calls; under no circumstance will the forces of the devil crush My Faithful.
So with this faith in My Word, DO NOT ALLOW THE MICROCHIP TO BE INTRODUCED TO YOU MY FAITHFUL, which will be extended throughout various countries with urgency. Remember that My Manna will descend from My House, because I am faithful to My People, if My People are faithful to Me.
Unite, do not allow disunion to destroy what My Love has built; be obedient to My Calls. You, Solders of My Love, be patient; let the enemy not destroy what we have been able to raise up. I build over solid ground and the enemy wants to weaken the foundations upon which you remain.
RESIST, RESIST. THE INSTANT PASSES IN A BLOW, RESIST. I REMAIN WITH YOU WITHOUT ABANDONING YOU; RESIST, FOR THE INSTANT HAS BEEN SHORTENED EVEN MORE.
Pray, My beloved, for Japan; do not forget it in your prayers.
It will be a cause of pain and lament for humanity.
Pray for My beloved people of Chile, do not forget them in your prayers.
Pray for Mexico.
Pray, the winds of war will cease to be winds; do not turn away from Me, do not turn away from that awareness to which I am insistently calling you, conscious to form part of My ranks.
I bless you. I keep you in My Sacrosanct Heart. You are My children, I love you and protect you.
Do not fear the one that can rob you, but the one who can turn you away from Me. Be strong in the face of the attacks.
My Peace be in each one of you. I love you.
Your Jesus.
HAIL MARY MOST PURE, CONCEIVED WITHOUT SIN.
HAIL MARY MOST PURE, CONCEIVED WITHOUT SIN.
HAIL MARY MOST PURE, CONCEIVED WITHOUT SIN.