Monday, January 14, 2013
Message from Our Lord Jesus Christ
To His Beloved Daughter Luz De María.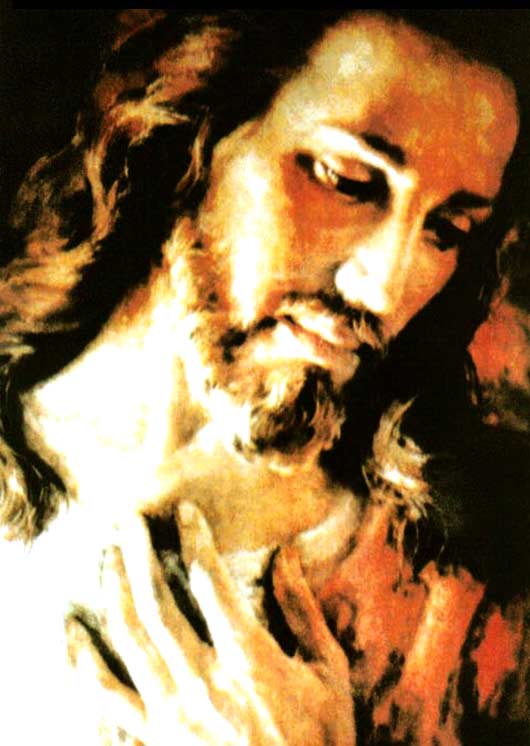 Beloved children, My People:
I BLESS YOU INSTANT TO INSTANT WITH THE STRENGTH OF MY LOVE, THAT ENCOURAGES YOU TO CONTINUE WITHOUT DEFECTING, BE DESERVING OF CALLING YOURSELVES: TRUE CHRISTIANS.
I do not need hollow or empty words, but children willing to live and practice My Precepts.
I do not take you back to distant times, but to the present instant in which you live, where the gifts you possess because you are a Divine Creation, have been reduced in the face of the spiritual poverty into which humanity falls submerging itself in the depths of occultism and of the perverse desires of satan who prepares the presentation of the antichrist.
My children have not heeded My Pleas and the worldly powers, which are nourished by evil, have penetrated deep, placing their wickedness, their hypocrisy, their loftiness and their pride in the most strongest and sensitive fibers of humanity so that without being aware they are not annulled but on the contrary, feed pride.
To you, My beloved; it is to you I speak, to those who remain united to Me, I SPEAK TO YOU SO THAT YOU DO NOT ALLOW PRIDE TO SEIZE YOUR BEING, BENDING YOU AND WITHOUT YOU BEING AWARE OF IT, YOU
BELIEVE YOURSELVES TO BE SUPERIOR TO YOUR BROTHERS AND SISTERS AND INNERLY FEED WHAT DOES NOT BELONG TO YOU NOR SHOULD REMAIN IN MY TRUE CHILDREN: THE ENLARGED "HUMAN EGO". None are worthy of Me, until they prove it in the trial, in the crucible. The false Christians will be uncovered before the trials that are ahead.
UNCERTAINTY IS AHEAD FOR THOSE WHO DO NOT LIVE FULLY THE COMMITMENT AND THE DISPOSITION TOWARDS MY LOVE AND TOWARDS MY TRUTH. These are not instants of shyness or of false hopes but of awareness before the gravity that humanity has reached. You are surprised when I mention to you that you have surpassed the sin of Sodom and Gomorrah, but immediately you forget it and return to the baseness and submerge yourselves in the mud of hopelessness and what is worldly.
Man maintains concealed emotions, has a mind, body and spirit that make up that unique being of each one of you that I love and is extremely important to Me. Indeed, you possess what allows you to enter into communion with My House, that is the spirit.
MY CHILDREN DO NOT GIVE DUE IMPORTANCE TO THE SPIRIT AND LOOK UPON IT WITH INDIFFERENCE. They do not think about having a soul and having a spirit, they do not know this because they do not preach to you with more emphasis and clarity about it so that you become aware and worry about the state of your soul and your spirit. You act unconsciously, without stopping to see what the essence of the act you perform is. Thus life comes to be a mechanical component. YOU CANNOT ACT IN THAT WORLDLY WAY, RATHER EACH ACT AND EACH WORK MUST CARRY THE SEAL OF MY LOVE SO THAT IT MULTIPLIES AND DOES NOT DISSIPATE OR IS
LOST.
I COME IN SEARCH OF MY TRUE CHILDREN WHO NOT ONLY ADORE ME IN THE EUCHARIST OR IN THE
INSTANT IN WHICH THEY FIND THEMSELVES BEFORE ME IN THE TABERNACLE, BUT AT THE SAME TIME, I NEED CHILDREN THAT LIVE PERMANENTLY IN ADORATION, SEEING ME ALL AROUND. Many are the ones who say they adore Me but few do it in spirit and truth, that is: conscious of each act so that it is realized with My same Love.
THE INSTANT IS LESS INSTANT. Before such proximity of the announcements of My Mother and Mine for Humanity, I call you to conversion, to take My Love for all and to be, each one of you, a Disciple of the last instants, penetrating deep in your brothers and sisters and serving Me straightforwardly.
What I have announced to you will be fulfilled without delay. I have explained My Word to you in various ways but hearts have not been moved.
You live nourishing yourselves from all Creation, and you correspond to it by ravaging her in various ways. The
Sun that illuminates you, has turned more dangerous for man in the face of human indifference towards My
Affairs.
YOU HAVE NOT UNDERSTOOD THAT ALL OF CREATION LIVES IN MY HARMONY, AND ONLY MAN REBELS AGAINST HIS KING.
My beloved; soon the Sun will cause pain for all of humanity; I alerted you about great volcanoes, and I alert you again, the seas will be implacable.
Do not mock at the events that do not happen, but take advantage of those instants to turn your works and actions towards a radical change where you are reunited with Me.
I will allow My Servants to draw even nearer to men, the signs multiply without ceasing and man will be called with harshness.
Be brave, firm and dedicated, and at the same time prudent so that the way is not saturated with thorns.
Beloved:
Pray for England.
Pray for Japan.
IDOLS OVER-ABOUND…
THE TRUTH IS ONE: MY WORD IS FULFILLED … I AM THE ALPHA AND THE OMEGA.
I bless you, My Love remains in you.
I protect you.
Your Jesus.
HAIL MARY MOST PURE, CONCEIVED WITHOUT SIN.
HAIL MARY MOST PURE, CONCEIVED WITHOUT SIN.
HAIL MARY MOST PURE, CONCEIVED WITHOUT SIN.