Monday, January 28, 2013
Message from the Blessed Virgin Mary
To Her Beloved Daughter Luz De María. Given in the Basilica of Our Lady of Guadalupe. Mexico City, Federal District.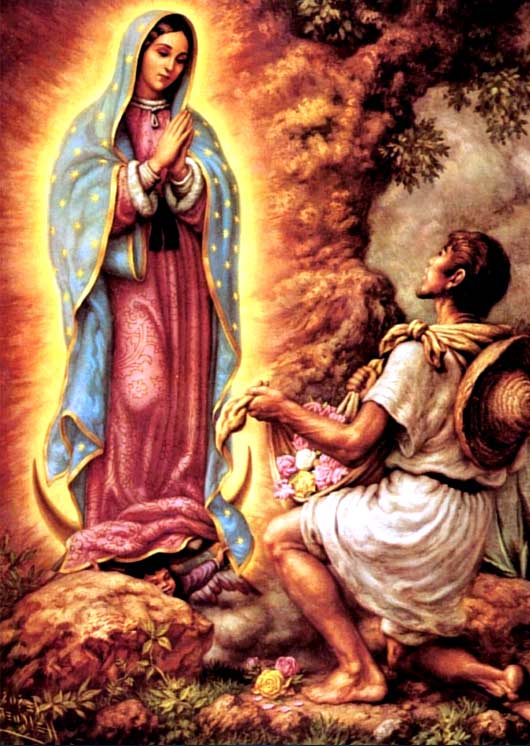 Beloved children of My Immaculate Heart, I bless you:
I PROTECT ALL THOSE WHO ARE WILLING TO FOLLOW MY CALL. I AM MOTHER OF ALL OF HUMANITY; I LOVE EVERYONE, I BLESS EVERYONE, I PROTECT EVERYONE.
I COME TO CALL YOU AS I HAVE DONE SO MANY TIMES, DESIRING THAT YOU ABIDE THIS CALL OF MINE GIVEN BY DIVINE ORDER.
My Heart burns with Maternal Love for each one of you, even for those who do not love Me or who despise Me. Those are the ones I most seek and the ones I address the most constantly and instant to instant.
My Hands remain in a praying position as a sign for man, as a sign that you must remain united and fused to the Trinitarian Will.
How much lament I hear on all the Earth! Lament of those souls who constantly lie in the mud, I lament for those who join the madness of what is worldly and sinful. You, My children, be those flaming candles that guide those lost in the darkness of this long night from which you are not able to escape.
My beloved:
LOOK TO THE HEAVENS, FOR THIS MOTHER OF YOURS HAS PLACED THIS MANTLE OF MINE
SO THAT YOU DO NOT SEE THE EVENTS FROM ABOVE AS IF THEY WERE FOR OTHER CREATURES; NO CHILDREN, THEY ARE SIGNS MY SON SENDS FOR YOU.
In every age Heaven has given Signs so that humanity is aware of how close the fulfillment of the Prophecies is. As Noah announced to the people the Divine Designs and they mocked him because they were not arriving; the people fell asleep without believing and then seeing the Prophecy fulfilled, they lamented without attaining Salvation.
MY SON IS MERCY; I AM A MOTHER OF LOVE, I AM… THE IMMACULATE HEART.
BUT EACH ONE OF YOU MUST MAKE AN EFFORT,
BE CONSCIOUS TO REACH THE MERIT AND ACHIEVE IT THROUGH YOUR OWN EFFORT,
THROUGH YOUR OWN DEDICATION, THROUGH AWARENESS, THROUGH YOUR OWN COMMITMENT, THROUGH WILLINGNESS, AND THUS FIND THE TRUE PATH.
MY SON IS MERCY, AND HIS MERCY REACHES HIS FAITHFUL AS IT HAS REACHED FROM GENERATION TO
GENERATION. BUT HIS FAITHFUL MUST MAKE AN EFFORT, BECAUSE HEAVEN IS REACHED WITH EFFORT, WITH FAITH; IT IS NOT DONATED, IT IS NOT GIVEN TO THE ONE WHO DOES NOT DESERVE IT.
My beloved:
Pray! Insistently I have called you to prayer. The events are about to reach Earth, one after the other… without stopping; you will see them fulfilled before your eyes with pain in your hearts, but hearts of stone that will not soften until the final instant.
My beloved:
IT IS NOT TOO LATE TO TURN TO MY SON. HERE I AM BEFORE YOU.
I OFFER YOU MY CONSTANT PROTECTION.
Come to Me for I will take you to My Son. I intercede for each one of you, I do not distance Myself from you. My Son does not leave you for an instant, turn to him quickly, for the instant is not an instant.
Do not ridicule like the world at not seeing the events arrive. They have arrived and will arrive, but those who do not want to see them will not see them even when they find themselves before them.
Pray, My children, for Canada, a great event will make it shake.
Pray, My children, for Nicaragua, do not leave it out of your prayers.
Pray, My children for South America, it will weep.
Pray for Mexico, it will suffer.
TURN CONSTANTLY TO MY SON, AND WHEN YOU FIND YOURSELVES IN DANGER CALL ME SAYING:
"HAIL MARY MOST PURE, CONCEIVED WITHOUT SIN," AND I WILL COME QUICKLY.
HERE I AM WITH YOU, I DO NOT LEAVE YOU, I AM YOUR MOTHER WHO LOVES YOU.
I do not abandon you, I bless you.
Mother Mary.
HAIL MARY MOST PURE, CONCEIVED WITHOUT SIN.
HAIL MARY MOST PURE, CONCEIVED WITHOUT SIN.
HAIL MARY MOST PURE, CONCEIVED WITHOUT SIN.