Wednesday, February 13, 2013
Message from Our Lord Jesus Christ
To His Beloved Daughter Luz De María. Ash Wednesday.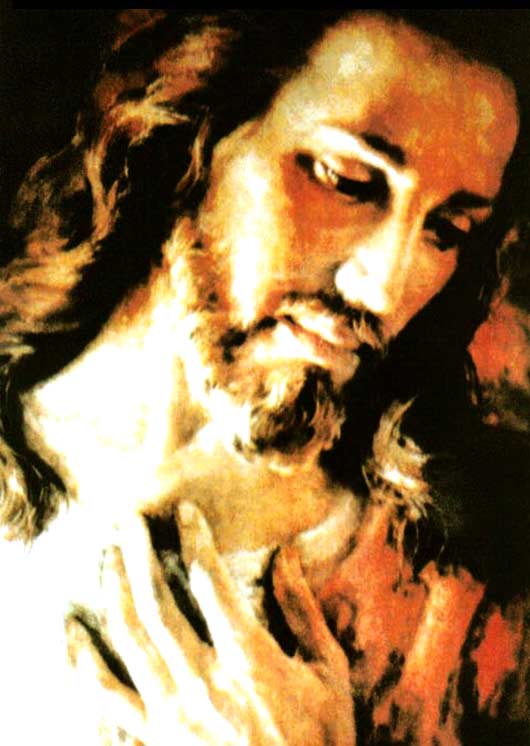 My People, My beloved People, I bless you.
IN THESE INSTANTS IN WHICH HUMANITY IS TORN BETWEEN ANXIETY AND SUSPENSE,
I COME BEFORE YOU AS KING OF LOVE AND LORD OF ALL OF CREATION, OF TIME AND OF NO TIME.
I COME WITH MY WORD OF LOVE TO ASK MY PEOPLE FOR:
TRANQUILITY, FAITH, OBEDIENCE AND PATIENCE.
You know well that My Justice is being met. You know well that the sin of this generation has surpassed all limit.
DUE TO THIS I HAVE ACCELERATED TIME, SO THAT WITH THE EXIT OF MY BELOVED AND FAITHFUL VICAR FROM THE VATICAN, ANOTHER STAGE HAS BEGUN IN WHICH ALL THE PROPHECIES THAT YOU KNOW WELL FOR THE END OF THIS ERA WILL BE FULFILLED.
I invite you to remain united so that shoulder to shoulder you overcome the trials that are not easy; you know them well but knowing them is different from living them.
The impostor of the Seat of Peter will sit at some instant on this Throne of Mine here on Earth, and My Church, Mystic Body, will be totally shaken. Confusion will seize many of My Children who do not maintain a clear faith, strong and of obedience.
The attacks will not cease. In this instant the Institution of My Church finds itself adrift like a ship when there is a storm at sea. The waters are stirring, the parties have begun their negotiations but I WHO DICTATES WHAT IS FULFILLED IN HEAVEN AND ON EARTH WILL HOLD THE REINS OF ALL MY CHURCH.
Do not trust in the announcements about a strengthened economy, do not trust in the alliances and compromises since these will be for appearance, and overnight, humanity will have been deprived of all control over its goods.
There will be lament when the man with physical hunger exceeds levels and reaches his minimum standard and his instincts go beyond what is human. Famine will seize humanity from one instant to another, the agitated seas will reach and penetrate the coasts and the devastation will make My children shed tears because of it.
SO MUCH I HAVE BEEN OFFENDED THAT MY LOVE HAS FORGIVEN AND TODAY IT IS NOT MY JUSTICE
BUT THE JUSTICE OF CREATION AND THE JUSTICE OF THE ELEMENTS THAT ARE POURED OVER MAN SO THAT
HE BE CORRECTED SEVERELY AND REPENTS FOR ALL THAT HE HAS DONE. BUT WHILE THIS INSTANT ARRIVES, MY CHURCH WILL PASS THROUGH THE CRUCIBLE OF MARTYRDOM IN THE HANDS OF THE ANTICHRIST.
To You, faithful People and beloved by Me:
I call you to remain upright in faith, to not deviate from My Teachings or allow the Eucharistic Celebration to be spoiled.
With the beginning of another Lenten season, I come to My People to announce that My pain of this Lenten season is not like any other before. My pain is the pain of those who are Mine who will share united to Me all of the onslaughts and all the faces of pain.
I call you to be prudent, to make internal silence, I call you to examine yourselves strongly more so those to whom I have entrusted important missions in these instants and that will bear fruits in the midst of the Tribulation of My Church. Those I order to remain faithful, on the contrary they will not be able to reach Me.
Man is free and when I entrust a Mission he is free to abide by it, to receive it or leave it, but to those whom I designate for important missions as it is in these coming instants, I have predestined them from before the foundation of Creation so that they remain firm and abandon those human distractions and receive Me because the fulfillment of My Word and of the Missions entrusted to various creatures will be light, the beacon that guides My Remnant Church.
I PLACE IN YOUR HANDS: MY MISSIONARIES OF LOVE AND FULFILLERS OF MY WILL,
MY REMNANT CHURCH SO THAT IT DOES NOT DISINTEGRATE MORE WHEN IT FINDS ITSELF IN THE CRUCIBLE.
Pestilence will scourge humanity harshly because of the evil, the transgression, the perversity and the ignorance of those who with power in their hands, are going to cause harm to all of humanity, using powerful weapons with which they will harm millions of My children.
PREPARE YOURSELVES MY PEOPLE, FOR YOU WILL SHARE MY CROSS, FOR YOU WILL BE ONE WITH ME, BUT IN THE FIDELITY OF REMAINING IN MY CROSS YOU WILL REACH HEAVEN.
None is far from My Love and My Forgiveness; the one who calls Me and the one who is willing to change for My Cause, that one I will have at My Right.
The one who is foolish, even while knowing that joy and Eternal Life await him, will continue to be stubborn and will not cede, out of pride. And the one who is prideful will share the pain of seeing himself far from Me willingly.
DO NOT ALLOW YOURSELVES TO BE SEALED BECAUSE THE ONE WHO IS SEALED WILL BE THE ONE WHO SELLS HIS SOUL TO THE DEVIL.
My People, My beloved People, pray for the Institution of My Church so that My Holy Spirit exercises with clarity and with power My Will and thus other wills do not prosper.
Pray for Brazil, it will be scourged.
Pray My People, pray for Pakistan, pray My People.
Pray for Chile, it will suffer.
Pray for those to whom I have entrusted Missions.
Pray for those victim souls who offer themselves in the midst of loneliness for the sufferings that are approaching for all of humanity.
Pray, pray for a very special Mission that I have entrusted to two People so that they help My Church in the instants of Great Tribulation, so that they fully understand its importance and transcendence.
My beloved People,
TODAY I BLESS YOU WITH MY LOVE, TODAY I OPEN MY HEART AT THE BEGINNING OF THIS LENTEN SEASON SO THAT IT IS NOT JUST ONE MORE,
BUT SO THAT IT IS THE SPECIAL LENTEN SEASON IN WHICH COMMITMENT,
OBEDIENCE AND DETACHMENT BE THE BANNER OF GIVING AND DONATION OF EACH ONE OF YOU.
Today I open My Heart at the commencement of this Lenten season so that all those who repent, penetrate into It.
I have never closed My Mercy to Humanity, but Humanity before seeking My Mercy, shakes and allows apprehension and fear to seize it out of ignorance and a lack of faith. I do not decrease the great importance of the events that today accompany My beloved Church.
Preach, you who know Me; remain firm, for My Heart maintains you within it, and I will not abandon you in any instant.
I bless you with My Love, I bless you with My Blood, I bless you with My Cross, I bless you with My Resurrection.
MY BELOVED PEOPLE, REMAIN FAITHFUL, FOR I REMAIN WITH YOU. My beloved:
I BLESS YOUR MIND, I BLESS YOUR HEART, I BLESS YOUR EARS, I BLESS YOUR MOUTH, I BLESS YOUR EYES, I BLESS YOUR HANDS, I BLESS YOUR FEET.
BE OBSERVERS OF MY WORD.
Your Jesus.
HAIL MARY MOST PURE, CONCEIVED WITHOUT SIN.
HAIL MARY MOST PURE, CONCEIVED WITHOUT SIN.
HAIL MARY MOST PURE, CONCEIVED WITHOUT SIN.