Monday, May 6, 2013
Message from Our Lord Jesus Christ
To His Beloved Daughter Luz De María.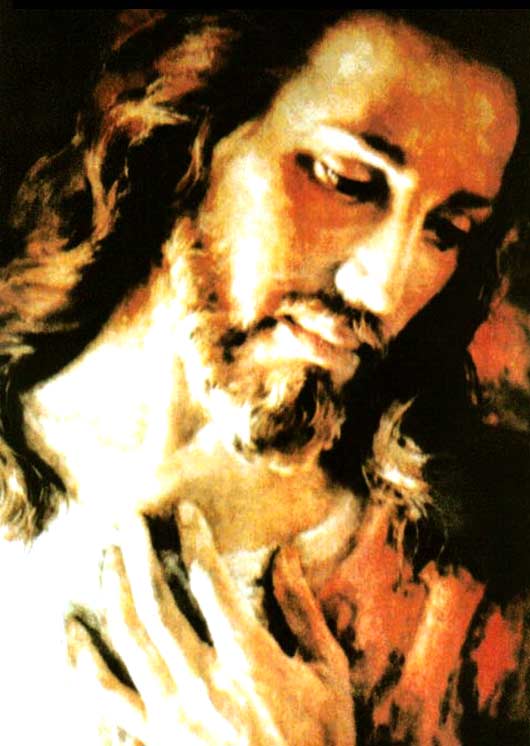 My People, My beloved People!
Beloved children:
MY BLESSING REMAINS WITH YOU.
MY VOICE FEEDS MY PEOPLE AND MY FLOCK FIND COMFORT…
When My children's path is darkened, I send you My Love like the noonday Sun so that you do not go astray.
Humanity succumbs by walking without Me; it has evolved in what is worldly and has forgotten that it possesses a soul, and the soul, without Me, is forgotten, scorned by wicked desires. And it is no longer the soul that reigns but wicked desires that are forming men without a conscience, who do not see evil in anything and go from offense to offense against Me, without being aware of how much I suffer for you.
MY CHILDREN ARE PERSECUTED FOR REMAINING FAITHFUL.
CHILDREN, CONFUSION REACHES YOU, DO NOT GO ASTRAY, BE STRONG AND DO NOT DOUBT THE PROTECTION OF MY HOUSE.
MY MOTHER IS MOTHER OF HUMANITY AND DOES NOT ABANDON YOU.
My Church will continue its purification, division approaches, and those who are Mine must redouble prayer, offering, and remain in My Presence so as not to fall or be confused.
KNOW MY WORD SO YOU ARE NOT DISHEARTENED NO MATTER HOW STRONG THE WINDS MAY
BE; YOU WILL HAVE THE CERTAINTY THAT IN THE END,
MY CHURCH WILL BE ADORNED WITH THE BEST VESTMENTS AND I WILL COME FOR HER.
Science will amaze with the power of the great powers before humanity that is defenseless, prey of the pride of some. Pain comes close to humanity and humanity does not dare to raise its voice before what will be a catastrophe. Nuclear energy will be the horror of men, the scourge of scourges, thoughtlessness at its highest expression.
Remain in Me, abandon sin. I wait for you with patience, I continually come to attend your needs and I come to meet you liberating you from evil.
CHILDREN, BE PERSEVERANT IN THE SPIRIT, DO NOT TURN AWAY FROM TRUE SALVATION, RETURN TO THE PATH SO THAT YOU ARE STRENGTHENED BY MY SPIRIT.
Maintain Unity it is an invincible barrier in instants in which evil lashes out against those who are Mine seeking to lose you. These are hard instants for My faithful, do not fall, no matter how strong the winds may be. You know that I unite with those who turn to Me, truly repentant.
REMAIN FIRM AND DO NOT SWAY IN THE FACE OF CONFUSION. YOU KNOW THAT MY WORD IS
ETERNAL AND I RETURN FOR THOSE WHO ARE MINE… A KING CANNOT REIGN WITHOUT HIS PEOPLE.
Turn to My Mother, do not forget that you must consecrate yourselves to Her Immaculate Heart. Pray, My Mother hears you, you are Her children, do not forget it.
I DO NOT ABANDON YOU, My help will arrive like water to the fields, unexpectedly. And you will find the help necessary so that you do not lose heart in the midst of the Tribulation. Keep faith, do not despair.
Look on high, there where I dwell, do not forget it.
My beloved:
Pray for Japan, it will suffer.
Humanity:
HOW YOU HAVE OFFENDED ME! YOU HAVE ABANDONED ME, YOU HAVE EXILED ME, OFFENDING ME GREATLY; YOU HAVE DICTATED LAWS HURTING ME CONTINUOUSLY.
My beloved People, come to Me, comfort My Heart, I will comfort you constantly, do not diminish in faith.
I come for My People.
I love you, I bless you.
Your Jesus.
HAIL MARY MOST PURE, CONCEIVED WITHOUT SIN.
HAIL MARY MOST PURE, CONCEIVED WITHOUT SIN.
HAIL MARY MOST PURE, CONCEIVED WITHOUT SIN.