Wednesday, June 5, 2013
Message from the Blessed Virgin Mary
To Her Beloved Daughter Luz De María.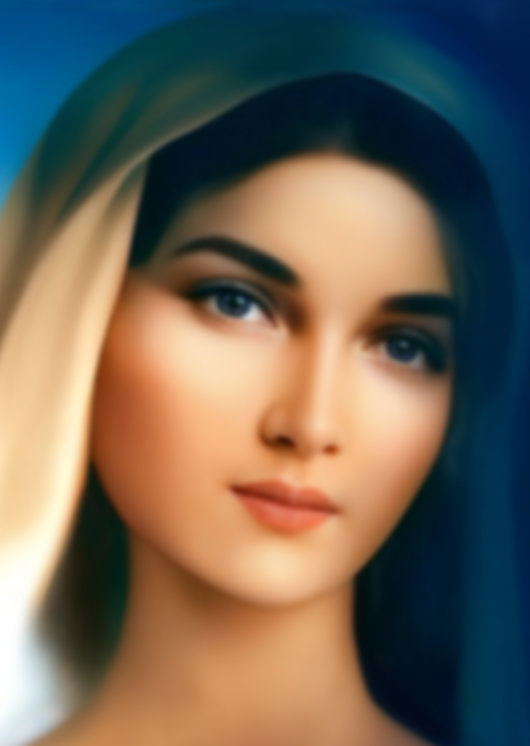 Beloved children of My Immaculate Heart:
IN THE COURSE OF ALL MY APPARITIONS AROUND THE WORLD:
- I have urged you to remain on the right path…
- I have urged you to conversion…
- I have begged and pleaded for you not to turn away from My Son, for you to abide by His Calls and My Calls, for you to be perseverant in fulfilling the Commandments and above all, that you be Love, in the unity of My Son's Heart and of My Heart…
So many Calls in which I have asked the Hierarchy of the Church to consecrate Russia to My Immaculate Heart!… And this has still not been done. HOW MUCH PAIN HUMANITY WOULD AVOID WITH JUST THE OBEDIENCE TO THIS CALL OF MINE!
I see so many of My children sneer at My Calls and above all, I grieve when they sneer at My Son's Calls. They say that what is announced by this Mother is not fulfilled, but that is because these children are spiritually blind, their heart is hardened by all that is worldly. They have not become aware of the reality in which humanity lives, of the scourges one Nation or another suffers day to day, that pain walks from Nation to Nation, and that the whole of humanity is perched on a minefield of nuclear energy, whose power plants will be the scourge of all of humanity at any instant.
MAN IS STILL NOT CONSCIOUS OF THE ILL-USE HE HAS GIVEN SCIENCE, and that he will punish himself contaminating the waters, the air, all of nature, but above all himself with nuclear energy. Man will feel his skin burn, he will feel himself burn from the inside and will lift his gaze to the heavens asking for Mercy. HE WILL PAINFULLY REMEMBER THAT MY SON AND I HAVE PLEADED FOR HIM TO CHANGE HIS BEHAVIOR AND RAISE HIS VOICE SO THAT THIS SCOURGE DOES NOT SPREAD MORE.
Beloved children of My Immaculate Heart:
HOW MUCH THE CURRENT FASHIONS OFFEND MY SON -- how much pain for My Son's Heart before such abominations! The body is the Temple of the Holy Spirit, it is exhibited shamelessly. And the Holy Spirit grieves so much! … BOTH MEN AND WOMEN OFFEND THE HOLY SPIRIT GREATLY.
My beloved, you who believe, who listen to My Son and this Mother, do not allow the Most High to be offended within your families, allowing that your family members wear these deplorable and immoral modernisms.
YOU WHO ARE CONSCIOUS OF THE REALITY IN WHICH YOU LIVE, BE BEARERS OF THIS CALL.
YOU ALREADY KNOW THAT MY SON DID NOT COME TO BRING UNITY BUT DIVISION,
DIVISION BETWEEN THE WHEAT AND THE WEEDS,
BETWEEN THE ONE WHO BELIEVES AND THE ONE WHO DOES NOT BELIEVE.
Man possesses freedom, and I constantly battle against the human ego that revolts instant to instant and wants to let loose its appetites. Not only is My Son offended with deeds, but with thoughts, with this mind that you do not hold down.
In this instant, My Son needs all His children, all His People, His children's Love, but above all Obedience, Hope and faith in His calls.
I DO NOT ABANDON YOU AT ANY INSTANT, BUT YOU, MY CHILDREN,
MUST CHANGE THE DIRECTION OF THE PATH, OTHERWISE YOU WILL BE THE PREY OF SATAN AND HIS LEGIONS THAT HAVE POUNCED UPON ALL SOULS TO DRAG THEM TO PERDITION.
You know that the antichrist rises with power, the antichrist who is that creature of evil that will come to fight against My Son's People, who will come to seal those of My Son's People who do not remain strong and faithful enough to say no to the antichrist, that malignant one who will do wonders before humanity, and before whom many will bow down to adore him.
THE ANTICHRIST WILL COME TO TAKE THE THRONE OF PETER ON EARTH ALONG WITH HIS ALLY.
I call you to constantly pray for the Church, for all My children, but above all for the Hierarchy of My
Son's Church and Mine, since, like a ship, it navigates in tempestuous waters that attempt to drown it.
THERE WILL NEVER BE TOO MUCH PRAYER,
IT IS ALWAYS NECESSARY THAT SOME HELP OTHERS THROUGH PARYER.
In these instants, the devil and his legions pounce upon My Son's People to hit them in one form or another, trying to undermine the firm foundations of My children, and in this way, make them fall. BUT YOU, WITH THE HOLY ROSARY IN YOUR HAND AND WITH FAITH IN A GLORIOUS TOMORROW, DO NOT BOW DOWN, CONTINUE FIRM AND STRENGTHENED; BE CONTINUOUS WORSHIPERS OF MY SON SO THAT HIS STRENGTH BE MAINTAINED IN EACH ONE OF YOU.
I have spoken to you so much throughout the world, calling you to remain alert about nature, which will purify man! Volcanoes will erupt in continuous explosions, the waters will become agitated, the winds will cause man pain and great destruction; all of this because man does not see the proximity of the fulfillment of My Announcements. IT WILL BE DURING THE WARNING THAT YOU WILL LAMENT ALL THE ACTIONS OF YOUR LIFE, BUT DO NOT WAIT FOR THIS ACT OF MERCY IN ORDER TO REPENT, TO GRIVE AND TO MAKE A FIRM RESOLUTION OF AMENDMENT.
My beloved, the sun will be relentless with man; it will devastate and will make the great technology of which man boasts burn and there man himself will realize that he is nothing, he simply depends on My Son's Will and My Intercession.
DARKNESS WILL REACH THE EARTH AND THE SOULS ENTRUSTED TO AND GIVEN OVER TO MY SON WILL BE BEACONS THAT WILL GIVE LIGHT TO THEIR BROTHERS AND SISTERS.
My beloved:
How much I have called you to conversion!… And you continue rambling between what is holy and what is worldly. Remember that those who are lukewarm will be vomited from My Son's mouth, do not forget, make the correct decision in this instant.
THE EARTH IS COMPLETELY PERTURBED, My children's mind -- and I say this with pain -- is completely perturbed, not only by modernisms but by the constant snares of technology.
MAN LIES IN THE MUD OF TOTAL IMMORALITY and this leads him to punish himself severely. You who form My battalion, be the souls that bring My Son's Mercy so that what is already scourging the entire world is lessened a bit.
My beloved:
DO NOT DESPAIR, BLESSING WILL COME FROM ON HIGH, the Heavenly Hosts will not abandon you and will come to protect My Son's People, the faithful, those who of their own free will say:
YES MY LORD AND MY GOD, INTO YOUR HANDS I COMMEND AND GIVE MYSELF!
Beloved children of My Immaculate Heart:
A CREATURE OF GOD WILL COME TO HELP YOU IN THE MOST CRITICAL INSTANTS AND THE
INSTANTS OF PERSECUTION, HE WILL BE SENT FROM ON HIGH TO HELP THE FAITHFUL AND WILL HAVE THE WORD IN HIS MOUTH SO THAT YOU DO NOT FALTER IN FAITH. This creature will be salvation for the Mystic Body of My Son and will be a blessing for those who expect to be helped directly by Heaven.
BE EACH OTHER'S HELP, DO NOT CENTER YOURSELVES IN WHAT IS WORDLY
OR IN WHAT IS MATERIAL, DO NOT LET IT PERTURB YOU
FOR IN THE BLINK OF AN EYE WHAT IS MATERIAL WILL NOT HAVE ANY VALUE.
Give to Cesar what is Cesar's and to God what is God's; give Me your hearts consecrated to My Immaculate Heart, and in this way allow this Mother to be the protection and relief of each one of you.
I BLESS YOU, I GIVE YOU MY LOVE, I PILGRIMAGE BEFORE EACH ONE OF YOU AND THUS WILL I CONTINUE UNTIL THE END. A MOTHER DOES NOT ABANDON HER CHILDREN.
Mother Mary.
HAIL MARY MOST PURE, CONCEIVED WITHOUT SIN.
HAIL MARY MOST PURE, CONCEIVED WITHOUT SIN.
HAIL MARY MOST PURE, CONCEIVED WITHOUT SIN.