Monday, September 30, 2013
Message from Our Lord Jesus Christ
To His Beloved Daughter Luz De María.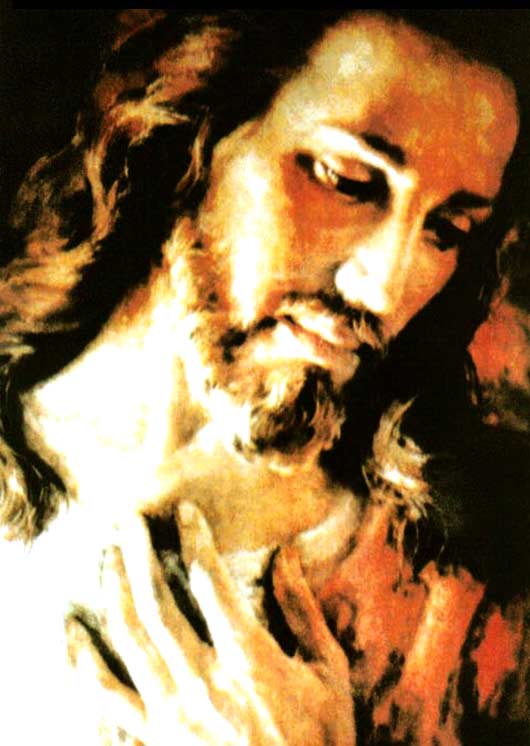 I AM ON PILGRIMAGE FROM SOUL TO SOUL IN SEARCH OF THAT LOVE OF MINE: MY LOVE,
WHICH I DEPOSITED IN EACH ONE OF THOSE WHO ARE MINE,
AND TODAY I COME TO SEARCH FOR IT AND HAVE NOT FOUND IT.
My beloved People:
WHERE ARE YOU? WHAT HAS BECOME OF YOU?
HOW FAR YOU HAVE GONE FROM ME OUT OF YOUR OWN WILL!
I beg from heart to heart, knocking at the door of each one of those who are Mine… and you keep it closed, you do not open it out of fear of Me discovering, that in My place, false idols have seized what is Mine. You have forgotten that even if you do not open the door to Me, you are My property, My possession, and I know all that you keep within you. Just as My Love goes beyond where you can think, I see beyond where you see.
AND THAT CRAZY COMING AND GOING IN WHICH THE MAN OF TODAY MOVES HAS SUCCEEDED IN DISTANCING YOU FROM ME, since you do not think about Me to work or act, rather you let yourselves be carried away by what you have at hand as if you could act and work only by human decision.
You have forgotten that My Love is so great, that I have given My life for you, and it is not lawful that you dispose of it at will.
You have forgotten that the greatest Gift you have received is the Gift of Life and the one who attempts against it, attempts against the Sacred.
My beloved:
YOU CAUSE ME TO RELIVE MY PASSION CONSTANTLY -- YOU CRUCIFY ME,
YOU CROWN ME WITH THORNS, MY HANDS ARE PIERCED BY THE HUMAN WILL.
My Feet are constantly pierced by free will; My Side is opened time and time again by the human will that does not rest neither day nor night, walking by the enemy's hand as has not happened in any other generation.
The enemy celebrates the man of today…, he celebrates the man of this instant because the human being has handed itself over into the hands of every pleasure in every aspect; By driving Me out of your will, by driving Me out of your heart, the enemy has seized the human being and has led it and will lead it to unthinkable levels for you, in which you will destroy one another as you have never before imagined.
My beloved:
Why do you not think? Why do you not stop to feel My pain? How is it that you believe I was nailed on a Cross and My Passion remained only in that instant?
NO, MY BELOVED, MY PASSION REMAINS IN A PRESENT ACT IN EVERY ONE OF YOU AND I SUFFER AND I GRIEVE IN THE FACE OF HUMAN REACTION, YOU DO NOT COME TO ME WITH THE BALM OF
LOVE, OF OBEDIENCE, OF BROTHERHOOD, but on the contrary, you rush against one another in ruthless action without meditating and without thinking; you only let yourselves be guided by free will, you let yourselves be guided by instinct, which is not precisely the human instinct.
I DESIRE A CHURCH HOLY AS I AM HOLY, in which the Truth of My Love prevails, in which the Truth of My Word prevails, in which My People are spoken to, with the Truth, in which you love one another…
I DESIRE A CHURCH HOLY AS I AM HOLY, in which the Ministers at My Service are transparent like the most crystalline water. I invite My Sons consecrated to My Service to retire from society, not from My children or from My People, but to retreat from social activity, since this leads them to be distant from prayer and to be distant from My Will and the faithful observance they have sworn in their Ordination.
My beloved People:
I WANT YOU TO BE HOLY AS I AM HOLY; YOU ARE MY CHOSEN PEOPLE, MY ESTATE,
YOU ARE THE FERTILE GROUND IN WHICH THE SEED OF MY LOVE GROWS QUICKLY, BUT FOR YOU TO CONTINUE THUS, IT IS ESSENTIAL THAT YOU GIVE YOURSELVES COMPLETELY TO ME.
I invite you to prepare yourselves, not materially, rather to prepare yourselves in this instant in spirit, and for this I need you to be aware of each one of My Words. Be conscious of My Love for you, be conscious of My Requests and Pleas to you, be conscious that this generation is the generation for which I come in search of My Holy Remnant. That is why I come to you, I approach with yearning Love.
I COME IN MY SECOND COMING FOR THOSE WHO REMAIN FIGHTING BEING COURAGEOUS AND ABOVE ALL: LOVING AS I LOVE.
My Word must be for you the river that refreshes, the river that nourishes, the river that purifies.
I PROMPTLY COME FOR MY PEOPLE, I COME FOR MY PEOPLE, I COME FOR MY HOLY REMNANT.
Do not forget to consecrate yourselves to My Mother's Immaculate Heart; it is urgent that you do so, and it is urgent that you not only consecrate yourselves individually, rather that each one of you, being conscious that each one of you is a blessing for your brother or sister, consecrate all of humanity to My Mother's Immaculate Heart.
I invite you, at the same time, to enter into the Third Secret that My Mother uttered at Fatima and according to Her request that all of humanity be consecrated and especially Russia. My beloved:
I look at you with so much love! With so much love I address you! With so much love I give Myself when you receive Me present in My Body, Blood and Divinity in the Eucharist! With so much love, I will send My Help to this generation!
I DO NOT ABANDON YOU, I WILL SEND A PERSON WHO WILL CARRY MY WORD IN HIS MOUTH,
MY LOVE IN HIS HEART AND WILL KEEP YOU UNITED IN THE INSTANTS OF TRIBULATION WHEN YOU
APPROACH TO RECEIVE THE FRUIT OF YOUR COMMITMENT,
OF YOUR OBEDIENCE AND OF YOUR LOVE, GUIDING YOU TO ME IN SPIRIT AND TRUTH.
Beloved, you must first be purified, a purification asked for by yourselves, since you are aware that you have not acted according to My Will but according to free will.
I ask you ardently to pray for the Middle East.
My Beloved:
Man received what he needs and more from My House to survive on Earth but making use of what My House gave him according to his free will, he has caused, through science, what will be the destruction of man himself.
How I grieve because of it! How I grieve because of it! This is the reason for My constant Pleas to you, My People, My Holy Remnant whom I convoke at the same time to pray for My Church and its Hierarchy.
DO NOT FORGET THAT I HAVE NOT COME FOR SOME, I HAVE NOT COME FOR A SMALL NUMBER; I COME FOR ALL MEN, FOR ALL THOSE WHO TURN TO ME WITH GOOD WILL CONSCIOUS THAT I AM THE KING OF HEAVEN AND EARTH.
I bless you. Remain in My Peace.
Your Jesus.
HAIL MARY MOST PURE, CONCEIVED WITHOUT SIN.
HAIL MARY MOST PURE, CONCEIVED WITHOUT SIN.
HAIL MARY MOST PURE, CONCEIVED WITHOUT SIN.