Sunday, November 24, 2013
Message from Our Lord Jesus Christ
To His Beloved Daughter Luz De María. Feast of Christ the King of the Universe.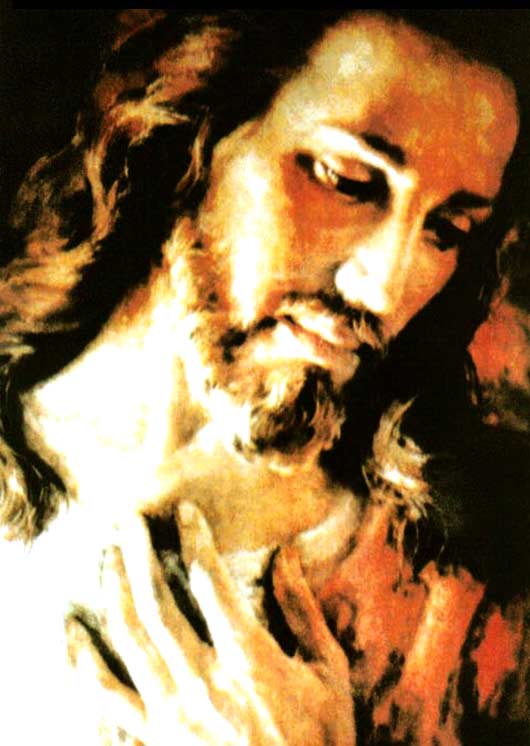 My People, My beloved People:
MAN BEING MY SON, I DESIRE THAT HE NOT FORGET ME BUT THAT HE GIVE AND OFFER TO ME PURE
LOVE, NOT ONLY WITH PRAYERS, BUT WITH EVERY ACT OR WORK WITH WHICH HE CONTINUOUSLY TRIES TO CONFRONT OBSTACLES.
These are instants in which the strength of the flame of Faith My People maintain must be strengthened and in that way, you will combat the errors that are being spread throughout the Earth.
REAL CHILDREN, DO NOT SUCCUMB BEFORE THE WORLD THAT WANTS TO SNATCH YOU FROM MY
HANDS. You are My real children, do not allow the sin to separate you from Me nor the senseless currents of modernisms to make you forget that I AM WHO AM AND I DO NOT CHANGE. I AM THE SAME TODAY, YESTERDAY AND ALWAYS.
MY LOVE AND MY TRUTH DO NOT CHANGE, RATHER THEY REMAIN UNCHANGEABLE,
AS MY LOVE DOES NOT VANISH FOR THOSE WHO ARE MINE,
NOR DOES MY TRUTH PERISH BEFORE MODERNISMS. MY THRONE IS NOT EARTHLY BUT HEAVENLY.
Everything that My Mother has announced to you and has not happened; will happen.
Bewilderment will remain among My People, confusion will be a cause of their division, and so many injustices will be committed by men who do not possess the Light of My Holy Spirit.
Confusion will control those who do not truly know Me; those who are not true Christians and of those who do not love Me but only appear to love Me.
My Beloved People:
TO LOVE ME YOU MUST KNOW ME TRULY, NOT WITHIN SUPERFICIALITY, BUT IN THE FULLNESS THAT EMANATES FROM PRAYER, FROM MEDITATION AND COMMUNION WITH ME.
I Am The King of Heaven and Earth, all that exists is My Kingdom; what man is not able to see with his eyes is part of My Kingdom. I call you to look on high, that which you cannot see and beyond… it is part of My Kingdom. Just as the human body contains within it molecules that you do not see with your eyes, so, My Kingdom is infinite.
Beloved, My Kingdom being all that exists, I am a lonely and only King. My children accepts and give themselves to the novelties that idols present to them and My People allow themselves to be dazzled …
I AM KING AND BEGGAR OF LOVE, OF THAT LOVE I RECLAIM AS MINE, AND YOU DO NOT GIVE IT TO ME.
I COME AS THE KING TO TEAR DOWN IDOLS TO RECOVER THOSE WHO ARE MINE. My beloved People:
I call you to pray for San Francisco in the United States, sins overflows; it will be purified out of Mercy.
My beloved People, pray for China; that will suffer.
Spain will suffer and the royalty will suffer.
HUMANITY WILL BE ASTONISHED BEFORE THE LIGHT THAT WILL BE SEEN IN THE FIRMAMENT.
THE BLESSING DESCENDS FROM MY HOUSE AND FOR MY PEOPLE.
Children, pray for one another. Do not decline; do not continue to ignore My Presence. I shine for you: where you do not find light, look for Me, I remain in you. My Light shines in the darkness; it is stronger than anything. There are many dwelling places in My Father's House.
See Me present in you; do not stop until you find Me truly present. You are My children today and always, forever and ever.
I CLAIM YOU, YOU ARE MY PEOPLE. You possess Divine Rights that you have limited for yourselves. I draw near with the power of My infinite Love, and each one of you will tell Me if you are worthy of Me.
I CALL YOU NOW AND WILL ALWAYS CALL YOU, just as My Mother intercedes and will intercede for you, Her children. My Mother will call you constantly so that forewarning you; eternal darkness does not reach you.
Hear My Word, My People.
I bless you.
Your Lord and Your King, now and forever, forever and ever.
Your Jesus
HAIL MARY MOST PURE, CONCEIVED WITHOUT SIN.
HAIL MARY MOST PURE, CONCEIVED WITHOUT SIN.
HAIL MARY MOST PURE, CONCEIVED WITHOUT SIN.