Sunday, December 15, 2013
Message from the Blessed Virgin Mary
To Her Beloved Daughter Luz De María.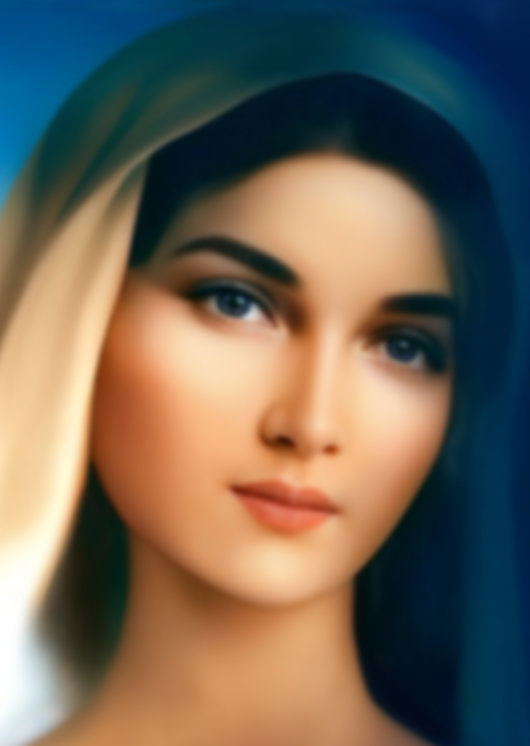 Beloved children of My Immaculate Heart:
I LOVE YOU INTENSELY… I COME TO YOU TIME AND TIME AGAIN, NOT TO CALL ONLY SOME, BUT
ALL.
I do not exclude anyone of My children, I welcome all within My Maternal Heart. I do not come to call a few who are chosen, anticipating the judgement of God the Father; I come with My Son's Mercy and the Love of My Maternal Heart to call all men to conversion.
MY SON IS INFINITE MERCY, THERE IS NO ONE WHO CAN DENY IT.,
AND THE FATHER'S JUSTICE IS PERFECT JUSTICE, THERE EXISTS NO ONE WHO CAN DENY IT.
This generation is not different and is not worthy of receiving different treatment for itself, rather it is My Son's Mercy that has called you, and at the same time, the Father's Righteous Justice that comes to separate the wheat from the chaff, so that His children return to the true path.
Beloved children of My Immaculate Heart, I am calling from heart to heart, one to one, knocking on the door so that through My Intercession, you promptly turn, returning to the right way.
Darkness has invaded the Earth. It is the darkened human will, the one that has allowed itself to be possessed by evil, that human will misguided and submerged in constant sin, living in what is immediate and yielding before the slightest whim. That human will ruled by free will, blackens and darkens the entire Earth.
You wait for the arrival of evil, of the forces of evil that will dominate humanity, without taking into account that human will, lost because of sin, is seizing humanity from person to person like a plague; man's will is ruling the souls of a great quantity of My Children.
My beloved:
FOR THE MAN WHO BELIEVES HIMSELF TO BE SPIRITUAL, FOR THAT ONE,
FOR THAT ONE IT IS DIFFICULT TO ACCEPT THE FATHER'S JUSTICE,
AND IT IS DIFFICULT FOR HIM BECAUSE BY BEING OR CONSIDERING HIMSELF OVERLY SPIRITUAL,
HE FEELS WORTHY OF A UNIQUE TREATMENT OF MERCY AND THIS IS NOT POSSIBLE,
FOR WITH THIS HE WOULD BE DISCARDING AND INVALIDATING THE FATHER'S POWER.
My beloved of My Immaculate Heart, natural events continue their advance.
I call you to pray for Italy; pray, the volcano Etna will cause great disaster.
Beloved children, pray for Japan, it will again be shaken and a tsunami will scourge it.
Pray, My children, for Brazil, it will suffer greatly.
Humanity has given itself into the hands of those who maintain some earthly power and this will lead them to suffer. The nations will sink in internal revolutions; little by little these will expand and violence will scourge everywhere. It will not be only some, rather this will become widespread. Do not forget that war is near, you are living a short time of waiting and then you will overly suffer man's cruelty, which will extend completely and base instincts will lead to pain and death.
My children, pray. Prayer is necessary, alert humanity about My Request.
My beloved, this Mother, like My Son, is on pilgrimage from heart to heart with infinite Love, crying out to everyone of you for mercy for your brothers and sisters.
Beloved children of My Immaculate Heart, do not cease in prayer, come to receive My Son.
MY SON'S CHURCH SHAKES AND WILL BE DIVIDED.
DO NOT TURN AWAY FROM THE COMMANDMENTS, THEY ARE UNAVOIDABLE.
My beloved, maintain the Faith; even if My Son's Church is shaken, turn to My Son continually.
DO NOT AVERT YOUR GAZE AWAY FROM ON HIGH. Help has descended from on high in every generation and in this instant it will not be different; help comes from on high, the blessing comes from on high, the Faithful will find their help directly from on high.
DO NOT FEAR, CHILDREN, DO NOT FEAR.
YOU WILL NOT BE LEFT ALONE IN ANY INSTANT, UNDER ANY CIRCUMSTANCE.
Dust, dust will descend from the sky and will cause an internal heat in people.
BELOVED CHILDREN, PREPARE, BUT AT THE SAME TIME, DO NOT YIELD IN FAITH, LET IT BE
IMMOVABLE. Just as the Sun constantly gives light, Faith must be kept firm, instant to instant.
The Sun approaches. The man of science will be aware that before the force of Nature he is insignificant and that only My Son is the one who is Almighty, because: "Not all who say: Lord, Lord, will enter the Kingdom of Heaven, but the one who lives in the Father's Will."
Beloved children, I love you, I bless you.
Mother Mary.
HAIL MARY MOST PURE, CONCEIVED WITHOUT SIN.
HAIL MARY MOST PURE, CONCEIVED WITHOUT SIN.
HAIL MARY MOST PURE, CONCEIVED WITHOUT SIN.