Friday, January 10, 2014
Message from the Blessed Virgin Mary
To Her Beloved Daughter Luz De María.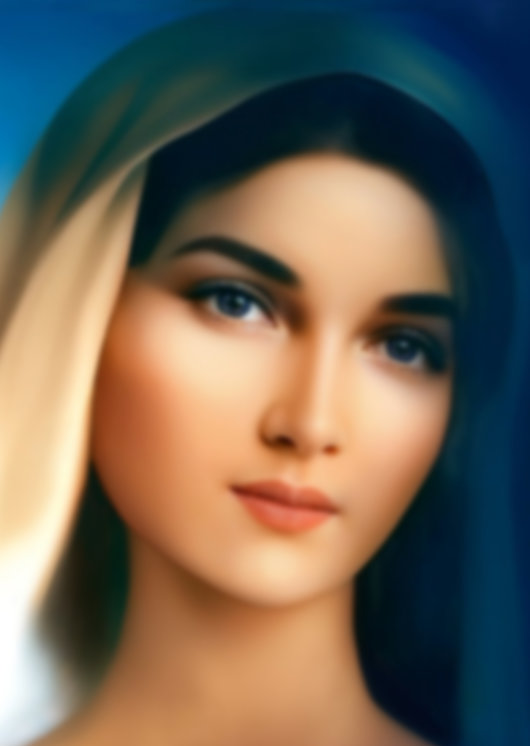 Beloved children of My Immaculate Heart:
From the depths of My Maternal Love, I see humanity before a great iceberg shaped in its core by man's will that is rampant and disrespectful of all that My Son bequeathed to you. Man will not be able to avoid the iceberg with only his human will, not until he encounters with his Lord and his God, for every instant is strengthening and growing more.
On so many occasions I have called you to look within yourselves and transcend what is human, so that you enter into, little by little, the True Path that leads to My Son, with the RULE being: TOTAL AND
ABSOLUTE DETACHMENT FROM ALL THAT IS WORLDLY AND LIBERAL IN THE SENSES CONTAMINATED BY THE FORCES OF EVIL, WHICH IMPRISON MAN IN THE MUDS OF SIN AND SPIRITUAL, MORAL AND SOCIAL DEPRAVITY.
Beloved children of My Immaculate Heart, you, by human will, have created this iceberg that you strengthen with each act that is outside of My Son's lineaments, with each human denial and with each disobedience that leads man to fall into the mud of savage instincts, worse than the animals. THE MAN OF THIS INSTANT IS UNRECOGNIZABLE; HE IS NOT THE MAN THE FATHER CREATED, NOR THE ONE MY SON REDEEMED, RATHER HE IS THE MAN TOTALLY ROOTLESS FROM LOVE TOWARDS ALL THAT IS DIVINE AND UNITED TO THE FALSE LOVE THAT THE ENEMY OF THE SOUL HAS CREATED. THIS ENEMY HAS DRAGGED MAN WITH FORCE.
My beloved children:
THE TRUE CHRISTIANS ARE THOSE WHO CLING TO THE GOSPEL, FINDING TRUTH AND THEIR REST IN
THE COMMANDMENTS, AND FINDING THE FULFILLMENT OF THE FATHER'S WILL IN THE SACRAMENTS.
Beloved children, be conscious of every sentence of the Our Father and be conscious of how you profess the Faith in My Son. Be conscious of the Words of the Creed, do not pray it from memory rather live it in your conscience.
My beloved, in the Consecration, My Soon transubstantiates the bread and wine into His Body, Soul and Divinity to be the food that nourishes you in spirit and provides you with what is necessary to continue to face what is worldly which sees you as beings who are different from the rest.
A martyr is not only one who physically dies defending the Faith, but also the one who gives himself instant to instant to fulfill the Divine desires and the Divine Will, without paying importance to the mockery and criticisms of his or her brothers and sisters when he or she acts rightly. DO NOT WORRY, MY CHILDREN, FOR YOU WILL NOT FIND THE FINAL GREATNESS ON EARTH BUT IN MY SON'S HOUSE WHERE HE WILL PREPARE HIS TABLE FOR YOU AND A PLACE IS RESERVED FOR YOU AT THE TABLE OF THE HEAVENLY BANQUET.
My beloved, how many mock My Calls and My Messages previous and current! They are the ones who have not been able to enter and see in these instants the fulfillment of those Calls and Messages, for man's fear leads him to deny the Divine events that are announced to him. Distrust in what is coming leads you to repel the Truth and feel threatened before what announces purification to you, and above all, purification in your surroundings and your economic security.
Beloved children of My Immaculate Heart, Nature finds a man who is totally indifferent to it. MAN, IN TOTAL FREE WILL, IS INDIFFERENT TO THE FATHER'S WILL. THIS IS THE BEGINNING OF WHAT IS PROPHESIED BY ME.
MY SON'S CHURCH HAS FALLEN IN SPIRIT, IT IS A CHURCH OF APPEARANCES, NOT FIRMLY SPIRITUAL, She has not prepared man spiritually with the firmness of how to overcome all that he will find at the end of this generation.
My children:
MY SON COMES FOR HIS PEOPLE, FOR A PEOPLE OF FAITH AND OF LOVE,
OF TRUST AND OBEDIENCE BEFORE HIS WORD, FOR A PEOPLE WHO WILL FOLLOW HIM WHEREVER
HE GOES SO AS TO LATER MEET WITH HIS OWN AND WHO WILL CONTINUE FIRM ON THE EARTH TO ENCOUNTER HIM, AFTER HAVING BEEN FAITHFUL WITHOUT FEARS OR DENIALS.
My beloved, do not forget that the instrument is the ink and the one who directs the hand is My Son.
My beloved:
DO NOT BE CONFUSED, DO NOT SEEK WHAT IS MY SON'S IN THE WORLD,
TOIL AND SEEK WHAT IS RIGHT
AND SET ASIDE ALL THAT WHICH WILL DELAY YOU IN THE ENCOUNTER WITH MY SON.
You are My pearls, you are My joy, you are My Hope, for I will never set aside hope and the decision for good that you possess, for being called to perdition by the current of evil, you have refused for love of My Son.
Pray, My beloved, pray, Brazil will be shaken… (Note: The Blessed Mother paused and in that instant took me to see great shanty quarters and water was falling over them, my pain was greater upon seeing that innocents were suffering unexpectedly…)
My beloved:
How I bless you and how I suffer for all of humanity!
MY SON IS IN NEED OF PEOPLE WHO ARE UNITED, STRENGTHENED AND FUSED TO THE DIVINE WILL.
I bless you, I love you.
Mother Mary.
HAIL MARY MOST PURE, CONCEIVED WITHOUT SIN.
HAIL MARY MOST PURE, CONCEIVED WITHOUT SIN. HAIL MARY MOST PURE, CONCEIVED WITHOUT SIN.