Sunday, February 2, 2014
Message from the Blessed Virgin Mary
To Her Beloved Daughter Luz De María.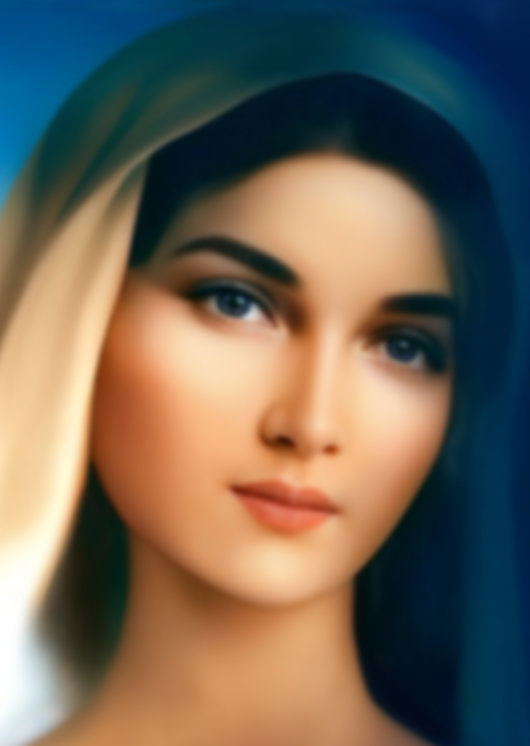 Beloved children of My Immaculate Heart:
I BLESS YOU, I LOVE YOU AND BESIDE THE HEAVENLY HOSTS I PROTECT YOU SO THAT YOU DO NOT FALL AND SO THAT YOU REMAIN STANDING.
You, My beloved, do not belong to the massive and worldly culture; man has spoiled the sense of membership. The essence of what is coming transcends what is external, the awareness if it coats man in the blessing that includes My Son's Universal Call to souls.
All, absolutely all, are children of the Father, they are in His image and likeness, since He created them. Man has formed spiritual obstacles that have prevented him from walking, feeling and living as true children of the King. You have limited the development of the Gifts and Virtues you possess, and they have decreased, yielding before what is inadequate and inconvenient that grieves the Spirit. YOU HAVE LIMITED YOURSELVES BY IGNORING ME AS MOTHER OF HUMANITY.
Man has developed in the midst of impediments and these impediments are fruit of the ignorance in which humanity has lived in all ages. This has generated the scorn towards the Prophets, whom My Son has sent in all generation to announce to and denounce His People through His Word.
MY BELOVED, YOU MUST NOT FEEL PRIDE, ON THE CONTRARY YOU MUST REMAIN IN A CONTINUOUS ACT OF THANKSGIVING TO THE FATHER, FOR BEING HIS CHILDREN.
My Son gave Himself for all of humanity; not for some, but for all, to whom He bequeathed the Holy
Spirit, the One who in these instants calls you to reveal that you are children of God, to not hide your Faith, to not only attend for the sake of attending the Eucharist without living being conscious of what you are receiving, nor to pray without feeling, but with awareness because you are firm of will and people of Faith, who set out to discover the Divine Love, an inexhaustible fountain.
DO YOU WISH TO POSSESS WISDOM TO ATTAIN THE CHRIST-LIKE CONSCIENCE?
My Son says to His People:
"If you love me, you will keep My Commandments and I will ask the Father and He will give you the Paraclete, the Comforter to be with you always; the Spirit of Truth, whom the world cannot receive because it does not see it or know it."
Jesus, My Son, invites you in this instant to be His true children, to be His disciples living with the Commandments as a rule of life. Every child of My Son must submit himself or herself to the Spiritual Law; laws discipline man, and the man of this instant has discarded the rules and the law. He regulates them discriminating those who are most weak.
CHILDREN, YOU ARE BEARERS OF THE SENSES, AND THESE MUST BE SPIRITUALIZED SO THAT IN THAT WAY YOU PERCEIVE IN THE HOLY RETREAT, THE DIVINITY THAT IS WITHIN YOU. Man is not only flesh and bone, but he is material that is impregnated with the Divine Will.
The man of this instant lives in comfort, and this has led to everyone being unconscious that this drags you definitively towards attachments and towards bad behavior especially towards your brothers and sisters. SATAN CREATES A SPHERE OF ATTACHMENTS AND LIMITATIONS FOR THE HUMAN BEING, PREVENTING THE HUMAN BEING FROM GROWING AND DEVELOPING WHAT MY SON HAS GIVEN HIM OR HER SO THAT HE OR SHE BE HOLY LIKE HIM.
DISCOVER WHAT YOU HAVE BEFORE YOU…, TEAR THE VEIL OF HUMAN IMPOTENCE SO AS TO ENTER INTO THE INFINITE JOYS OF LIFE IN THE DIVINE WILL, AND THUS BE ABLE TO ASCEND TOWARDS THE ENCOUNTER WITH THE CONSOLER IN HIS GIFTS AND VIRTUES.
You cannot be inert and pretend to walk; one who is spiritually dead cannot give life…
Beloved children:
Enter into inner silence and find what you seek externally; these are not instants to lose life in superficialities, they are instants you must not lose. The enemy of the soul draws near so that you fall into his clutches and never come out of them.
The arms of the antichrist keep you tied to pleasures and sicken your body, they dominate your mind and lead you to a false perception of reality.
Know My Son, His Word directs you; My Son is the same yesterday, today and always. His Words have been given for all instants, and this is a Law that does not vary.
My beloved:
Pray for My Son's Church, it will live instants of pain and of confusion.
Pray for Denmark, it will suffer, its ground will shake.
Pray for the United States, its people will lament.
Do not become discouraged when Nature rebels against man, for man has rebelled against his God.
The earth will be greatly shaken, the lands that have not been removed, will be removed. Water will enter the land and will be a scourge that will torment men, contaminated by the plague that will scourge the body and the flesh feeling as though it were burning.
THE GREATEST SCOURGE FOR MAN IS NUCLEAR ENERGY AND WITH IT THE SCORN FOR THE GIFT OF
LIFE. From there all the evil bearers of the strength of the antichrist are released, and the wrath of the Father will not wait upon a humanity commanded by decadence in every aspect. But you, My Son's People, are the ones who must resist and dominate yourselves, so that free will does not lead you to act against your King.
HELP WILL COME FROM HEAVEN TO ACCOMPANY THE HOLY REMNANT. YOU DO NOT WALK
AIMLESSLY. You, My children, are guided by the correct path, in the midst of afflictions and obstacles; do not lose your courage but raise your gaze to the heavens, for help descends from My Son's House for His faithful.
MY SON, THE GOOD SHEPHERD, DEFENDS HIS SHEEP SO THAT THESE ARE NOT PREY TO PREDATORS, IF THE SHEEP OBEY.
Do not scorn My Son who continually arrives before you, he does not abandon you no matter how strong the winds are. He walked for you, suffered for you, comes for His Second Coming for you.
I, Mother of humanity, pray for each human being, do not ignore My Pleas.
I bless you, I love you.
Mother Mary.
HAIL MARY MOST PURE, CONCEIVED WITHOUT SIN.
HAIL MARY MOST PURE, CONCEIVED WITHOUT SIN.
HAIL MARY MOST PURE, CONCEIVED WITHOUT SIN.