Wednesday, March 5, 2014
Message from the Blessed Virgin Mary
To Her Beloved Daughter Luz De María.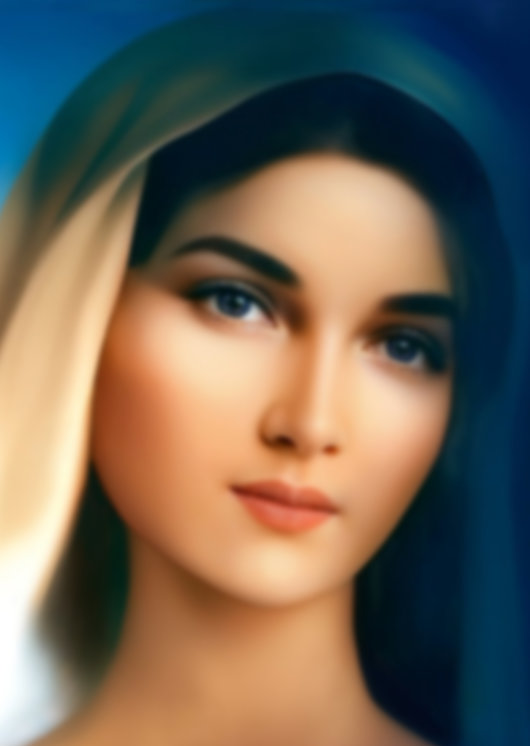 Beloved children of My Immaculate Heart:
IN THIS PENITENTIAL INSTANT I CALL ALL MY CHILDREN TO CONVERSION,
THESE ARE INSTANTS PREVIOUS TO THE GREAT PURIFICATION OF ALL OF MANKIND.
IN THIS INSTANT THE IGNORANT DO NOT EXIST, RATHER THOSE WHO,
MADE DROWSY BY HUMAN CONVENIENCE, CONTINUE TO GIVE THEMSELVES OVER TO EVERYTHING WORLDLY THAT DISTANCES THEM FROM MY SON AND FROM MY CALLS.
As Mother of all of humanity, I call you urgently so that you are conscious, by your own will, of this decisive instant in which you find yourselves. You must enter your own conscience and awaken it so that those who want you to perish, find that My children do not allow themselves to be overwhelmed by evil.
The Horsemen of war go throughout the Earth bringing humanity's scourge upon it: nuclear energy...[2]
Pray children, pray for Russia.
My beloved, this generation has committed a grave error and a great offense against Me. This grave offense is having ignored My Petition made in Fatima: to consecrate Russia to My Immaculate Heart...[3]
YOU, MY CHILDREN, FOR THE MAJORITY IGNORE THE DEVASTATION, NOT ONLY OF THE SPIRIT BUT OF ALL OF CREATION WITH WHICH COMMUNISM WILL CRUSH THIS GENERATION. Economic interests bend the Nations that are in the hands of rulers given totally to an economy that dominates and does not respect religious beliefs.
I have called you so much to be attentive! And you, My children, have out of human will, given the plan and the destiny of your countries into hands of people committed to the great communist powers. Humanity will see with horror and terror the cruelty of those who without compassion will scourge you totally.
I have called My Son's Church so much… and have supplicated so much during long, long years through My Instruments, so that the Hierarchy of My Son's Church consecrate the whole world and especially Russia, to My Immaculate Heart…!
This grave offense rises in this instant over all of humanity, for the entirety of My call, of My Message in Fatima has not been revealed to My Children.
BELOVED PEOPLE OF MY SON, AS MOTHER I HAVE WANTED TO RESCUE YOU AND DELIVER YOU FROM EVIL, BUT MAN'S WHIM AND HUMAN RESPECTS HAVE PREVAILED …
The great powers will fight against one another and all My innocent children will suffer the effects of this confrontation.
Pray for the United States. Pray for England.
Beloved children of My Immaculate Heart:
How much ignorance you claim to possess! THIS IS ONE MORE EXCUSE BEFORE THE PASSIVITY OF A MAN MADE TOTALLY WORLDLY WHO DOES NOT DESIRE TO CONFRONT THE TRUTH OF THE REALITY IN WHICH HE LIVES, ignoring the signs of the times and especially in this instant you excuse yourselves to continue totally given over as satan's spoils.
THIS INSTANT IS DECISIVE, TOTALLY DECISIVE: AN AGELESS BATTLE BETWEEN GOOD AND EVIL,
THEREFORE MY CALL IS VERY URGENT SO THAT ALL THOSE WHO LOVE MY SON AND
WHO TAKE ME AS MOTHER, AND EVEN THOSE WHO DO NOT CONSIDER ME MOTHER, RECONSIDER AND TAKE THIS PENITENTIAL INSTANT TO LOOK AT THEMSELVES WITHOUT DECEPTIONS IN THE INTERIOR OF THEIR BEING.
There is no person who must not repent for his or her actions, but I especially call those who direct My smallest children in their communities, so that with full awareness they alert their brothers and sisters about this that gestates and that will soon come to be fulfilled in the face of the astonishment of all men.
Great populations will be devastated by the fury of their volcanoes; fire burns and the earth allows it to come out to the outside.
Pray, My children, pray for Italy.
Beloved children of My Immaculate Heart, I am Mother of Love, but I am Mother of the Word, I am Mother of the Truth and do not hide from those who are Mine the imminent scourge that walks upon the Earth.
Do not expect the appearance of the antichrist before you, look at his work and his acts in your midst, especially that of his powerful arm: communism. The irresponsibility of science ill-used by man through scientists that have not had any reservation in creating weapons of mass destruction, will be the executioner through which millions of My children will die.[4]
But you, My beloved of My Immaculate Heart, be lamps filled with the best oil; lamps that never extinguish, lamps that remain lit, lamps that pray for their brothers and sisters, but above all, lamps that share their pure and clean oil with their brothers and sisters, that the consciousness of a radical and definitive change to reunite with My Son come to burn in them.
IN THIS INSTANT IN WHICH SOULS DEBATE BETWEEN GOOD AND EVIL, BETWEEN SALVATION AND
CONDEMNATION, EACH ONE OF YOU IS RESPONSIBLE BEFORE YOUR BROTHERS AND SISTERS OF WHAT YOU RECEIVE FROM MY SON'S HAND, OF THE KNOWLEDGE YOU POSSESS AND OF THE
OBLIGATION TO SHARE IT WITH THE REST OF HUMANITY. THE ONE WHO IS SILENT IS SILENT FOR
LACK OF FAITH, BECAUSE HE DOES NOT BELIEVE MY SON SENDS YOU AS HIS MESSENGERS TO ALERT
THOSE WHO ARE DROWSY, WHO OUT OF UNAWARENESS, LIVE SUBMERGED IN WHAT IS WORDLY AND SINFUL.
Be an echo of My Call, be an echo of the Love of My Heart, be an echo of My Son's Will. That Divine Will that wants all of Its children to be saved and to recognize the Truth.
Beloved children of My Immaculate Heart, strong and painful instants will come, but the true light and full love will come to you, and will deliver you from oppressions; they will remove your chains and My Son will give you full freedom in a Time of Peace in which evil will be totally eradicated.
NOT EVERYTHING IS PAIN, BUT TO REACH MY SON'S LIGHT YOU MUST BE PURIFIED.
DO NOT FEAR CHILDREN, I PROTECT YOU, I LOVE YOU, AND MY SON REMAINS WITH OPEN ARMS TO TAKE AND RECEIVE ALL THOSE WHO WISH TO TURN TO HIM AND GIVE THEMSELVES DEFINITIVELY TO HIS DIVINE WILL.
I bless you, I love you and I call you once more to maintain the hope that a Time of Peace will come, that you will enjoy at My Son's side.
I bless you in the Name of the Father, of the Son and of the Holy Spirit.
Mother Mary
HAIL MARY MOST PURE, CONCEIVED WITHOUT SIN.
HAIL MARY MOST PURE, CONCEIVED WITHOUT SIN.
HAIL MARY MOST PURE, CONCEIVED WITHOUT SIN.