Thursday, March 27, 2014
Message from Our Lord Jesus Christ
To His Beloved Daughter, Luz De Maria.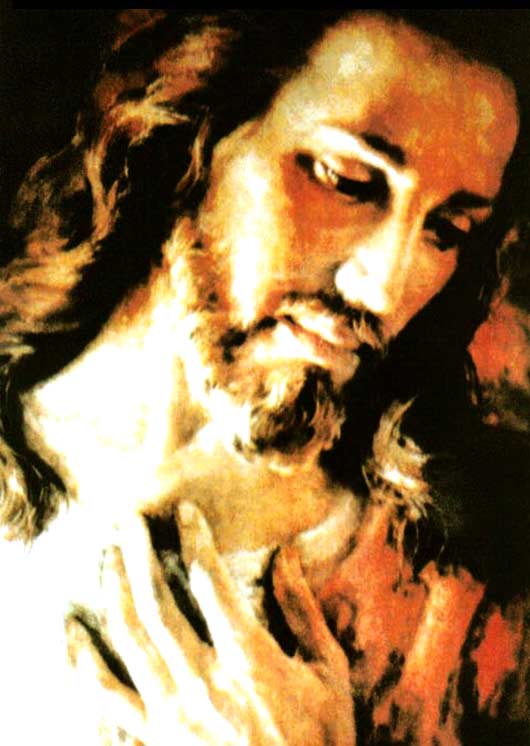 My very beloved People:
MY LOVE IS LIKE THE HEIGHT OF NOON, WHEN THE SUN SPREADS ITS RAYS TOWARDS ALL THAT
EXISTS; even the most dark and gloomy places receive some of My Light… even those who do not love Me, those who do not seek Me, those who do not adore Me and who believe they do not need Me, they, too, receive the Light of My Love.
THE LIGHT OF MY LOVE AND MY WISDOM REACHES ALL CORNERS OF THE HUMAN BEING AND ALL CORNERS OF MY CREATION… with all My Force I approach those who try to hide and get away from Me to wake them up; but some of them turn against Me with a rage, in absolute complaint.
Beloved People:
WITHOUT ME YOU ARE NOTHING, YOU ARE INCAPABLE OF DOING ANYTHING, YOU ARE ABSOLUTELY NOTHING...
Beloved Children:
Anyone who comes to Me looking for My Light and My Love will find Me; he who comes looking for darkness in My Light and My Love will be blinded by his own darkness, because darkness will never be found in My Love.
IN THIS INSTANT, HUMANITY KEEPS ME AND MY HEART FULLY CROWNED WITH THORNS…
The violence of My children increases constantly and this will cause mankind to perish; those who are violent exalt satan with thoughts that contradict My Love. I communicate through My faithful instruments, but you disregard My calls; instead you act against My faithful instruments. Woe to those who rise against My instruments and deny My Word! They shall perish before this same stubbornness of the human heart.
How could this Christ not look for His People?
How could this Christ abandon His People to their free will without first calling them and warning them of what is coming?
How can you expect My Mother, who loves you, to leave you adrift, when She is the Ark of Salvation?
My beloved:
DO NOT REST BY DAY OR NIGHT; DO NOT ALLOW EXHAUSTION TO MAKE YOU DOZE OFF, FOR AT THIS TIME MY PEOPLE MUST RISE TO THE BATTLE FORCEFULLY, ARMED WITH MY WORD, TO AWAKEN THE CONSCIENCES OF THEIR BROTHERS.
Now My Children will know why I have given them a conscience: because the conscience will exert all its power over those who remain attentive and in union with Me. Meanwhile, this same conscience will hand over to evil those who give up in the evil one's hands, giving free rein to their lowest instincts, ruled by total violence. They will be instruments of the devil, executing evil towards those who carry My Love.
My beloved:
Wrath comes from satan. It is through rage and violence that the devil will lead men towards maintaining a bloodshot battle beyond mankind's imagination. Rage and low instincts feed satan; indifference and lack of love are satan's great attributes; division is satan's weapon.
You cannot be blind to the point of not being able to recognize whether good or evil dwells in you. In order to return to Me, you must repent.
I invite you to pray for Chile, this beloved land must be purified. Some have denied My Mother from this land and others have expelled her.
Pray for the innocent who continuously die at the hands of those Herods of power, power that leads them to reign.
The dominion over My people has been given to those who have entrusted and handed over the destiny of the people to the money-god. These, in turn, fall prey to those who truly and surreptitiously govern other countries. The freedom of the peoples is nonexistent; freedom has been sold and compromised.
Pray, My children, pray; the war drums are sounding. Pray, the land will speak through the volcanoes.
My beloved People, My Children:
MY OMNIPOTENCE, MY POWER, MY MAJESTY, AND MY LOVE BELONG TO EACH ONE OF YOU.
Soon I will come to each one's conscience, I will come so you yourselves can see how much you have offended Me. This coming of Mine is personal, and every creature that exists on the face of the Earth will live this instant that will seem an eternity. There will be no escape from this. It is My Great Act of Mercy for mankind, even for those who believe they do not deserve Me.
My arrival at My children's consciences will be accompanied by a supernatural event on high. The decision, after examining yourselves, will be made in total liberty. This self-examination will not be the cause for all of mankind to convert, because even then they will argue that it did not come from Me, that it was not Me that examined your consciences. They will deny Me, and some will rise with more force against Me and against those who will repent and look for Me.
This is why I need you, My People, to remain attentive and firm, strong and determined, resolute, united and convinced.
MY OWN, MY LEGITIMATE CHILDREN, LOOK FOR AND FIGHT TO BE ONE, but those who are not legitimate will strive for disunity since they are instruments of evil.
MY TRUE CHILDREN SPEAK ONLY ONE WORD, ONLY ONE LANGUAGE,
AND IT IS THAT OF MY LOVE FOR ALL SOULS.
But My love for the souls entails implicitly My Divine Justice, which does not neglect to call you and do what must be done.
MY JUSTICE COMES TO SEPARATE THE WHEAT FROM THE TARE.
My Justice will protect My People and it will free them from the hands of the great oppressor: the antichrist and his legions, hands that My Mother will crush with Her Purity.
THEY DENY THE SIGNS OF THE TIMES; IN DOING SO, THEY DENY ME, TOO.
Mankind does not live alone on Earth, and the elements will rise and tell those who deny Me: "Here we are to purify everything, to restore. Here we are because we obey the Will of Christ and we come for those who call themselves His Children but who have fallen prey and are instruments of evil.
My Children, are you aware of what it means to be food for evil?
My People:
WAKE UP, THE INSTANT IS NEAR, DO NOT DENY YOUR KING ANY MORE, DO NOT THINK THAT THE
INSTANT IS ETERNAL AND THAT YEARS WILL PASS; ON THE CONTRARY, THIS INSTANT IS LIKE WATER RUNNING THROUGH YOUR FINGERS. TIME IS MINE. THIS IS THE INSTANT OF ALL INSTANTS.
Fight, be courageous, defend My Truth, announce that I come soon. I come with My Justice to act before this generation, that treats My Calls with disdain, denies My Mother, goes deeper into evil, and makes room for the impostor to sit on the Chair of My Church on Earth.
I WARN YOU ONCE MORE BECAUSE OF MY LOVE FOR YOU, KEEP ALERT THROUGH YOUR SENSES;
EVIL COMES TO FIGHT MY CHILDREN'S SENSES WITH FURY, BESTOWING GREAT VIOLENCE ON THEM.
My beloved People:
Be assured that after the storm comes the calm of My Love and that My Justice will not last forever, because My Love forces Me to yield to you; those who give everything for Me will rejoice with Me and sit at My Table, but not before giving everything for Me.
HE WHO READS THESE MY WORDS RECEIVES FROM ME A SPECIAL BLESSING AND STRENGTH TO FIGHT AGAINST HIS OWN HUMAN "EGO". KEEP MY PEACE IN YOUR HEART.
Be one, and be one with Me; I bless you in the Name of My Father, in My Name, and in the Name of Our Holy Spirit.
May My Peace be a blessing to all the faithful like water is a blessing to the thirsty.
Your Jesus.
HAIL MARY MOST PURE, CONCEIVED WITHOUT SIN.
HAIL MARY MOST PURE, CONCEIVED WITHOUT SIN. HAIL MARY MOST PURE, CONCEIVED WITHOUT SIN.