Thursday, April 10, 2014
Dialogue for Humanity
Between Our Blessed Mother and Luz De María.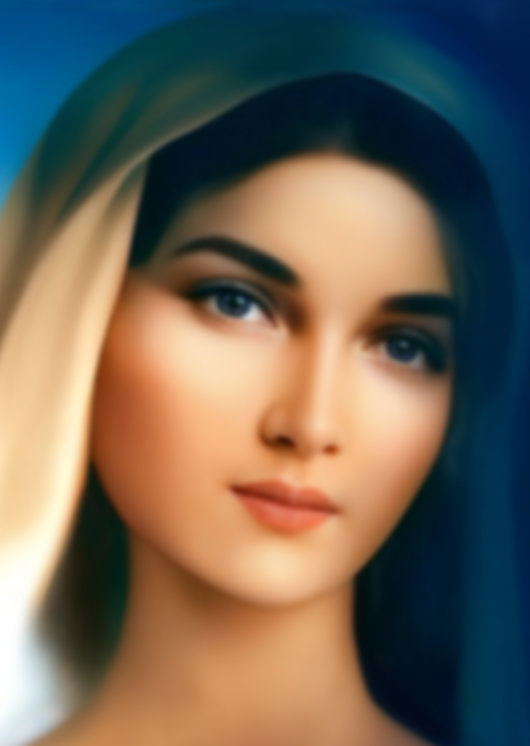 Mary Most Holy:
Beloved children of My Immaculate Heart, I bless you.
YOU ARE MY GREAT TREASURE. MAN ENTERS INTO THE REMEMBRACE OF MY SON'S SACRIFICE FOR ALL OF HUMANITY, AND MY MATERNAL HEART DOES NOT WANT THE INFINITE ESSENCE OF THIS FUSION OF MY SON WITH THIS GENERATION TO GO UNNOTICED BY YOU.
Without looking at the state of souls, My Son, in His Infinite Love for mankind, took upon Himself every human work and action contrary to the Divine Will and with His innocent Blood acquired Eternal Salvation for man; provided that man be an image of Divine works and actions.
Beloved, My Son's Love exceeds the human mind…
Daughter, do you love the Cross?
Luz de María:
Yes Mother, I undeservedly remain on It.
Mary Most Holy:
I SUFFER DAUGHTER, BECAUSE THE CROSS IS NOT ONLY A SYMBOL, AS HUMANITY HAS SEEN IT; It is the Great Mystery of the Father and of His Love for human beings.
THE CROSS IS GLORY AND MAGNIFICENCE, MAN WILL NEVER BE ABLE TO SURPASS IT. In each minimum splinter of the Holy Wood, vibrates the consummation of Divine Power that will remain immovable forever and ever.
THE CROSS IS SUBLIMATION, GLORY, MAJESTY, TRIUMPH, ETERNITY… for those who find in It the essence of Salvation, of Forgiveness and of Love.
Man does not delve into the Mystery of the Cross, which goes on to be Light when man enters into the Infinite Love of the one who loves to the extreme, to justify before the Father those who would not be able to justify themselves except through the sacrifice of the Divine Lamb, the God-Man, who is without any blemish whatsoever.
THE MYSTERY CAN BE REVEALED BY MAN, ONLY AND ONLY IF MAN IS HUMBLE SO AS TO STRIP HIMSELF OF HIS EGOISM, OF HIS WILL, OF HIS GRANDEUR, OF HIS PRIDE AND OF HIS OWN INTERESTS.
Daughter, do you know much My Son is grieved when He sees His children carrying His Cross as just another accessory, with contempt and ignorance conditioned by man himself?
Some wear the Crucifix on their chest, when they adore satan with songs; they wear it when they kill their brothers and sisters; they wear it on their chest in the instants when they attack their neighbor, or when out of convenience and human respect, they do not convey the True Word.
Beloved daughter, when men look upon the Crucifix, they see an image and focused on that, without entering into the pain and suffering, without seeing the sacrifice, without seeing the salvation of their own soul.
On that Cross of Love also remain souls that are cold, that out of fear of criticisms, persecutions, or mockery, abandon My Son's path and give in like the mobs of Good Friday, to the tumult of those who, without a conscience, are manipulated by the power of evil and swear loyalty to satan, to money, to vices, to lies and perdition.
Daughter, do you know what is the source of My sleeplessness?
Luz de María:
What is it Mother? Tell me.
Mary Most Holy:
MAN HAS NOT BEEN FULLY INFORMED OF WHAT HE POSSESSES TO ELEVATE HIMSELF ABOVE HIS MORTAL CONSCIOUSNESS. Although man does know that he is a Divine Image and Likeness, and this empowers him to find the threshold of Divine Love and thus be liberated from the captivity of what is worldly and finite.
My children do not amend their behavior; by not suffering, they deny the fulfillment of our Calls. These children of Mine will lament not having waited with Holy Patience and not having instead grown and deepened their spiritual consciousness/awareness, so that in the Light of the Holy Spirit, they accept they are people chosen to maintain a decreed Divine Relationship, with the Sacrosanct Trinity. When the Purification knocks at their door, they will cry out for it to go away… they were not prepared.
The one who on purpose ignores Heaven's Words, the one who insists on being irascible, proud and arrogant, does not allow the Flame of Love to burn to mollify the egoism within him.
DAUGHTER, MY HEART BURNS WITH LOVE TO TEAR THE VEIL THAT PREVENTS MEN FROM FUSING THEMSELVES WITH MY SON. The lack of love and gratitude in the human heart has led man to fall into the sins most severe and most hurtful to My Son's Heart and Mine.
Daughter:
Tell your brothers and sisters that in this Holy Week, this Mother beseeches them to reach into the depths of their conscience, and there see My Son grieving and suffering, waiting for them to open the door for Him.
Tell them I beseech them to allow My Divine Son to enter the inner room of each one of them, and thus they prepare themselves for the upcoming events.
Tell My children that the Kingdom of God remains within each one of them, it is the Infinite Light that demolishes every darkness.
Tell them My Son loves them with Eternal Love, beyond this Earth where they dwell.
Tell your brothers and sisters that they do not live by the oxygen they breathe, or by the food they ingest but by Divine Will.
Remind them that if they ask, they receive, but before asking they must examine themselves profoundly…
Remind them to receive My Son worthily; He is present in the Blessed Sacrament, in His Body, Soul and Divinity.
Do you know, daughter, that I am a Mother without children, and those who give themselves to Me are despised?
Luz de María:
Yes, Mother, I know. And those of us who love You, feel Your pain.
Mary Most Holy:
Daughter, in that pain I keep tightly in My Heart those who will perish because of events of Nature, and more those who perish and will perish by the hand of man dominated by the thirst for power, far, very far from the Divine Will.
How often evil surpasses man! And how often, a pleased man gives himself over to evil without any objection!
I call you to pray for Brazil, it will be prey to man himself, and with its bad behavior, it will bring pain upon its land.
Pray, beloved children, pray for Japan,
The scourge of contamination will continue to spread.
Pray, My beloved, for Ecuador, it will suffer through its volcanoes.
They have awakened throughout all the Earth.
Pray, the conscious of humanity will be alarmed before an event of Yellowstone.
Children, no human being is abandoned by My Son's Hand, no one is denied forgiveness. But man has forgotten to ask for forgiveness…
Daughter:
TELL THEM I WANT EACH ONE OF THEM TO BE A BEACON OF LIGHT FOR HIS OR HER BROTHERS AND SISTERS, IT IS NECESSARY THEY DO NOT FEAR BUT TRUST; EVERYTHING IS FOR THE GOOD OF THEIR SOULS.
I bless you.
Mother Mary.
HAIL MARY MOST PURE, CONCEIVED WITHOUT SIN.
HAIL MARY MOST PURE, CONCEIVED WITHOUT SIN. HAIL MARY MOST PURE, CONCEIVED WITHOUT SIN.