Thursday, April 17, 2014
Message from Our Lord Jesus Christ
To His Beloved Daughter Luz De María. Holy Thursday, Commemoration of the Institution of the Holy Eucharist.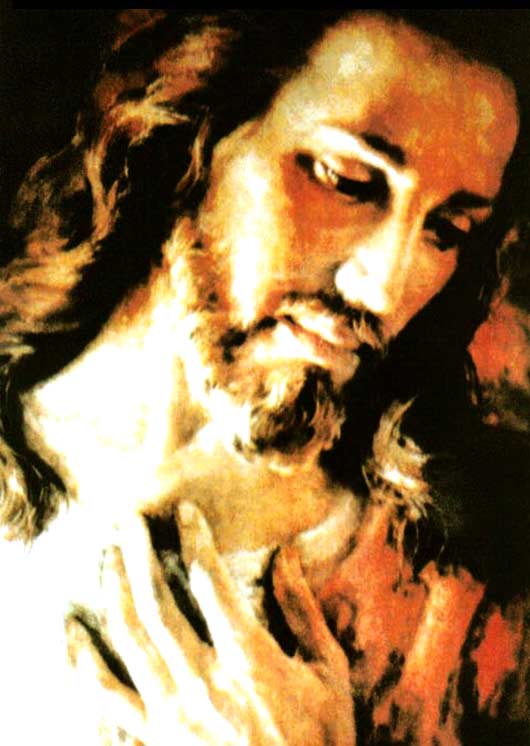 My beloved People:
I have sought you out each instant of life that has passed.
I have sought you out on sunny days on which everything has shone for you and been happiness; I have come before you…, and you have rejected Me by not needing Me.
I have sought you out on dark days, on gray and cold days, on clouded days on which perhaps sickness or emptiness of the soul, or loneliness have knocked on the door of your life; I have come.., and you have rejected Me, blaming Me for all that you suffer.
I have sought you out when I have seen you alone, to be the friend that comforts and that accompanies…, but you have rejected me because you say that you do not need My Friendship.
I have sought you out to bring water to your hardened hearts, the water of My Love and of My Mercy…, but you have told Me that you prefer the water of the world, of base passions, of egoism and of envy, of pride and of slander, of lust and of hypocrisy; you have told Me that you find your souls happy there.
I HAVE COME OUT TO MEET YOU IN THE LIFE OF EACH ONE OF YOU BECAUSE AS FATHER OF LOVE,
I HAVE NEVER DESERTED YOU, BUT YOU HAVE REFUSED IN THE FACE OF MY CALLS, BEFORE THIS BEGGAR OF LOVE…, AND YOU HAVE REFUSED BEFORE THIS CRUCIFIED CHRIST, BLOODY FOR LOVE OF YOU.
Humanity has rebelled against its God; this has happened throughout history, but no other generation will surpass the sin and the offenses committed against My Will as this generation has done.
How many Herods have launched themselves against innocence! Satan, eager to annihilate innocence and thus monopolize souls, has poured out his anger upon the innocents. Instant to instant, new Herods raise their hands to exterminate the life of innocence upon the Earth. I am Mercy and My Heart bleeds before these people of Mine who dare to go against the most precious Gift with which I arrayed man:
Life.
How many Herods there are, with their minds saturated by banalities and saturated by the poison that satan has injected in their hearts…!
How many Herods within laboratories wrongly use science…!
How many Herods give orders to kill innocent people…!
THE GREAT HEROD OF THIS HUMANITY IS THE DESIRE FOR POWER, AND IT UNDERMINES MY
CHILDREN'S MIND, HARDENS MY CHILDREN'S HEART SO THEY DO NOT LISTEN, DO NOT SEE, DO NOT FEEL, DO NOT THINK, BUT RATHER ONLY ACT UNDER THEIR PERVERSE INSTINCTS POISONED BY
EVIL.
With so much sadness I see how My People have forgotten what I suffered for each one of them…! Instead, those hearts of stone dedicate themselves, in these holy instants, to blaspheme against My Sacrifice for each one of them.
My beloved People:
CHILDREN OF MY CROSS, RETURN TO MY PATH.
THUS I WILL CALL YOU UNTIL THE FINAL INSTANT, BUT DO NOT WAIT UNTIL THE FINAL INSTANT, BECAUSE THIS IS THE INSTANT OF INSTANTS.
MY HAND HAS FALLEN UPON HUMANITY THAT IS CONTAMINATED BY ALL EVILS, WITHIN WHICH PREVAIL ENVY AND DISUNITY.
Soon I will come before each one of you, before the hearts of stone to examine the working and acting of each one of those who are Mine.
I see you come up to My Altar to receive Me, after having profaned the temple of My Holy Spirit that is each one of you.
How man's will has fallen!
How man drags himself before evil, without being strong enough to rise up out of the mud in this instant!
Oh humanity, how much you offend Me and how you will weep! By your own hand you will perish. Before the desire to deepen, you have exceeded the limits that as My children you could pass and have smoothed out the path of evil and upon it you will perish.
How many people suffer because of ill-employed technology! This scourge…, that will not cease flogging humanity, this scourge built indiscriminately by those committed to evil…
I AM YOUR GOD AND AS SUCH, I KNOW ALL AND SEE ALL,
BUT AS MAN OF SORROWS I HAVE CONTINUALLY SHED MERCY UPON THOSE WHO OFFEND ME, BUT MY HAND HAS FALLEN AND MY JUSTICE COMES TO EVERY HUMAN BEING.
My Mother has been unceasingly despised, and She continues calling you to take Her Hand. My Mother's Calls are scorned and mocked, even by those who are consecrated to Me.
ON THIS DAY ON WHICH YOU COMMEMORATE THE INSTITUTION OF MY BODY AND MY BLOOD
AND THE PRIESTLY MINISTRY, I INVITE YOU TO OPEN YOUR HEART TO MY MOTHER, FOR EVERY CONSECRATED PRIEST AND RELIGIOUS WHO LOVES MY MOTHER, KNOWS ME IN SPIRIT AND TRUTH.
My People, examine yourselves before you must examine yourselves before Me.
The tiredness of My children who redouble efforts for those who do not pray, for those who do not offer themselves, for those who do not believe, for those who do not work in favor of humanity; TIREDNESS, ON OCCASIONS, WILL WANT TO BREAK YOU, BUT YOU MY CHILDREN, RELY ON MY MOTHER, FOR SHE WILL GIVE YOU THE NECESSARY STRENGTH SO THAT YOU DO NOT WEAKEN.
INVITE ME CONSTANTLY TO WORK AND ACT IN YOU SO THAT THUS YOU BEGIN TO FUSE YOURSELVES LITTLE BY LITTLE TO MY WILL, AND YOUR HUMAN WORKS AND ACTIONS BE TRANSFORMED INTO MY LIKENESS.
Man debates between pleasures and money, and this god of money will succumb before the strength of the powerful who manipulate all of humanity.
YOU CHILDREN, DO NOT CLING TO WHAT IS BANAL AND FLEETING.
REMAIN BESIDE ME AND BESIDE MY MOTHER, FOR AS I GUIDED MY PEOPLE THROUGH THE DESERT, SO I WILL GUIDE YOU AND FEED YOU FROM MY WILL BECAUSE YOU HAVE REMAINED FAITHFUL WHEN PERSECUTION AT THE HANDS OF THE ANTICHRIST AND HIS ALIIES COMES UPON YOU.
You who hear My Word, do not allow spiritual zeal or envy to divide you, for that is the goal of the one who will come to persecute My People.
My beloved children:
In this instant I invite you to pray for the Middle East, the conflict being lived has been hidden by placing other interests before you; remain alert. Pray, My children, for the United States -- this great Nation will suffer Nature's attacks, especially fire that will come from volcanoes.
Pray, My children, for Guatemala; it will shake.
Pray for those people who will perish when the earth roars and opens up.
My beloved, soften your hearts before night and darkness cover the Earth.
Remain alert; you will see another great sign in the Heavens.
Do not forget that for the one who remains faithful to Me, I remain at his side every instant: in joys, in tribulations, in solitude, in tiredness and in happiness, but above all, I flood his entire being with My very Love.
MY BELOVED, DO NOT FEAR WHAT IS COMING; FEAR OFFENDING ME,
FEAR SEEING ME HANGING ON A CROSS AND NOT BEING MOVED BEFORE THE DESIRE TO PARTICIPATE WITH ME IN MY SACRIFICE FOR ALL OF HUMANITY.
My People, do not fear. I remain faithful to My People and after the Tribulation, they will live the Fullness of Day where the Sun of My Love will shine for all My faithful, where darkness will no longer exist and sin will have been eradicated from the Earth.
DO NOT FEAR, FOR I DO NOT ABANDON MY PEOPLE; IN EVERY INSTANT I HAVE SENT SOMEONE TO HELP MY PEOPLE, AND THIS INSTANT WILL NOT BE THE EXCEPTION.
DO NOT FEAR, FOR MY LEGIONS WILL COME TO YOU TO HELP YOU.
DO NOT FEAR BECAUSE MY LOVE AND MY HEART WAIT FOR EACH ONE OF MY FAITHFUL CHILDREN.
My blessing be with you and will all My consecrated ones who love Me in Spirit and Truth.
I bless you.
Your Jesus.
HAIL MARY MOST PURE, CONCEIVED WITHOUT SIN.
HAIL MARY MOST PURE, CONCEIVED WITHOUT SIN.
HAIL MARY MOST PURE, CONCEIVED WITHOUT SIN.