Sunday, May 11, 2014
Message from Our Lord Jesus Christ
To His Beloved Daughter Luz De María.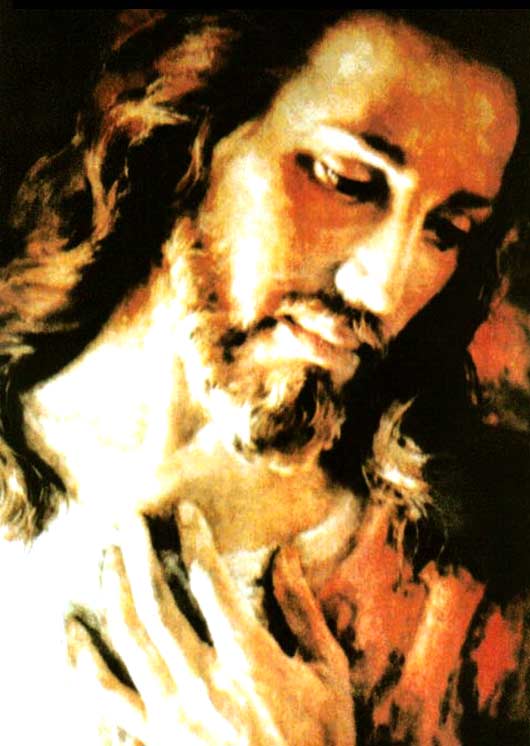 My beloved People:
WITH THE SAME CONSTANCY OF THE ONE WHO FIRMLY BELIEVES IN HIS GOD, SO MY CHILDREN ARE
THOSE WHO WILL CONTINUE UNDER THE MERCILESS SUN OF THE ANGER OF YOUR BROTHERS AND SISTERS AND OF NATURE'S ATTACKS.
Man, contaminated by himself and what surrounds him, will not resist the constant invasion of the elements created by the man of science. Waves spread with the air attacking and causing man's attitudes to be uncontrolled, with the end of making him less human, alienating his senses and feelings so that they do not fuse with Me. Man himself has proposed his own self-destruction. Thus his feelings and his faith will be able to negatively influence the awareness that every one is a child of Mine, filled from the beginning, with the Love of My Holy Spirit.
My People do not know all of the harsh reality, and the Truth is hidden with evil ends.
Beloved, those of My Announcements in which I warned you about how you would come to be only a number, have arrived. As overpopulated, they will reduce you by the will of the powerful who lead the world.
Man lives and will live without seeing beyond, being superficial and physical in every aspect of his life. Without My Spirit illuminating man, he remains lacking in Wisdom. He walks perceiving only what his five senses allow him, this determines the awareness each one of you maintains over the instant in which you live.
I DO NOT WANT A PEOPLE MADE UP OF GREAT SCHOLARS, RATHER OF SIMPLE SOULS WHO LOVE ME, WHO THIRST FOR KNOWLEDGE AND ARE CONSCIOUS OF HOW SCIENCE MANIPULATES HUMAN BEHAVIOR.
My Church was not alerted by the hierarchy, and in this instant it walks ignorant of the Signs of the Times…, in this instant of instants.
The one who turns to Me seeking My Light, will find it; those who, in the dark of their obstinacy deny My Word, deny also the history of humanity. As in the past, they continue to deny what is coming, until the blazing fire touches them; not until that instant will they know they have denied My Word, that they have not believed in Me and turned away from My Truth.
Pray, My beloved, for Syria: it will be destroyed in its ambition for power.
My children do not walk in the Truth nor do they desire My Truth. My Creation lives according to My Will, and She will be the executive arm of My Justice. .
Pray for the United States, it will be scourged by Nature.
MY CHURCH WILL BE TROUBLED, DIVIDED, BUT IT WILL NOT BE DEFEATED.
My beloved People, My enemies are overly abundant, calm does not remain in their hearts, they do not know
My Love; the most intimate fibers of the human heart hardened and will harden even more.
So many vermin prevent you from trusting in My Word and embracing it! Vile passions accomplish more than a Word of Mine…
WOE TO THE ONE WHO DENIES MY WORD, HE WILL DENY MY REDEMPTION!
You, beloved children, do not turn away from Me, for My Justice comes soon and I come to collect the harvest. Beloved, your Guardian Angels fight against the demons that do not prowl around, but that have entered into man's heart.
I KNOW WELL THAT THIS MY WORD IS A SPEAR FOR SOME, IT HURTS YOU; BY LIVING IN YOUR COMFORTS, YOU DO NOT WANT TO WAIT FOR ME DULY PREPARED TO FACE MY JUSTICE.
"Not all who say, Lord, Lord! Will enter the Kingdom of Heaven:"
Nor all who believe they serve Me…,
Nor the chosen one who does not carry out My Will…,
Nor the one in whom My Love does not dwell…,
Nor the one who causes division…,
Nor the one who looks at Me from afar….,
Nor the one who uses power against My Children and especially against the weak. The one who shakes humanity with lies will not be My son.
My beloved:
THE EAGLE[6] THAT SHOWS ITS PRIDE RIDING THE HEIGHTS, SEES ALL THAT MOVES ON EARTH AND INJURES SO ITS PREY DO NOT ESCAPE ITS TALONS, I WILL CUT ITS TALONS.
Beloved:
THE BEAR[7] MOVES HAUGHTILY AND WITH ITS GREAT POWER TRIES TO INTIMIDATE ALL THAT IS ABLE TO MOVE AND APPROACHES ITS PREY WITH APPARENT SWEETNESS; BUT I WILL REDUCE ITS STRENGTH IN THE PRECISE INSTANT. I AM WHO AM!
Pray, My beloved, pray; communism spreads like water in the rivers when it rains and the flow is impetuous.
My People, I do not distance Myself from My faithful; My Covenant with My faithful demands it. My Mother goes hurriedly to the souls thirsty for My Love and Her Maternity.
I bless you, I love you.
Your Jesus.
HAIL MARY MOST PURE, CONCEIVED WITHOUT SIN.
HAIL MARY MOST PURE, CONCEIVED WITHOUT SIN.
HAIL MARY MOST PURE, CONCEIVED WITHOUT SIN.