Sunday, May 18, 2014
Dialogue Between Our Lord Jesus Christ
And His Beloved Daughter Luz De María.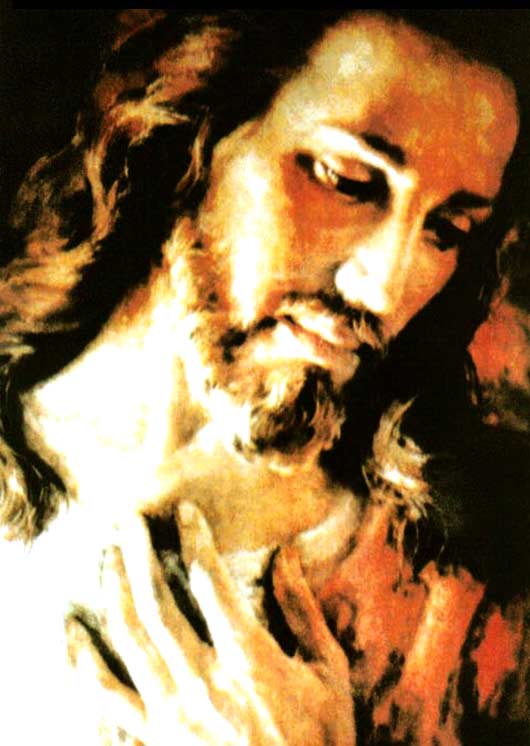 Christ:
My beloved People:
MY WORDS ARE THE SAME YESTERDAY, TODAY AND ALWAYS. MY LAW IS THE SAME YESTERDAY, TODAY AND ALWAYS.
My beloved, I call you to not excuse yourselves from your mistakes; be more demanding with yourselves. I defend you continually, without rest.
Beloved, how many of those who are Mine do you believe invoke Me and remain permanently in My Will?
Luz de María:
I do not know, beloved Lord, I do not know… although it is my wish that it is millions of souls.
Christ:
As the end of this generation approaches, it is written that those who are Mine will forget Me, giving priority to false idols that will lead them to drown in the depths of the greatest horrors man can commit.
It is so few souls that do not forget Me and remain living in My Will with their lamps filled with the best oil to be the light for their brothers and sisters…!
Do you know daughter, how it makes My Heart grieve to know how far the dehumanization of man will reach?
Luz de María:
I do not know, My Lord.
Christ:
Man will be supplanted by evil spirits, great scourges will come for humanity, human minds, troubled by evil, desiring the death of all they see with life, will make of the Earth a desert field of horror and without life. These are ignorant of the fact that the souls of those who are sacrificed for My Cause, ALREADY enjoy Eternal Life. THE WICKED STEAL THE BODY BUT NOT THE SOUL OF THE INNOCENT.
Beloved, My Mystic Body will suffer; My Cross will not be withdrawn until It is transformed into a Cross of Love and Freedom, that Cross I came to bring man and that man did not welcome.
My Church will suffer confusion; these are instants of pain and incomprehension, of complacency with sin and deviation, these are the instants of the unawareness of My Real and True Presence on the Altar. How many consecrated ones ignore it, not living fully the Mystery of My Love in the Transubstantiation!
MODERNISMS DO NOT SATISFY MY WILL, THEY CHALLENGE IT.
My Church rushes towards great provocations and confusions. THE DEFEAT WILL BE OF EVIL, IT WILL NOT COME TO PREVAIL OVER MY CHURCH.
Demons move in the midst of humanity, and humanity, contaminates those who are Mine through anger and violence, through discord and incomprehension. The strength of evil resides in the division of those who are Mine.
Great throngs of people will approach those who are faithful to Me to divide them. Wolves with sheep's clothing abound, and My children must remain vigilant in this aspect.
Do you know how I see some who go to hear My Word and go away bursting forth in offenses towards Me?
Luz de María:
Yes, my Beloved, I know…
Christ:
Those with perversity in their soul will arrive in My courts to hear My Calls so as to deform them mercilessly; actually they will come with the end of driving away those who seek Me.
False ideologies abound everywhere, urging people to not love My Word or My Precepts. Debauchery reigns among humanity, and humanity is not able to stop it; Unbridled, debauchery goes against innocence and love. THOSE WHO FOLLOW ME WILL SUFFER, BUT THEY ARE NOT ALONE, THEY ARE NOT ALONE.
My beloved, be foreseers, war is not a simulation but the reality of man's nightmare. Remain united to My Heart and that of My Mother.
Beloved, pray for China, it will lead humanity to suffer.
Pray for Japan, its land will be severely shaken.
Pray for Chile, it will suffer.
THE COMING INSTANTS ARE THOSE THAT HAVE BEEN ANNOUNCED;
SEE THE SIGNS THAT I PRESENT TO YOU, LOOK TO THE HEAVENS, LOOK AT ME.
While evil prepares and savors its spoils, My instruments must remain strong, attentive to My Will and transmit it without fear. My Truth alerts the humanity ignorant of this instant.
I WILL SEND SOMEONE WHO WILL CARRY MY WORD IN HIS MOUTH AND WILL NOT BE ABLE TO BE CONFUSED WITH EVIL, FOR MY WILL SHALL DWELL IN HIM.
My Church will not be left helpless in the hands of those who wish to extinguish every trace of My Sacrifice. It will not be a voice in the desert of the world, but a voice in the desert of the hearts of men. Do not forget that even the grains of sand are removed by the wind, so also with men; they will be moved from their inner depths until they recognize Me.
My beloved People:
THE INSTANT IS A BREATH FROM MY MOUTH, A BREATH OF MINE.
DO NOT STOP, DO NOT STOP, BE TIRELESS.
I DO NOT ABANDON MY PEOPLE. I AM YOUR GOD.
Your Jesus.
HAIL MARY MOST PURE, CONCEIVED WITHOUT SIN.
HAIL MARY MOST PURE, CONCEIVED WITHOUT SIN.
HAIL MARY MOST PURE, CONCEIVED WITHOUT SIN.