Sunday, June 8, 2014
Message of Our Lord Jesus Christ
To His Beloved Daughter Luz De María.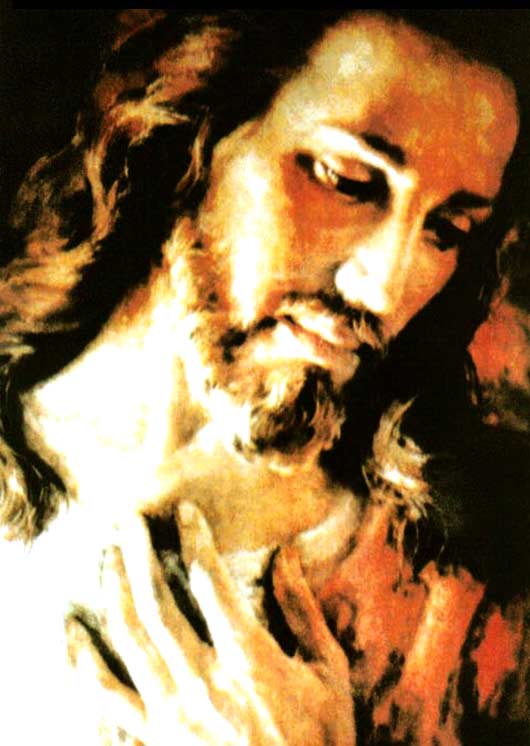 My Beloved:
My Heart is the only fountain of Infinite Mercy, the fountain that has not been exhausted throughout the history of humanity, and the fountain that will not be exhausted in this instant in which this generation is on the brink of its own purification.
OUR TRINITY IS PERFECT AND IT WOULDN'T BE PERFECT,
IF IN IT WE DID NOT FIND MERCY PRESENT AND ALSO JUSTICE.
I welcome all those who come to Me with a contrite heart, humbled and totally willingly to submit their efforts and their human will so as not to fall in the same errors and in the same sins.
Satan tempts humanity with all his strength, with all his anger, with all his hatred; he poured all his poison and has released all his disdain upon man, without exception.
I SEE THE REALITY OF MY PEOPLE, THE REALITY THAT MY PEOPLE DO NOT SEE
AND DOES NOT WISH TO UNDERSTAND: SIN. THE CAPACITY AND INVENTION OF SIN IS SUCH, THAT IT HAS SURPASSED SATAN'S EXPECTATIONS.
Humanity has given up their external senses to Satan, for him to use, it has also given up their internal senses to Satan so he can administer them; because men does not live within My Divine Love.
Children, when you build a house, all the electrical lay out has the same voltage so as not to place any inadequate appliances that will be damaged. When the electrical lay out receives a voltage higher than the proper one, it produces a short circuit which forces to replace urgently whatever needs to be replaced so that everything continues to work without mishaps.
In this way, children: all your senses form one single unit and points to where the human free will can lead you. It could be a same vibration, a same electrical syntonic in accordance to My Will, or could exist within you continued interruptions that impedes you to fuse within Me and listen to Me, or it could be that your senses are commanded and altered by the works and acts contrary to My Will, and the unity to Me will be cut off. In that instant the force of Satan invades the creature, pretending to repair what must be repaired, grafting in the senses of man actions and works, altering them so they can be exposed to the traps of evil, through violence, hatred, lack of love, lack of charity, lack of faith, lack of hope, lack of generosity and lack of devotion. AND WITH THIS IT ACHIEVES THE HARDENING OF THE HUMAN HEART, AND FOR ONCE WHEN THIS IS OF STONE, IT WILL NOT RESPOND TO MY LOVE, AND MAN WILL NOT RECOGNIZE THE ACTIONS AND REACTIONS BELONGING TO SATAN ACTING IN HIM.
The demons are content to make man fall. Evil possesses a great sack of souls which he manipulates like puppets, and these, without human strength to fight against evil, move to the forces of division and towards everything that doesn't recognize as sin, when they do not remain within My Love.
MY LAWS ARE CLEAR, IT HAS FORBIDDEN SIN.
WHEN MAN DOES NOT LIVE ACCORDING TO MY LAW,
HE CUTS THE TIES THAT UNITES THEM TO MY HOUSE AND LAUNCHES ITSELF LIKE A DRIFTING BOAT IN THE MIDDLE OF THE STORM.
THIS IS THE INSTANT OF THE FIGHT TO RECOVER THE SOULS.
My People have walked in ignorance that has been imposed upon them; and have imposed upon themselves for convenience. A few, understanding My Will, have achieved sanctity through narrow roads which My Love has lead them; a few have been, within My Justice, purified to becoming in My image and likeness.
My Beloved People, in these intense instants, I continue planting seeds of My Will all over the Earth, so that these give abundant fruits to counteract the evil of those who are led by evil, and fight against you, attacking you. And for those who refuse to know me, you My faithful ones, are the great question, because they do not know if they should fear you or reject you, since they do not understand My Love in you which generate unity.
Beloved, those who do not know Me, react before the unexpected in life, such as sickness, they react against Me, submitting me to lengthy and cruel interrogations to justify their bad journey through life. They have lived without focusing, not giving themselves the blessing of belonging to Me, and they rush like the bees from flower to flower, not to fulfil their mission, but to distort their personal mission.
Children:
HE WHO LIVES IN MEDIOCRITY AND IN DISOBEDIENCE, PLEASING THE MIND AND
BRINGING THE SENSES TO FOCUS ON THE FLESH AND IN THE FALSE PHYSICAL BEAUTY,
GIVING FREE REIN TO SIN; DO NOT LIVE IN ME, THEY DO NOT KNOW ME AND THEY PLUNGE INTO THE
MUNDANE HEADING STRAIGHT TO PERISH IN THIS INSTANT, AND IF THEY DO NOT TOTALLY MAKE AMEND, THEY WILL PERISH IN THE ETERNAL FIRE.
This generation is not exempt from pain; the inclemency of man himself keeps them at the edge of a razor. My Church is at the threshold of the greatest purification ever lived. I see My Church in agony and suffering, not by the hand of those who do not love Me, but by those who do not understand and must remain silent.
Those who live in My Love, will be known by their acts; do not fear at the end all pain will go away. My Peace Will be in you and our encounter will be eternal.
Because of My Love for you I must warn you, and in this instant I demand what in My repeated Calls I have requested and yet you have not done: I demand that you understand to use food with responsibility which could mean between life or death to the body. Use food that still has not been contaminated with radioactivity and not the food from those who wish to make you sick and lead you to death.
When I call, it is for you to see beyond; but there are those who only see themselves and do not bother to see their brothers, or what may harm them. Without a conscience they launch against life, this goes against the Holy
Spirit.
MY BELOVED, THE GREAT BATTLE WILL START SOON.
Pray for Russia.
Pray for Italy, it will perish.
Pray for San Francisco, for it will cry.
A very intense cold wave is coming, and, My children should prepare for it, without fear.
The youth refuses to accept My Peace, they live in the total spiritual emptiness, where the great majority of men live in a mental fixed, subjected to carnal sins, and the women have forgotten to be mothers accepting the depravity that society in which they live offers them.
CHILDREN, STAY AWAY FROM THE TELEVISION AND OF ALL THE VIDEO GAMES, IN THIS INSTANT THEY ARE OBSTACLE, DEAD ENDING THE MIND OF MY CHURCH. Life is not a martyrdom, man has transformed it to a martyrdom; find peace, working and acting within My work and acts.
YOU MUST NOT BE DISTRACTED IN THIS URGENT AND AT THE SAME TIME AGONIZING INSTANT; man sins and Creation moans. The sin of custom is rarely known, the human being acts by custom.
I am not one more custom; I am not one more option. I am the King of Kings and the Lord of Lords, not one string of hair of the head falls without it being My Will.
My beloved, I invite you to continue to be faithful to My Word, and those who criticize and do not believe, they are also part of My Love.
CHILDREN, A BREATH OF MY HOLY SPIRIT WILL COME UPON YOU SO THAT THE JOURNEY THROUGH LIFE WILL BE LESS DIFFICULT.
ME: YOUR JESUS, BLESS YOU AND I SEAL YOU WITH MY PRECIOUS BLOOD
SO THAT EVERYTHING THAT IS CONTRARY TO MY WILL, WILL BE TIED AT THE FOOT OF MY CROSS AND NOT BE THE REASON FOR MY CHILDREN TO DRIFT AWAY FROM MY PATH.
I bless you.
Let My Love, My Peace and My Protection be yours.
Your Jesus,
HAIL MARY, MOST PURE, CONCEIVED WITHOUT SIN.
HAIL MARY, MOST PURE, CONCEIVED WITHOUT SIN.
HAIL MARY, MOST PURE, CONCEIVED WITHOUT SIN.
COMENTARY FROM THE INSTRUMENT
Brothers and Sisters:
In this Divine Call, our Supreme Being perfectly outlines and determines His Will and what He expects from us.
Let's read and meditate the Calls from Heaven, unfortunately we realize that humanity has not changed its present customs, and what is worse, has worsen its life of stubbornness in sin.
But you, brother and sister, who penetrate in this Word that Our Divine Savior gives us, TAKE WITH DUE
IMPORTANCE AND FULL CONSCIENCE EACH WORD OF CHRIST AND MAKE IT YOURS, MAKE IT LIFE FOR YOU AND YOUR FAMILY, so we can be those seeds that will give abundant fruits and counteract the ruling evilness in the world such as Christ mentioned it in His call.
May the Holy Spirit illuminate us all and strengthen our Will so we can always carry out His Divine Love.
Amen.