Wednesday, June 25, 2014
Message from the Blessed Virgin Mary
To Her Beloved Daughter Luz De María.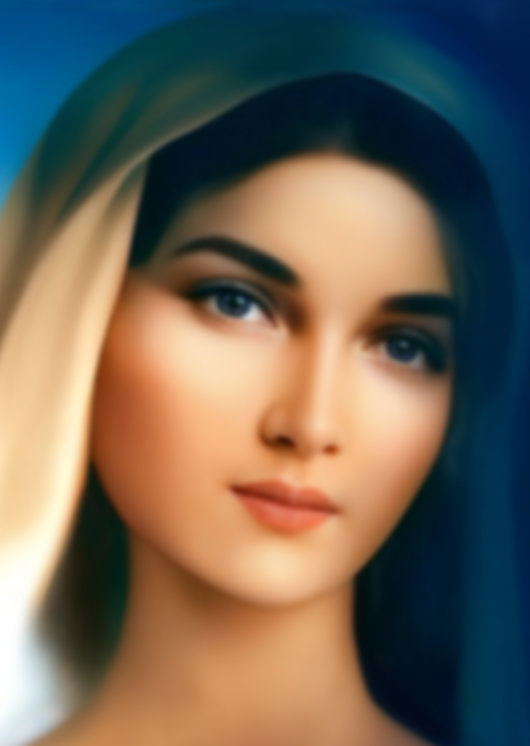 Beloved children of My Immaculate Heart:
MY BLESSING IS FOR ALL MY CHILDREN, WITHOUT DISTINCTIONS.
MOTHERLY LOVE FLOWS FROM MY HEART FOR ALL MY CHILDREN.
May My blessing be the light in you that illuminates the path of Truth and of Salvation.
My beloved:
Humanity is in effervescence and the great violence announced in the Gospels for the end times is upon the Earth.
THIS INSTANT IS DECISIVE FOR SOULS AND DELICATE FOR MY SON'S CHURCH. It is totally besieged and a schism fast approaches, just as evil speedily seizes humanity.
The great plague of neurons directs man, it has seized the thoughts, working and acting of human beings, of their conscience and subconscious; and the human being reacts with ire. Man has set aside reacting like a man, like a child of God, and he has given himself over to the actions by satan and his allies, giving free reign to his most base instincts.
HUMANITY WISHES TO DEFEND THE INDEFENSIBLE: SIN.
IT CANNOT BE DEFENDED, IT IS AN ACTION AGAINST THE DIVINE WILL.
Beloved children,
You know well that the praying of the Holy Rosary used properly, meditating each word and living it in your heart, is a great prevention, blessing and protection; it is a protective shield against evil, if the human person lives within the Divine Will.
MY CHILDREN MUST TRANSFORM INTO MESSENGERS FOR THEIR BROTHERS AND SISTERS AND INFORM THEM OF SATAN'S STRATEGIES AGAINST MY SON'S PEOPLE.
MY CHILDREN MUST FORM PART OF THE EVANGELIZERS OF THE END TIMES, ALTHOUGH TIME HAS CEASED TO BE TIME, IT IS ONLY AN INSTANT. I PRECISELY REFER TO THIS ONE IN WHICH YOU LIVE.
Beloved children: Soon the sun will emit a flare that will reach Earth, paral00yzing communications in great measure and thus all type of transport.[8]
Beloved children:
THE SIGNS ARE CLEAR, AND EVEN THOUGH YOU WANT TO HIDE THEM, THEY SPEAK FOR THEMSELVES. Do not worry when you are persecuted, do not worry about being ill-informed, slandered and reviled; they called My Son Beelzebub, what will not become of His faithful in the midst of Sodom and Gomorrah?
THE COMMON MAN WILL SEE THE FULFILLMENT OF THE ANNOUNCEMENTS OF THE PATERNAL HOUSE WITH HIS OWN EYES and it will be then, and only then, when you will raise your hands to your head lamenting not having listened to Heaven's Calls, given with the end that you effect that change in you that My Son begs of you time and time again, and you are thus converted.
My beloved:
BE AWARE THAT EACH ONE OF YOU IS A LIVING ALTAR THAT CARRIES MY SON AND HIS HOLY SPIRIT AND YOU MUST BE THE IMAGE AND LIKENESS OF GOD, do not grieve Him by acting differently from how He's asked you. My Son desires Holy People who love Him and commit themselves to Him without reserves or measures, and who battle evil with Divine Love, being the sign of the new dawn.
This is the instant in which each of you must bring the Divine Message, and in this way alert your brothers and sisters, your families and humanity so that they do not remain asleep.
Do not fear, My Angels, your Brothers of Journey, remain beside you.
People born of My Womb and of My Heart:
I ask you to pray intensely for the United States and Russia.
I invite you to pray for the United States, it will be shaken; the eagle must give up its plumage in order to be simple and humble. I invite you to pray, the earth shakes with force.
My beloved, go to visit My Son so that the Grace of the Holy Spirit invades you and it is He who works and acts in and through each one of you, for the good of humanity.
The governments have seized of what they need to dominate men and subjugate the innocents; communism has penetrated, the dragon is awakening.
Beloved People of My Son and of My Immaculate Heart:
EVERY EFFORT IS BENEFICIAL, BE A REASON FOR JOY AND THANKSGIVING IN YOUR HOMES, CARRYING WITHIN EACH ONE OF YOU TRUE LOVE AND FORGIVENESS THAT ONLY THE ONE WHO KNOWS AND LOVES MY SON POSSESSES.
I invite you to take My Peace and in inner silence, hear My Son; all of you be covered with My Mantle and My Maternal Love.
Mother Mary.
HAIL MARY MOST PURE, CONCEIVED WITHOUT SIN.
HAIL MARY MOST PURE, CONCEIVED WITHOUT SIN. HAIL MARY MOST PURE, CONCEIVED WITHOUT SIN.