Wednesday, July 30, 2014
Message from the Blessed Virgin Mary
To Her Beloved Daughter Luz De María.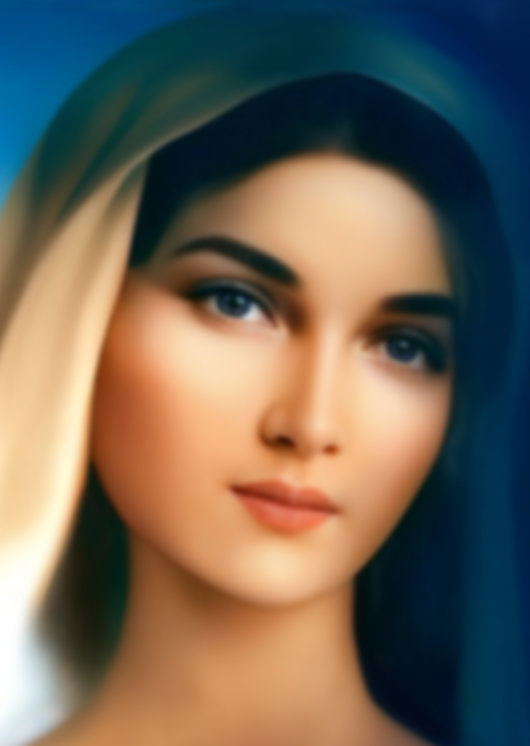 Beloved children of My Immaculate Heart:
I suffer infinitely for what is coming for you…,
I suffer for this generation possessed by evil…,
I suffer at seeing how My children delight in killing one another…,
I suffer the unspeakable at seeing My children take the bodies of their brothers and sisters and display them as trophies of war…
INDEED EVERYTHING IS ANNOUNCED AND STILL MAN HAS BEEN ABLE TO SURPASS SATAN'S OWN
EVIL. This enemy of the soul has spilled all his hatred over man, and man doubles and triples it killing only for the joy of it. Also, satan has brought to the mind, thoughts and heart of man this desire, that thirst for the blood of his brothers and sisters.
SATAN'S OBJECTIVE FOR THESE END TIMES IS TO DESTROY MAN,
AND HE IS ACHIEVING IT WITHOUT ACTING DIRECTLY, SINCE MAN IS WORKING FOR HIM.
Beloved children of My Immaculate Heart:
I HAVE ANNOUNCED THE SACROSANCT TRINITY'S REQUESTS SO MUCH TO HUMANITY!
...AND YOU HAVE FORGOTTEN THEM AND DISCARDED THEM.
IN THIS INSTANT, ALL THAT WHICH I ASKED FOR AND ANNOUNCED IN THE NAME OF THE SACROSANCT TRINITY, AT BEING DENIED, TURNS AGAINST HUMANITY ITSELF.
You see from afar the events that arise in the Middle East, in Africa, in China and in other Nations, forgetting that the horror and terror are spreading, and terrorism, like one of satan's great tentacles, spreads its hatred for other Nations.
SOON HUMANITY WILL SEE WITH ASTONISHMENT HOW THE HATRED OF THE PERSON POSSESSED BY HARDNESS OF HEART AND BY HATRED OF HIS OR HER BROTHERS AND SISTERS, IS CAPABLE OF REACHING THE UNIMAGINABLE.
Unimaginable pains will arise around the world, while the great politicians of the great powers gather to talk about the economy of their Nations, tossing aside the life of the human being, which is what is most sacred…, since for them, man represents the economy and not love or charity or forgiveness. Man is not recognized as the Temple of the Holy Spirit but as another object used by the great and powerful of the world to carry out their evil plans.
Beloved children:
I suffer infinitely for those innocents who are tortured and suffer because of terrorism…
I suffer for those women who are the subject of rape and torture…
I suffer for those innocent girls and boys who, in this instant, are at the same time being abused and wiped from the face of the Earth. MAN HAS STILL NOT UNDERSTOOD THAT SATAN'S PRINCIPAL OBJECTIVE IS TO PUT AN END TO INNOCENCE… AND HE HAS DONE IT.
My children:
I CALL YOU TO PRAY,
I CALL YOU TO RECEIVE MY SON IN THE SACRAMENT OF THE EUCHARIST,
AND I CALL YOU PRINCIPALLY TO TRANSFORM THAT PRAYER INTO A JOINT ACTION SO THAT YOU RAISE YOUR VOICE AND THUS INJUSTICES AGAINST THE HUMAN PERSON END.
This is My Petition as Mother, even though I know that horror will increase more each day and will reach the most innocent Nations, I know that war is an instant away from man and no power will question using their weapons to achieve victory.
At Babel man fought and strove to build a tower and reach God. In this instant, man fights to sink more each time and be just one more of satan's followers.
MY SON'S CHURCH MUST STRONGLY RAISE ITS VOICE AND MAKE ITSELF HEARD, AND IT MUST PROTEST AGAINST THE INJUSTICES TO WHICH THE HUMAN PERSON IS CONSTANTLY BEING SUBMITTED. Silence is kept before the harassments to which every innocent is submitted. Human respects are kept so as not to interfere with powerful Nations. My Son's Church must act in likeness of My Son and call each thing by its name.
My Son gave His Blood on the Cross for all of humanity and in this instant man is thirsty for the blood of innocents to satisfy satan. The woman is attacked, for satan knows that by a Woman, by this Mother he will again be defeated and chained in the abyss for a thousand years and more. But before this happens, My Son's Church must understand and be aware that My Son has delegated it to be a Messenger of Love.
With sadness I see how some argue against others, how some of My children criticize others, how technology is used to deny My Word, losing thus time that is gold and not calling and convoking all to unity.
EVERYTHING IS ALREADY ANNOUNCED, MAN FINDS HIMSELF LIVING THE GREAT TRIBULATION, EXCEPT THAT IT IS BEGINNING AND HAS NOT BECOME WIDESPREAD.
The great plague has already reached Europe and will expand, another scourge that is the lovelessness and anger of man.
A MOTHER ALWAYS SEEKS FORGIVENESS FOR HER CHILDREN, BUT SEEING THAT THEY DO NOT HEED HER ACLLS, SHE MUST ASK HER SON TO DESCEND WITH HIS JUSTICE TO STOP SO MUCH MASSACRE THAT CONTINUALLY PIERCES MY HEART.
My beloved:
I invite you to pray for the Middle East.
I invite you to pray for the United States, the prey of its own terrorism. I invite you to pray for Japan.
My beloved:
Do not cast aside My requests, continue to believe and multiply the love towards My Son. Love for those who do not love, believe for those who do not believe; I know that My Army is small, My Army of souls of love united with Saint Michael that Archangel and all the Heavenly Hosts. At the end, man will hand over the Earth to his Creator.
DO NOT DECEIVE YOURSELVES, MY BELOVED,
YOU MUST MAINTAIN A PRAYER OF PRAXIS AND RAISE YOUR VOICE IN THE NAME OF MY SON AND IN THE NAME OF THIS SUFFERING AND GRIEVING MOTHER.
I love you, My Blessing goes with you continually, but you must become aware that My Son is at once Mercy and Justice.
I bless you, I love you, remain in My Son's Peace.
Mother Mary.
HAIL MARY MOST PURE, CONCEIVED WITHOUT SIN.
HAIL MARY MOST PURE, CONCEIVED WITHOUT SIN. HAIL MARY MOST PURE, CONCEIVED WITHOUT SIN.