Thursday, December 18, 2014
Message from the Blessed Virgin Mary
To Her Beloved Daughter Luz De María.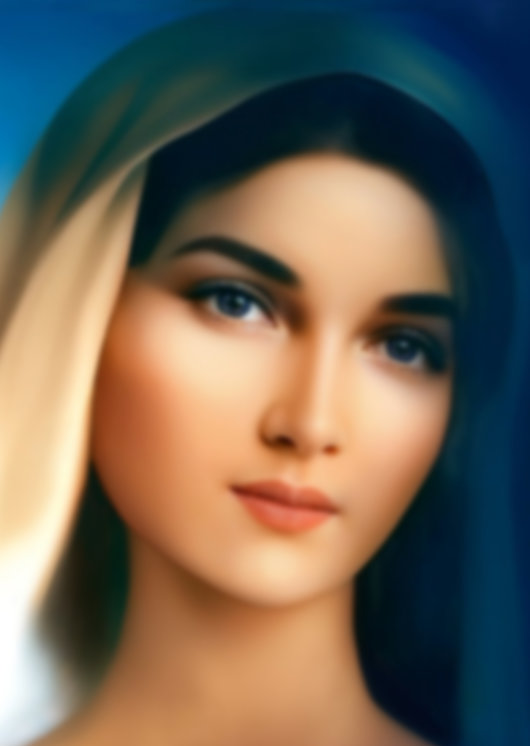 Beloved children of My Immaculate Heart:
MY MANTLE PROTECTS EACH ONE OF YOU, EACH ONE OF YOU.
JUST AS MY MANTLE COVERS THE CELESTIAL VAULT, IN THE SAME WAY IT COVERS EACH ONE OF MY CHILDREN.
My beloved:
Do not fear I am Mother of all humanity, Advocate and Defender of each one of My children. I do not see anyone differently, I hold each one in My Heart, even those who reject Me as Mother; they are the ones I most seek, whom I need more and whom My Heart desires more.
My Hand marks the path where you must journey so you won't go astray, perishing in sin.
IN THIS INSTANT, THE CHURCH'S HIERARCHY MUST PROCLAIM PRECISELY THE WORD OF MY
SON WITHOUT INTERPRETATIONS, CALLING SIN WHAT IS SIN AND INSTRUCTING AND
INCREASING THE KNOWLEDGE OF MY LITTLE CHILDREN SO THEY WILL NOT FALL IN THE ABYSS OF SIN FROM WHERE THEY CANNOT LEAVE.
When proclaiming that sin is not a sin, licentiousness is proclaimed and disobedience to My Son's
Word and this wounds the Divine Heart deeply, they are new daggers that go through My aching Heart.
MY FAVORITE CHILDREN (PRIESTS) MUST DECIDE – NOW! FOR THE SALVATION OF SOULS, THAT IS THEIR MISSION AND THE ASSIGNMENT THAT MY SON HAS GIVEN THEM: TO SAVE SOULS. To call sin what is sin will exalt my favorite children.
HELL IS FULL… and among the souls that are suffering there, I see with pain some of those that proclaimed the Word of My Son lukewarmly, to be able to proclaim the Word of My Son, My favorite children must keep their Faith strong, that same faith that attracted them for first time, that Faith, which they professed when they totally committed themselves to My Son.
MY SON'S CHURCH MUST BE HOLY AS MY SON IS HOLY.
HOLINESS is not achieved with hesitant words…
HOLINESS is not achieved with hesitation or disguising sin…
HOLINESS is not only attained through the Divine Mercy but through the thorny path for that holiness to be lasting and won't be a false illusion.
THESE INSTANTS ARE DECISIVE FOR MY CHILDREN:
The instruction that you receive…
The Words that will open your conscience…
The call for knowledge of what is happening around humanity and
The wake-up call for you to be true, ALL THIS IS TOTALLY IN ACCORDANCE TO THE WILL OF MY SON
WHO WISHES THAT HIS PEOPLE BE HOLY BY THEIR OWN DECISION AND CONVICTION, FOR LOVE AND WITH FAITH. But with a solid and strong faith, and for this, My son's People must be instructed in all that is coming to humanity so they won't be caught unaware.
All of My Calls are questioned by those who do not want to accept that this Mother warns Her children.
I, OBEDIENT TO THE MANDATES OF MY SON, CLARITY IN EACH ONE OF MY CALLS THE DIFFERENT POINTS AS TO WHERE THE ENEMY OF THE SOUL ATTACKS MY CHILDREN, but the facts are not seen from the same point of view, and, this causes those who do not wish that My Son's people be aware of what is happening, to condemn over and over the Word that I explicit through My beloved instrument.
My instruments are attacked… such ignorance of man! What My instruments are doing is to comply in obedience to be spokespeople of My Son's Will; but instead, they are attacked for being spokespeople of My Son's Will.
CHILDREN, THE PAIN THAT WILL COME SUDDENLY TO HUMANITY WEIGHS SO MUCH! It is so great that I place My Holy Mantle, not to prevent, but to slightly mitigate the scourging that you generate upon yourself when you are participants of the desires and misdeeds of Satan.
Each one of you was rescued by the Blood of My Divine Son on the Cross, and humanity does not respond as it should …
In this instant, in which we are approaching the celebration of My Son's Birth, amidst the commotion, the liquor, the degrading passions, the drugs and the music that is utilized to offend My Son and to offend Me, this combined with the lack of conscience and power to refuse the scene revealed before you and which mostly keeps you away from goodness, all this together hastens the suffering of humanity in the hands of the iniquitous impostor.
My beloved:
I SEE YOU SO ADVANCED AS A CIVILIZATION BUT SO UNDERNOURSIHED SPIRITUALLY; you deny the undeniable and accept the unacceptable, by ignorance in some cases and foolishness and rebellion in most of the cases.
YOU HAVE YET NOT UNDERSTOOD THAT YOU ARE NOT ONLY A BODY, THAT POSSESS SOUL AND SPIRIT THAT TRASCENDS WHERE THE PHYSICAL BODY CANNOT TRASCEND but this seems an utopia for this generation and that is why you discard My Calls and discard My Son and His Divine Love to continue in your free will the path where you will stumble over and over again.
Beloved children of My Immaculate Heart:
MY LOVE IS INFINITE, I ACCEPTED YOU AS MOTHER AND TEACHER AND TOGETHER WITH MY HEAVENLY LEGIONS I WILL NOT REST UNTIL I RESCUE THOSE WHO ALLOW ME TO.
There is a shadow near the Earth … it will go from country to country, from people to people and there will no place on this world that will be freed from this.
MY BELOVED, YOU MUST CHANGE AND LOVE MY SON ABOVE ALL THINGS.
My instruments are instruments, they are not God, they are creatures like you; within the Saving Plan, My Son has called you to be spokespeople of the Divine Will, and this you must fulfill completely because the instant is running out.
Beloved children, pray for China, an unfortunate event will occur in this Nation.
My beloved, My Love for you is so great!… I will not leave you alone.
I bless you in the Name of the Father, of the Son and of the Holy Spirit.
Mother Mary.
HAIL MARY MOST PURE, CONCEIVED WITHOUT SIN.
HAIL MARY MOST PURE, CONCEIVED WITHOUT SIN.
HAIL MARY MOST PURE, CONCEIVED WITHOUT SIN.