Tuesday, January 27, 2015
Message from Our Lord Jesus Christ
To His Beloved Daughter Luz De María.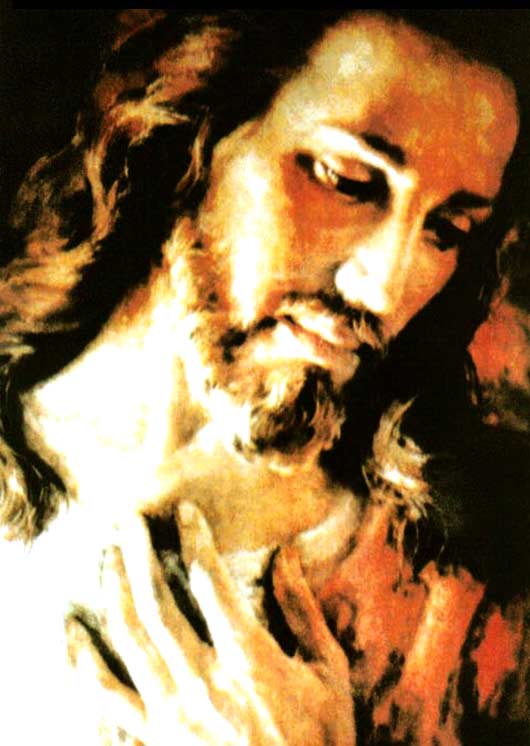 My Beloved People:
STEP BY STEP I TAKE YOU ALONG WITH ME SO THAT THE ROAD WILL BE LESS ARDUOUS …
WITHIN THE FREE WILL EACH ONE CHOOSES IF YOU CONTINUE WITH ME OR CONTINUE ON
YOUR OWN …
Man says: "I am in the likeness of Christ", and this, can it be true?...
TO MY LIKENESS WOULD BE THE HUMBLE, THE MEEK, THE ONE WHO HAS A SINCERE HEART,
THE ONE WHO DOESN'T SELF-EXALT, THE ONE WHO TURNS THE OTHER CHEEK, THE ONE WHO KNOWS TO WAIT AND LISTEN, THE ONE WHO SAYS "YES" TO ME AND CONTINUES TO STRUGGLE TO REMAIN IN MY WILL.
Beloved:
DO NOT FORGET HUMILITY, it's a badge for My children; it's a distinction of those who Love Me in Spirit and in Truth. The humble who receives My Blessings and My Help, charms Me and calls Me without uttering a single word.
THE CONCEITED PERISHES BY ITS OWN ARROGANCE … Which of you wishes to be the last? Do not forget that he who serves his brothers, will be great among men and he who brags about himself will be humbled not once, but a thousand times.
Whoever is governed by arrogance, will lead him to his own perdition. The conceited who utilizes some power over his brothers, personally exalts himself. These creatures ignore Me and they selfproclaim indispensables. Ah! Do not forget that I come with Power and Justice, "For everyone who exalts himself will be humbled, but the one who humbles himself will be exalted." (1)
Children, humanity moves puffed-up with "ego", in its unwisely intelligence full of disorder, suffering in its effort to know what it doesn't know, having before them the arrogance that controls reasoning and able to annul the true intelligence. Arrogance instills the wrong concept of freedom, precipitating humanity into the abyss.
(1) Lk 14, 11
My Beloved:
THE MAN WHO GROWS IN ITS OWN FREEDOM SEPARATING HIMSELF OF EVERYTHING THAT
SUGGEST TO HIM TO REMAIN IN SOME ORDER AND FOCUSING ON HIMSELF, IS PREY OF HIS OWN MISERY.
Freedom is the path, path and unity, not independence…
Freedom is love, not division …
Freedom is obedience, not the hardening of the heart …
My Beloved:
WHOEVER LIVES FOND OF HIS REASONING LIVES IN ITS MISERY, SINCE TRUE FREEDOM IS GREATNESS, NOT THE ONE IS WHO PUFFED-UP IN ITS OWN "EGO".
WHOEVER SEPARATES FROM ME, LIVES IN CONSTANT DANGER, HE LOOKS INTO HIMSELF, LOVING HIMSELF MORE THAN WHAT HE SHOULD LOVE ME.
Whoever separates from Me, is a drifting boat in the sea of his human me, desirous to be recognized, looked after and desirous of human tributes, and lives in an excessive love towards himself, obscuring the conscience, to avoid seeing his own vainglory.
THE ARROGANT EASILY FORGETS MY LAWS: IN ITS POOR MENTAL STRUCTURE HE QUICKLY SEPARATES FROM ME, ANNULLING ME FROM HIS LIFE. As a result the changes of this generation precipitated to the abyss by the greatest errors in which man has fallen.
Beloved children:
RECOGNIZE ARROGANCE.
IT BRINGS ABOUT THE ARROGANCE BROUGHT FORTH INTO WORLD AND ITS SCHEMES,
DEFEATING YOU, MAKING YOU CONCEITED, WITHOUT TAKING INTO CONSIDERATION
REASONING; BUT ONLY ITS OWN AND STUPID WISDOM AND ENDANGERING THE UNITY OF MY CHILDREN WHERE THEY MAY BE.
Children:
Recognize conceit, in this instant it is ever more present in men than in any other instant. Conceit stalks my children everywhere, disguising themselves so they won't be recognized, oppressing the spirit of Mine to keep them chained so they won't forgive and imposing themselves as master of the Truth, keeping their concepts as unique.
Children:
CONCEIT EXISTS IN MOST OF MY CHILDREN, ALTHOUGH ONLY A FEW RECOGNIZE IT TO BE ABLE TO CORRECT THEMSELVES.
Conceit directs the pain towards others.
The conceited continually hurts theirs brothers, for the sole purpose of its ambition.
Conceit, children, is a spiritual sickness, it has control over the human creature, power to keep him within its "ego" and far away from My Love, until it achieves its purpose: to steer My children far from Me into the abyss.
My Beloved People:
SELF-EXAMINE YOURSELF WITH A GENEROUS SPIRIT, JUST IN CASE I COME AND I DON'T RECOGNIZE YOU FOR HAVING REBELED AGAINST ME AND AGAINST YOUR BROTHERS.
The Law is one, and outside of this sin is overabundant and the offense against Me is constant. The lack of love hurts Me and Mine distance themselves from Me.
Because of man's conceit, the innocent die, rebellion finds support, persecution strengthen, conflicts increases, the powerful justify their errors, the oppressors are pleased; and man destroys himself because of his conceit.
My Beloved People:
LOOK AT ME, LIVE IN MY WILL, DO NOT TOIL IN THE MUNDANE. LO
MUNDANO…
THE POWER OF MAN WILL FALL UNDER HIS OWN IDOLATRY.
The allies will betray one another in the midst of great confusion. My children live in disorder, seeing from afar the suffering of their brothers.
Do not ignore My Calls; My Church will suffer in instants.
Do not lose faith in My Protection.
MY LOVE GIVES ITSELF AND IT IS MANIFESTED AND WILL BE MANIFESTED TOWARDS MY PEOPLE.
MY HELP WILL COME TO MY FAITHFUL, GUIDING MY CHILDREN AND UNCOVERING THE EVIL OPPRESSOR AND ITS TENTACLES.
Pray, My Children, for Russia. Together with its allies will cause pain. Russia will suffer by the environment. Pray, My children, for Chile. It will suffer when the earth trembles.
Pray, my Children, for Italy. It will be prey of terrorism and nature will make it suffer.
Beloved, earth trembles. Water a blessing for man will make him suffer.
SELF-EXAMINED YOURSELF, BEFORE THE CONSCIENCE EXAMINES YOU.
My Beloved People, I support you. I remain with My People constantly.
I love you.
Your Jesus.
HAIL MARY MOST PURE, CONCEIVED WITHOUT SIN.
HAIL MARY MOST PURE, CONCEIVED WITHOUT SIN.
HAIL MARY MOST PURE, CONCEIVED WITHOUT SIN.