Saturday, March 14, 2015
Message Given by the Most Holy Virgin Mary
To Her Beloved Daughter Luz De María.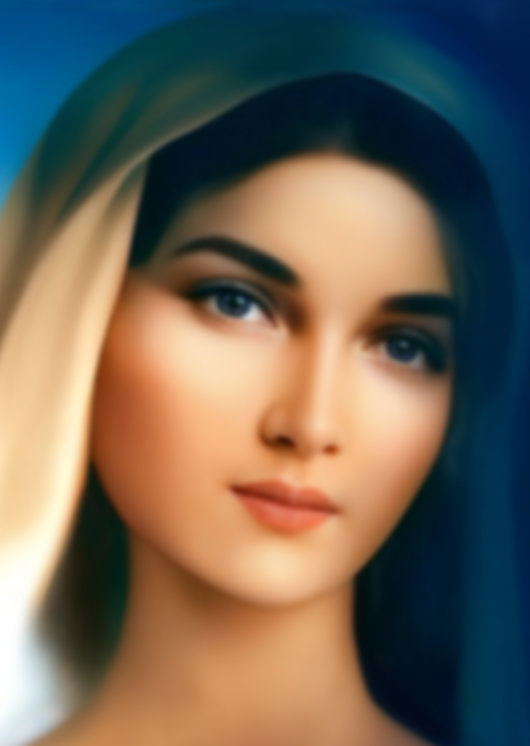 Beloved children of My Immaculate Heart:
Beloved children:
MY MATERNAL HEART CONTINUOUSLY INVITES YOU TO REMAIN FUSED IN THE DIVINE WILL.
Each human creature who dedicates his life to living in the Divine Will represents a triumph for My Son's Home, Heaven rejoices and pours out all the blessings for that soul and expands them to other needy souls.
Robed by the Divine Love and together with myriads of My Celestial Legions—in obedience to My Son's call to guard His People—I CALL YOU TO TAKE MY HANDS so that you will not be lost at this decisive instant, crucial for the salvation of the souls.
THE ENEMY OF THE SOULS CIRCLES AROUND EACH HUMAN CREATURE SEARCHING FOR THOSE WHO ARE LUKEWARM IN ORDER TO STEAL THEIR THOUGHTS, SEARCHING FOR THOSE WHOSE MINDS HE CAN MUDDY WITH THE SINS THAT MOST AFFRONT MY SON, so the human heart will harden like a rock and will not allow any act or deed that would make My devotees ascend towards the Eternal Life. The enemy wishes the enmity between man and his Creator. It is this generation— and none other—that will engage in battle against God The Father like it has never been seen before in the history of mankind.
A place for each one of My children remains in My Heart because I am the Ark of Salvation. It is man's free will that chooses: Come to My Heart and be rescued, or continue in the midst of evil that will lead to perdition.
The human will is a blessing for My children when it does not allow the human self to control it.
THE SOUL THAT IS DOMINATED BY THE HUMAN WILL IS CONSUMED WITH THE VICES AND
PASSIONS, AND—BECAUSE OF HIS WILL—CONTINUOUSLY AUGMENTS HIS "EGO" TO BE ADMIRED.
HE IS NOT MOTIVATED BY GOOD BUT BY EVIL; HE LIVES OFF RESENTMENT AND THE DESIRE FOR VENGEANCE, AND THIS BLACKENS THE SOUL.
Beloved children:
AT THIS INSTANT SATAN'S WORK IS TO KEEP THE SINS ACTIVE IN MAN until they become a bad habit, a vice, a wrongdoing, so men will follow the sad ending of other human creatures that have given themselves to sinning and thus lose the soul in the eternal fire.
Children:
I come to call you to take possession of the Divine Goods that My Son has assigned to you …
I come to call you to take the inheritance that My Son bequeathed to you from His Cross. Among these Goods He offers you His Mercy and this Mother to guide you and intercede for each one of you.
Beloved children:
I CANNOT ADDRESS MY OWN CHILDREN WITHOUT WARNING THEM THAT THEY ARE NOW AT
THE INSTANT WHEN THE EVIL ONE DEVOURS SOULS TO TAKE THEM TO THE PERDITION AND TO CAUSE THE OFFENSES AGAINST MY SON TO BE CONSTANTLY GREATER, SEPARATING THE HUMAN CREARURES FROM PRAYER, FOGGING UP THE MIND AND BLINDIING THE INTELLIGENCE SO THEY WILL LOSE THE FAITH.
Children:
AT THIS INSTANT EVIL HAS PENETRATED WITH FORCE AND HAS MANAGED TO CONFUSE MY SON'S PEOPLE TO MAKE THEM CONSTANTLY DIVIDE MY SON'S MYSTICAL BODY, to confuse all the laymen and, with even more determination, lead the consecrated souls to the perdition so the priests will separate from the True Doctrine and from the True Faith, leading My Son's People to live in confusion and—what is even more dangerous—in despair.
Children:
THOSE WHO LOVE OUR SACRED HEARTS ARE AWARE OF THEIR DUTY TO BE MESSANGERS OF THE URGENT CALL TO THEM AND THEIR BROTHERS SO THEY WILL REMAIN VIGILANT IN LIGHT OF THE GREAT THREATS THAT LIE IN WAIT FOR THEM; AMONG OTHERS, THE APOSTASY OF THE MYSTICAL BODY, which I see with great sadness in My Heart because I see the great responsibility for this on the part of a great number of My Favorite Children. The great crisis is here—now!—above My children, and it will be the greatest persecution against My Son's faithful People that will extend throughout the world.
MY FAVORITE CHILDREN MUST BE DEFENDERS OF THE FLOCK THAT HAS BEEN ENTRUSTED TO
THEM; THEY MUST PREACH THE TRUTH THAT MY SON HAS BEQUEATHED IN THE SCRIPTURES AS WELL AS IN THE EXPLICATION GIVEN THROUGH THESE CALLS FOR HIS PEOPLE TO BE SAVED.
PRAYER IS DESPISED:
It is no longer a part of man …
You do not feel it is necessary in your life …
Prayer is not needed because the devil substitutes this need in man with sin, with the mundane, which become as necessary as the air for the sinner.
Beloved children:
Calamities are happening with more strength and more continuity, so much so that a nation will not be able to help another nation. The volcanoes awaken; Nature does not recognize the man who does not act in agreement with the Divine Will.
THE DIVISION WILL BE MORE VISIBLE IN THE SOCIETIES, IN THE FAMILIES, IN THE GROUPS, AND
BETWEEN BROTHERS BECAUSE OF THE NON-COMPLIANCE WITH THE COMMANDMENTS, WITH THE SACRAMENTS, WITH LOVING ONE ANOTHER LIKE BROTHERS, RESPECTING ONE ANOTHER.
Man has a wish to impose himself on his brothers and this creates scuffles. The only One who has the Truth of it all is My Son. Anyone else, who thinks he possesses the Truth, does not; instead he lives under the delusion of the devil. Children, do not forget that the True Christian does not live his Faith alone; instead, he lives it with other brothers, with his peers.
Children:
HUMANKIND IS SUFFERING FROM A SERIOUS ILLNESS, THE SAME ONE THAT FINISHED OFF SODOM AND GOMORRAH: DEPRAVITY.
Rebelling against the Divine Mandates, indulging in blasphemy, sacrilege, lying, performing criminal acts against the defenseless: All these are signs of the evil possession of creatures that live yielding to sin, to disobedience, and to the rejection of God.
CHILDREN, YOU ARE FREE! EVERY CHRISTIAN WHO LIVES HIS LIFE THE WAY MY SON DEMANDS
IT IS FREE, TRULLY FREE, BY MEANS OF THE DAILY PERFECTION OF HIMSELF AND THE SEARCH FOR THE COMMON GOOD AS SIGNS OF A PURE AND SINCERE HEART FROM WHERE ONLY GOOD DEEDS AND ACTS COME.
Beloved children, recognize evil, recognize it when it comes before you.
AT THIS INSTANT MY SON BLEEDS BECAUSE OF THE HYPOCRESY OF HIS PEOPLE, OF THE CREATURES WHO DO NOT WISH TO CONVERT, WHO REFUSE REPENTANCE, WHO DO NOT WANT TO REFORM, AND SEEK EVIL FOR THEIR BROTHERS, DEFAMING, SLANDERING, AND CRITICIZING:
Poison that little by little the devil instills in the souls of human creatures until he takes possession. Do not go on without looking on high. The signs will not stop, just like the Purification of the Church will not stop.
Beloved, I beg of you, pray for Chile. The purification of this beloved land, where I presented Myself and was denied, continues.
Beloved children, pray for Costa Rica, the land will shake, the dormant volcanoes will surprise.
Beloved children, pray for Japan, it will cry.
Pray for Argentina, it will live instants of pain.
My beloved:
The oceans will move invading the lands, washing away the sins that man has spilled on the land. The sun will dim and My children will be surprised. Nothing in Nature will ever again be like in the past.
My beloved children:
EACH ONE OF YOU MUST TAKE A GOOD LOOK AT YOURSELF WITH SINCERITY SO YOU CAN FIGHT AGAINST YOUR HUMAN EGO THAT BOWS DOWN TO EVIL.
Listen to Me! Little children, do not refuse to listen to Me! I wish to take you to the Salvation leading you away from the wrong path in which that majority of My children live. My Son's paths are impenetrable and endless; His Mercy is infinite for those who come before Him with humble and contrite heart. Do not minimize His Justice; man attracts it with his evil deeds.
BE FAITHFUL TO MY SON:
I will guide you with My Maternal Love …
I will sustain you as your Mother …
I will pick you up when you fall …
I will give you Living Water, I will feed you …
I will teach you the path of Truth and will drive away the devil …
I will cover you with My Mantle …
My Son's People: Fear only to offend Him.
MY SON'S FAITHFUL WILL NEVER BE ABANDONED…
YOU ARE THE APPLE OF HIS EYES AND THIS MOTHER LOVES ALL OF YOU WITHOUT DISTINCTIONS.
My Maternal Heart is a path of light for humankind …
COME TO ME; I INTERCEDE BEFORE MY SON BECAUSE I LOVE YOU.
For each one My Blessing is Light of Salvation.
I love you.
Mother Mary
HAIL MARY MOST PURE, CONCEIVED WITHOUT SIN.
HAIL MARY MOST PURE, CONCEIVED WITHOUT SIN.
HAIL MARY MOST PURE, CONCEIVED WITHOUT SIN.